Daley and Khalil spill the tea on their presidential duties
Being class president is no easy task, but senior Kerry Daley has been up to the challenge for four years now. His duties can be quite extensive at times, but he has learned to make the best of every moment.
Freshman Alisha Khalil has already started her first term and has high hopes fueled by great aspirations for the future leadership and positions ahead of her. She is still learning to manage her obligations. 
So how do things change for presidents from freshman year to senior year?
Responsibilities of the Class President change as years progress
The responsibilities of the class president are quite extensive. They aren't the same for every president however. Just like in classes, duties differ based on grade. Both Khalil and Daley work very hard and attend regular officer meetings, but discuss and work on vastly different issues facing their class.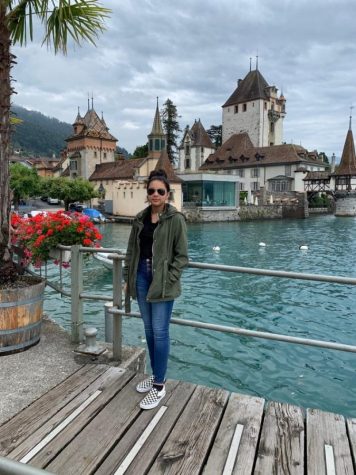 Freshman Year
Establish a plan for freshman year and the remaining years to help the class meet their goals

Start fundraising programs for the class to host this year and in future years

Plan and conduct events to help the class raise money and better the community 

Encourage students to get their class dues in early for freshman year
"We are planning on doing food fundraisers at local businesses or at popular chains like Chipotle, Red Arrow, and Dunkin Donuts… we just want to make sure that we have a good amount of traffic at the location so we can end up gaining a lot of profit," Khalil said.
Senior Year
Conduct final collection for class dues

Organize the senior trip

Organize and prepare for the prom

Get ready for graduation and ensure that it will go smoothly

Tie up any loose ends 
"All the other years, we were just trying to make money as much as possible… but now all the work that you put in, you're just fine tuning it at this point and you're really putting it on display," Daley said.
Show me the money
Fundraising and other efforts to raise money are always on the presidents' minds. Khalil needs to work on establishing a financial base for her class and needs to find creative and engaging ways to bring in money.
Money is stressful every year, but the stress can get worse as students get closer to senior year. Daley has long ago established that base for his class to build off of and he is now ready to finalize everything. He and the senior class officers have to ensure that all senior dues are collected. Daley is capping off the journey of the Class of 2020 as he gets ready for the final activities for the senior class.
Freshman Year
Begin fundraising efforts for the class

Sell class merchandise (Scarfs, shirts, etc.)

Set up activities to raise money (Car wash, crafts fair, etc.)
"Right now we are really just in charge of making money for future trips and for our resources," Khalil said. "It's my job to make sure that we have stuff that we need for the future, making sure that we have enough money to go into sophomore year."
Senior Year
Work with the other class officers to ensure that enough money is available to proceed with all usual events.

Allocate funds for all necessary activities (Prom, senior trip, graduation, etc.)
"Because now we're dropping the big bucks on the prom and the trip and all of these big events," Daley said.
Some difficulties and advice
Khalil now has to cope with not only being new to high school, but also being the new class president. Khalil is ready to continue to take on her responsibilities, but being class president is still a very new experience for her.
"I mean, sometimes when I have to speak in front of my class, it's not too bad, it's just when you're up there and there is 300 people staring at you, you just freeze up and you think, 'What do I say now?,' and you had a whole speech rehearsed before and then it's gone," Khalil said.
Daley has already been through the journey of being the new freshman president. He understands the complications that come with the position and has been handling the duties of the office for almost four years now.
"You just get used to it I guess, over the years it just got easier and easier, more and more comfortable in that position in front of everyone," Daley said.
Daley also made sure to express how much he has enjoyed being president so far and leading his class. The experiences that Daley has had being a leader and working with his class officers have been some of the best of his life. Being class president is a journey like no other.
"Don't take anything for granted, there are moments over these four years that have been some of the best moments that I think I've had in high school," Daley said. "It's just like reflecting back on that as a senior, it's just been such a blur and it's gone by so fast, enjoy it and have fun."
Leave a Comment