Directing team at Matthew Thornton Drama Club takes final bow with The Little Mermaid Jr.
This past weekend, the students at the Matthew Thornton Drama Club (MTDC) donned their brightly-colored costumes and presented their production of The Little Mermaid Jr.
Based on the Hans Christian Andersen tale, The Little Mermaid is the timeless story of the mermaid Ariel (Alaina Anthony) who falls in love with the human Prince Eric (Andrew Ayers). Thanks to a spell from the evil sea witch Ursula (Malia Smith), Ariel trades her voice to become human and must woo Prince Eric before time runs out, with help from her friends Sebastian (Carter Blanco), Flounder (Elisa Thomas) and Scuttle (Addy Demas).
Many of the students in the cast grew up watching Disney movies like The Little Mermaid, and performing this show has been a dream come true. One of these students is fifth-grader Lily McKinney, who played a featured dancer, as well as Chef Louis.
"It was one of my favorite Disney princess movies growing up, so it's cool that I get to be a part of it," McKinney said.
Fourth-grader Carter Blanco, who plays Sebastian, agrees.
"I really like this production. I love all the Disney movies, and I really like The Little Mermaid," Blanco said. "I like the dancing and the energy of it."
The show featured the iconic Disney songs "Under the Sea," "Part of Your World" and "Kiss the Girl," along with many others. Fifth-grader Addy Demas, who played the seagull Scuttle, enjoys the music because it is "really fun and upbeat".
Demas also said she was very excited to perform.
"I'm excited because I want to show what I have done and worked so hard on to an actual audience that hasn't seen it millions of times," she said jokingly. "I'm nervous because all the lights are on you, and everybody's watching you, and you could mess up and then you could have everybody laugh at you, but then you just keep going!"
Blanco shared Demas's excitement for this production.
"This is the first big play I've ever been in, and I'm super excited to sing, dance and say all my lines," he said. "We've all worked really hard, and I think it's going to look really good when it's all finished."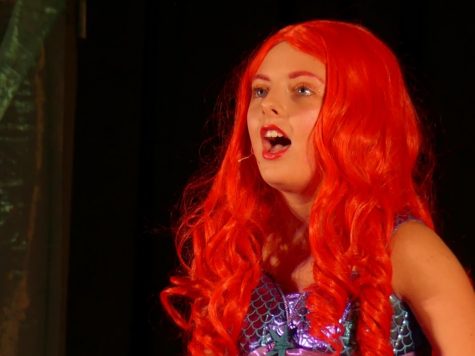 This production marks the end of an era at Matthew Thornton. For the past twelve years, the program has been directed and managed by Meg Gore, with the help of countless parent volunteers along the way. Gore started the program alongside Kathie Gagnon and Christine Stapleford, and more recently, volunteers such as Krista Dwyer, Brooke Nadeau, Pam Hodson and Jennifer Brown who have lent their time and talents.
The drama program has always been about more than just producing a show; Gore says her primary goal at MTDC was education.
"From the very beginning, in my mind, the purpose was to teach the children about theatre and give them a foundation of skills that are involved in theatre," Gore said, "so that even if they didn't do theatre again, those skills would help them in other areas of life, like public speaking, confidence, planning, and so on. That's why we've never done just a show. We've always done several weeks of instruction before we even audition for a show."
After twelve years, Gore has decided to step down and "pursue other goals and dreams." One of these dreams is her new theatre company, Ovation Theatre Company, which puts on community productions and is based in Londonderry. Gore started the program in 2019 and will now focus on this full time. She says MTDC played a large role in her development and gave her the skills she needed to start this company.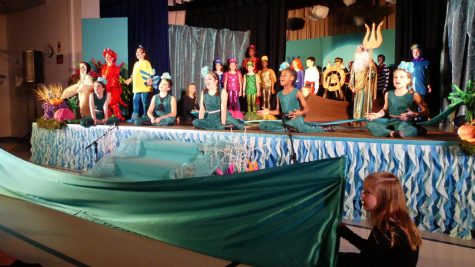 "I feel I've provided a service for the Matthew Thornton kids and the town, but for me, it's given me the opportunity to practice and learn and grow, and it's given me confidence in my abilities," she said. "It's given me the confidence to start my own company. It's meant a lot as far as developing who I am today."
Although this last show is bittersweet for her, Gore will always look back on her time at MTDC with affection and appreciation.