Principal and president update LHS on pandemic
Students and parents of LHS received two big informational announcements on Friday, April 10 regarding the current COVID-19 situation and what it means for Lancer Nation. 
Principal Parent addresses the Londonderry community in a newsletter
First, Principal Jason Parent sent out the Principal's Newsletter at 11:25 am. The letter included results from the surveys sent out last week to students, parents and staff members to get feedback on the school's progress on remote learning. 
In the newsletter, Parent said there are "still some issues to work through."
"But we have a tremendous support system in place to help guide us through any hurdles we face," Parent continued. 
According to the newsletter, the surveys found that 95% of teachers are using Google Classroom and 75% are using video conferencing for office hours in order to stay connected with their students, which is something that the school hopes to continue to do. 
The survey also found that 88% of teachers thought the school day should be between 3-5 hours while the other 12% said it should be between 5-7 plus hours each day. Students and parents surveys have indicated that 49.5% of students are spending between 5-7 plus hours on school work each day. 
Parent said that the administration is now working on finding "more balance in that area," referring to the amount of hours spent on school work as well as flexibility with due dates. 
"While we want to continue to challenge our students and provide rigor, we also want to strike a balance and not overwhelm them," Parent said. 
In addition to managing school work, Parent also suggested people need to have more balance between school and their personal lives by creating a schedule and sticking to it while taking appropriate breaks when needed. 
Parent also reminded Lancer Nation how "Proud I [he] is of our students and families, teachers and counselors, staff and case managers, and our administration."
At the end of the message, Parent also said that the administration is still hopeful that LHS will be returning to school, but briefly mentioned that there are backup plans going into effect regarding the traditional end of the year celebrations. 
Senior Class President Kerry Daley addresses his class
Just over an hour after Parent's newsletter went out, at 12:36 am Senior Class President Kerry Daley sent out a message to seniors in the Class of 2020 Informational Google Classroom page. 
Similar to Parent's newsletter, Daley addressed the circumstances that have inflicted the traditional academic school year. 
In the letter, Daley refers to a speech he gave at the 2019 Mack Plaque Pep Rally where he encouraged the Lancers to succeed in their important weekend of athletic games. 
"Back in September, in the midst of a highly anticipated Mack Plaque weekend, I empathetically and wholeheartedly announced that this year would be 'different,' alluding to the success I so confidently believed would come to fruition," Daley said in his message. "This is not the 'different' I envisioned." 
Daley went on to talk about the "uncertainty" COVID-19 has brought on to the Class of 2020 and how it may impact their end of senior year activities. 
"Having a senior year conclude without a graduation, baccalaureate, prom, and senior trip would be unfathomable if told to us at the start of the school year," Daley said. "However, this is the reality of our time, and a reality we ought to be prepared for."
Although the dates of these senior events may change if Governor Sununu decides it is unsafe to return to school past May 4, Daley assures the senior class that there are backup dates already confirmed in order to ensure seniors get their celebrations. 
As of today, the original dates are still in effect, but should school cancellations be extended, the backup senior events are booked for the week of June 22-26 as well as a second backup date of July 27-31. 
Despite these circumstances, Daley said each senior activity will still take place at the original venues except the Varsity Banquet, Academic Awards, and Top 10 Dinner which have no determined backup plan dates yet. 
Daley reminds students to continue to participate in remote learning, spend time with their families, and be alert for further releases of information from the class of 2020 and administration. 
"You all should be proud of what you accomplished this year. Don't let a virus tarnish that," Daley said. "Seniors, with all these amendments, I am confident that we will reconvene at some point. Believe that." 
Leave a Comment
About the Contributor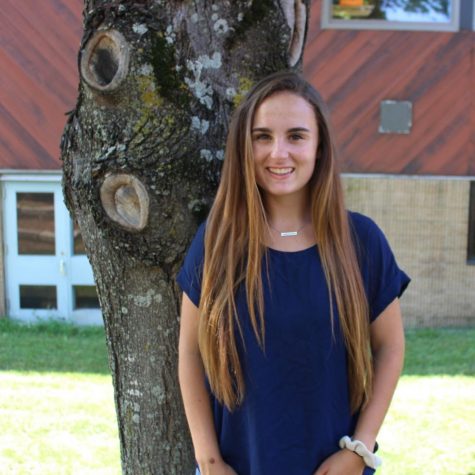 Kait Bedell, Editor-in-Chief
Kait loves to keep busy with her many hobbies of lacrosse, field hockey, drawing, guitar, and of course, writing. On the rare occasion her schedule is freed up, she is usually spending that time with family and friends or sprawled out on the couch watching her favorite shows.