Official Class of 2020 COVID-19 Response
Official Class of 2020 COVID-19 Response:
To my fellow Lancers,
A "Different" Year Indeed
The Class of 2020 at Londonderry High School is undoubtedly a class to remember. We have set the precedents of success in a multitude of platforms, from academics, music, sports, and other extracurriculars. Championship banners have been raised, curses broken, and performances cherished. Back in September, in the midst of a highly anticipated Mack Plaque weekend, I emphatically and wholeheartedly announced that this year would be "different," alluding to the success I so confidently believed would come to fruition. This is not the "different" I envisioned. 
The outbreak of COVID-19 has brought an unprecedented challenge onto our class. Our third week of remote learning has concluded, making that a month spent outside of school. The school, alongside our community, both locally and domestically, has been left in uncertainty of knowing when we return. I wish I could be as confident telling you a specified date of return as I was on that gym floor in September, but both myself and your school officials truly do not know.
With this uncertainty thrusted upon us, there has been a growing concern of the possibility of coveted senior events being cancelled due to this invisible enemy. Having a senior year conclude without a graduation, baccalaureate, prom, and senior trip would be unfathomable if told to us at the start of the school year. However, this is the reality of our time, and a reality we ought to be prepared for.
Luckily, our class, with the help of administration, has swiftly adjusted to the situation. We have secured multiple back-up dates for each senior event, booking them before other schools could. Remember, as of now, we are scheduled to return May 4. Our return date is decided upon by Governor Sununu. If we return on this date, then all senior events are scheduled as they were before. These dates are included in the letter sent out by our advisors at the beginning of the year. 
Here are our two back-up weeks in the event of a possible school cancellation, depending on the longevity of the virus and the Governor's safety measures:
The week of June 22-26

The week of July 27-31
All senior events for these dates have been booked at the original location they are supposed to be held (excluding baccalaureate, we are currently working on the Capital Arts Center in Concord, which is where it is typically held, but they have not confirmed with us yet). Other celebrations like the Varsity Banquet, Academic Awards, Top 10 Dinner, and so on are being looked into as of now, but no back-up dates have been decided on yet. 
Honoring the Class of 2020 and all we have accomplished is a goal of paramount importance to both our board and the administration at Londonderry High School. This school year was special not just for us, but all those who support and admire us. Our class is formulating a celebration of you in our final weeks virtually through weekly stories, interviews, pictures, and videos; more on that to come. 
For now, continue to participate in remote learning and spend time with your families. You all should be proud of what you accomplished this year. Don't let a virus tarnish that. Trust the process, and be alert for further briefings and releases of information from our class and administration.
When the world falls into frenzy, it is our obligation to come together. Though we don't know the outcome, we still have faith. We don't have the answers, but we still have hope. Seniors, with all these amendments, I am confident that we will reconvene at some point. Believe that.
Stay safe Lancer Nation,
Kerry Daley
Class of 2020 Officers 
Class of 2020 Advisors
Londonderry High School Administration
Leave a Comment
About the Writer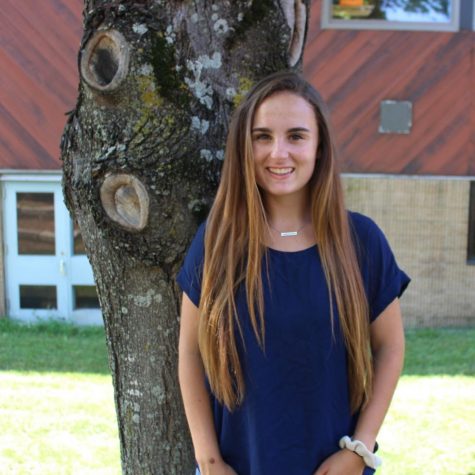 Kait Bedell, Editor-in-Chief
Kait loves to keep busy with her many hobbies of lacrosse, field hockey, drawing, guitar, and of course, writing. On the rare occasion her schedule is freed up, she is usually spending that time with family and friends or sprawled out on the couch watching her favorite shows.