Science teacher Mrs. Lawson is picking up her lab coat and conducting her next experiment: retirement
When the final bell rang on Friday, March 13th, it wasn't only the last time the class of 2020 would be walking through the halls of LHS, but also the last time many teachers would be. Science teacher Mrs. Lawson will never get the proper goodbye to the halls that have been a second home to her for over 35 years, or give a farewell to everyone that has influenced her over her time in them. 
"Leaving LHS, the thing I will miss most are all my students and peers who have impacted me over the years," Lawson said. "And of course my lab."
But before Lawson came to LHS, she originally wanted to become a veterinarian and decided to further her education at UNH, after getting many other acceptances. This put her in a better position to get into vet school, knowing she would become a New Hampshire resident.
"As I have said to the students over the years, getting into med or vet school is easier if you are a small fish in a small pond versus a small fish in a big pond," Lawson said.  
The idea of becoming a vet changed after she picked up a second major in occupational education. Teaching, as she put it, was "in her genes."
"My grandmother and father would have me help them teach younger children during vacations when I was in junior high and high school," Lawson said. 
After graduating from UNH, Lawson completed her student teaching at Animal Science at Essex Ag and Tech in Danvers, Massachusetts. 
But, after finishing her student teaching, Mrs. Lawson chose to continue her career in research at Brigham and Women's Hospital in Boston, instead of teaching. Then, for a final time, her mind changed when research showed itself to not be what she wanted either.
"After doing research in college and after college, I decided that I didn't want to have a career in which I didn't interact with people on a regular basis," Lawson said. "I am a social person and like to work with others which is why I decided to go back into teaching."
Once she chose to make her return to the classroom, her schooling background led her to become a science teacher. But there was still one more choice to make: what age to teach?
"To be honest, I can work with young children, but I would probably not have the patience to work all year long in an elementary or middle school setting," Lawson said.  "I enjoy having very analytical science discussions and debates with my students, as well as teaching students how to perform advanced lab skills that they can apply in some type of post-secondary setting."
That is exactly what she has done. She has prepared students, like junior Emily Cowette, for a life outside of LHS' halls. 
"[Lawson] has taught me lab skills that are now drilled in my mind, that I would not have learned without her," Cowette said. "Thanks to Mrs. Lawson, I feel super confident going into labs in college. She pushes all of her students to be their best and get us ready for the real world."
After teaching for a few years, Lawson set a goal: to develop a lab that would give the ability to teach science concepts in a modern setting. Over the last decade or two, she has been able to achieve that goal. In the early 2000s, Lawson, along with former school-to-career counselor Mrs. Esterly obtained the grants to start the biotechnology program. 
"Over the years, we have received over $100,000 worth of donated equipment and materials to provide students with a multitude of experiences in various aspects of microbiology and biomedical science," Lawson said. 
In addition to starting the biotechnology program, Lawson has taught a large variety of branches in the science curriculum during her time at LHS, including Freshman Science, Honors Biology, and both A and B level CP Biology. But her favorite class to teach is her two-period microbiology/biology science and technology course. 
"I am able to guide them through learning a multitude of lab skills and applying those skills to complex laboratory experiments," Lawson said. "I really enjoy walking around the lab and watching the students work independently and with a great degree of confidence. After building up one of the best high school labs in the state and watching the students work in it is something I have wished for since I began teaching in the 1980s."
Over the years, Lawson has created bonds with fellow faculty and students that have lasted even after they have graduated.
"There are so many students and peers that have helped me grow as a teacher and as an individual that it would be impossible to list them all," Lawson said. "I keep in touch with many students that have graduated, and it is great to watch them grow, have great careers, and start families."
This feeling is not just a one-way street, there are many students who have grown their relationship with Lawson, and continue to take her classes year after year.
"Going to her class for three years was by far the best part of my days," senior Mike Foley said. "Not only because of the friends I have had through the years in the same class, but because Mrs. Lawson's presence is always an enjoyable one."
Everything Lawson does is for her students and the amount of hard work and dedication she brings to every lesson is not lost on them.
"She very obviously cares for her students," Foley said. "She always strives for greatness and puts her students' success above all else."
But it is not always possible for a teacher to put a student's education over their own well being. The work that it takes to educate high school students can take a great toll on a person. 
Students don't get to see what goes on before and after school in a teacher's life. Those times had a great impact on Lawson's choice of leaving her classroom this year, as the past two years have not been easy.
"To be honest, getting up between 3:30 and 4:00 am in the morning—often being the last person upstairs in my wing to leave late—and then going home to do school work while taking care of my 96-year-old mother's needs has really been very draining," Lawson said. "I felt that my health was starting to suffer from running around all day and night."
Lawson's teaching career isn't going to end once she leaves the halls of LHS, however. Post-retirement she hopes to continue in another setting she loves (almost) as much as LHS.
"I plan to teach more group exercise classes every week, as well as find another part-time job," Lawson said. 
In addition to spending more time at the gym, Lawson has very hopeful plans for what the future holds. 
"My husband and I are in the process of building a small log cabin on our lake property in the White Mountains," Lawson said. "We will sell our house and move to a warmer climate sometime in the next year or two, and be "snowbirds" living at the cabin for part of the year and somewhere in the "warmth" during the New England winter months."
As sad as it is to lose one of our own, it should bring past and present students immense pleasure to know how much of an impact they have had on Lawson, and for her to know the great addition she has been to the staff at LHS these past 35 years. 
"I honestly find her the best teacher I've had," Foley said. "I have learned so much from her and that is a debt I will, unfortunately, never be able to repay."
Leave a Comment
About the Contributor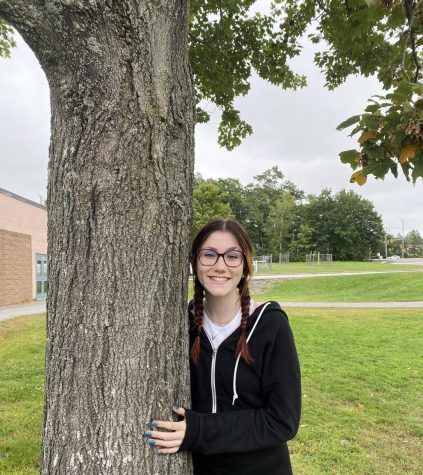 Audrey DeAngelis, Assistant Editor in Chief
Audrey is in her third year on staff, starting as a reporter her sophomore year. Her first year as an editor, Audrey was Online Chief and is very excited to be Assistant Editor-in-Chief this year. Next year, Audrey plans to study forensic science and pursue a Master's degree in chemistry in hopes of becoming a crime scene investigator.