Senior Isabella McKnight designs her own future
As seniors everywhere begin inching closer and closer to the end of their high school careers, the frantic buzz of "what should I do when I leave?" begins. 
Should I go to college? The workforce? The military?
All are great options, and the lucky few with an idea in their minds are soaring through their college applications. Senior Isabella McKnight is one of those few. She wants to go into fashion.
"In the end, I would really love to own my own store and be able to design every piece that's in there," McKnight said.
But the idea of majoring in fashion wasn't quite McKnight's first thought; it wasn't that easy.
"When it came time for the college application process, [McKnight] told me she had no idea what to choose as a major," McKnight's mother said. "We knew she had that strength and interest in fashion and design, but she, her dad, and I thought it would not be a serious or important career."
Then, when the pandemic struck, things started to take a turn in the other direction and the decision seemed clearer.
"As time went on, and COVID-19 hit, I saw [McKnight] sewing and sewing like crazy," Mrs. McKnight said. "After thinking about it and talking to many, many people who were involved in careers in art and fashion, her dad and I thought that the best idea for a major should really be to follow your passion and not care at all about how it is viewed by others."
Before the long-term goal of owning her own store can be achieved, McKnight must work on some short-term ones. Her current short-term goal, which she has recently completed, is her entire senior project: a portfolio of custom-made pieces for her college applications.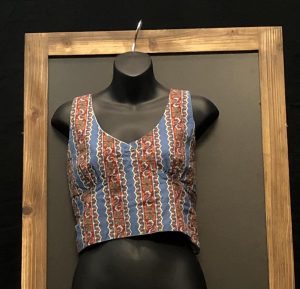 "[Putting together a portfolio] was intimidating and stressful, but I must thank Mrs. Rich, Mrs. Sherwood, and of course Mrs. Gonyea for supporting [McKnight]," Mrs. McKnight said. "They have even used their own talents to assist her."
This love for fashion is not a new infatuation. For over a decade, McKnight has been slowly dipping her toes into the pool of creation. With support and inspiration from her mother during the whole journey, she finally jumped in.
"When I was little, my mom used to make my brother's Halloween costumes and I always thought it was really cool," McKnight said. "But she wouldn't all of a sudden start letting me use a sewing machine when I was five."
Honoring her mother's wishes, McKnight started designing with any materials she had access to as a young child.
"I would just start taking pieces of paper and cut them out into the shapes of bears," McKnight said. "Then I would cut another of the same piece and tape them together and leave a hole. I would put crumpled paper in there and tape it up so it would be a little paper teddy bear, I would do that all the time." 
Although they were a bit cautious at first, McKnight's parents warmed their hearts to the idea of their daughter pursuing this interest of hers. 
"[McKnight's] dad and I always encourage her to do extracurricular activities that enhance and develop her natural strengths," Mrs. McKnight said. "So when she was younger, I saw that she was fascinated with seeing me sew. I showed her how to thread the machine and she was off."
In middle school, McKnight was introduced to a store that became the source of a lot of her materials and ideas. 
"My dad was actually the one who started taking me to Goodwill," McKnight said. "We would go just to check out furniture for the house. We would get things like dining sets and bring them home to my mom for little gifts."
As her love for designing took off, she realized this would be a useful place to return to.
"When I started sewing, I realized how expensive fabric was from craft stores. When I'm in Goodwill, I always go right to the larger clothes because they always have the most fabric," McKnight said. 
In addition to her trips with her dad, McKnight found inspiration online with YouTube channels like Emma Chamberlain and BestDressed.
"I started getting a few shirts during the time Emma [Chamberlain] was popular with her thrifting videos," McKnight said. "I found another YouTuber, BestDressed, and she made thrift flip videos. I thought it was a really good way to recycle old clothes."
At age 12, McKnight was finally able to start learning the real thing by taking sewing classes. She took classes outside of school for about three years before entering the halls of LHS. Continuing her education in something she loves, she took LHS's Design in Clothing class and is currently taking her second year of Clothing Construction. 
"We were walking through the mall one day when [McKnight] was in 8th grade," Mrs. McKnight said. "She saw a sewing instruction store and I signed her up for a few lessons. The owner really got her more and more interested in sewing and taking it more seriously."
Now, as she turns the designs in her head into a reality, McKnight has remained very busy and "always has a project to work on." But her methods may seem unconventional.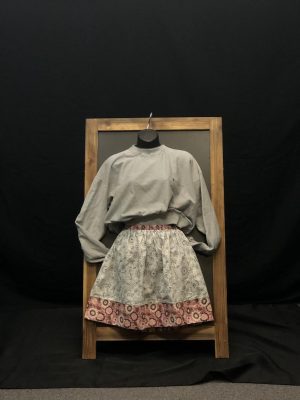 "My mom always gets mad at me because I never sketch out my work before I make it. I just do it in my head and make it. I never put it on paper first," McKnight said. "She's like 'you need to do that so colleges can understand your process.'"
Fashion isn't a career that anyone can just wake up one day and decide they are going to pursue. You need the right eye for it, which McKnight has proved she has.
"I keep an eye out for interesting patterns and designs," McKnight said. "I'll think about what I already have in my closet and if I see a cool pattern or color in the store, I'll think 'Oh this would look great with *this* shirt' and buy it."
Even as she's grown and become more involved with fashion, her inspiration still roots itself in social media and the online community. 
"I'll randomly find tutorials on Instagram or TikTok and I'll find the clothes from Goodwill to follow the tutorial," McKnight said. "I also sometimes just go online shopping and fall in love with a top and want to recreate it."
McKnight finds a strong support system and help within her family as her fashion journey has taken off. 
"My mom always gets so excited when I show her a finished project and I'm pretty much always finding new clothes at Goodwill with my dad," McKnight said.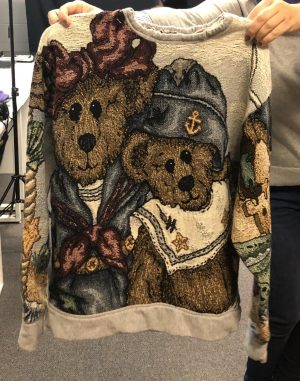 Her parents have been there through every step of this journey, watching their daughter and her designs flourish into what they are now. 
"As her confidence and maturity have increased, so have her designs," Mrs. McKnight said. "Her work has grown more creative and self-expressive rather than following the 'crowd norms'. Not only with clothing and fashion, but with everything reallyーstanding up for herself and doing what she believes in." 
McKnight's parents aren't even close to being their daughter's only supporters. Those who have seen her in action and her final products have nothing but praise to give.
"I just think what [McKnight] is doing is so cool," House 3 Assistant Principal, Mrs. Rich said. "It's such an outside of the box thing to do. You really have to put yourself out there and she is doing a great job."
The great reviews don't stop there either.
"All of the pieces I have seen are just so impressive and adorable," House 3 Guidance Counselor Mrs. Sherwood said. "It's unbelievable."
In addition to McKnight's parents, Clothing Construction teacher Mrs. Gonyea has been able to watch her student and her designs evolve.
"[McKnight] is very talented and creative," Gonyea said. "She can take something that's already made and totally make it into her own design."
And as the end of her time at LHS nears, and her life pursuing her passion begins, McKnight has her sight set on her dream.
"Owning my own store on Newbury Street [in Boston] is the end goal," McKnight said. "I know it's a lot of work, but in the future, hopefully I can achieve it."
Of course, McKnight's parents have their own goals for their daughter's future.
"Our hopes and dreams in the near future are for Isabella to feel like the school she attends is the right match, and that her classes and professors inspire her to feel a love for learning about whatever her passions are," Mrs. McKnight said. "Just like any other parents, we want her to feel great satisfaction in what she is doing. That is the ultimate goal we all want for our kids."
View Comments (2)
About the Contributor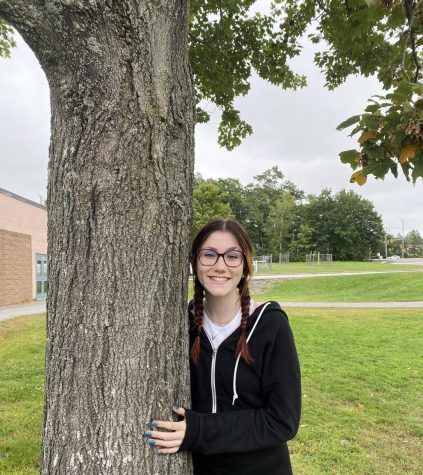 Audrey DeAngelis, Assistant Editor in Chief
Audrey is in her third year on staff, starting as a reporter her sophomore year. Her first year as an editor, Audrey was Online Chief and is very excited to be Assistant Editor-in-Chief this year. Next year, Audrey plans to study forensic science and pursue a Master's degree in chemistry in hopes of becoming a crime scene investigator.