What we need during this time of grieving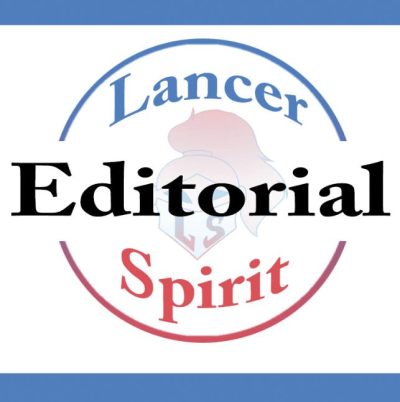 This has been a hard year for everyone. Between the pandemic and the loss of two great lives from the Lancer community this past month, everyone has dealt with unimaginable tragedies this year. 
Though these grievances won't heal quickly, or easily, the Londonderry community and neighboring towns have made great efforts to show their support to anyone struggling during these times. Small acts of kindness can make a world of difference. From other schools in New Hampshire sending flowers to LHS to the school providing grievance counselors to anyone who needs it, we appreciate these positive outlets.
Overall, we are most appreciative of the memorial for senior Jake Naar that will be held on Sunday, March 21. LHS has graciously allowed and put effort into a celebration of life which will be on the high school's football field. It is in moments like these that show us the support we have and allow us to take the time to fully grieve.
And that's what we need right now: time.
We understand that learning and school are important, and we're trying our best. But we are faced with one of life's greatest challenges and we are grieving. We just need time and support, even if it's in a small way. 
So what can staff be doing to help us get through this devastating time? Here is what we need right now:
Acknowledge what we are all going through:
This has been a hard year, and an incredibly hard week, so having our teachers acknowledge that would mean a lot. Although it may seem simple, having a teacher tell you it's okay to not be okay would show us that we're not alone. 
We understand that some teachers aren't comfortable talking about the situation or know how to help students right now, but please don't ignore what happened. Now more than ever we need resources where we can go if we need help. Simply just telling us that it's okay to step out of class or see a counselor if we need to would be beneficial.
It's difficult for us to act like nothing happened and continue on with our normal routine, and there are times when we can't move on. For us to heal, we have to know that we have a supportive space where we could take a break in class or talk to someone when needed.
Things like this take time, so don't be insensitive to those who need it:
When a community is faced with the devastation Londonderry has endured, it affects everyone. Of course, those who had been closer to Jake and Mrs. Sherwood will be affected more than others, but everyone is grieving in their own way. Even if you didn't know them personally, we are all feeling the loss of these Lancers. Just because YOU are not mourning, please understand that there is most likely someone near you who is, and therefore experiencing unimaginable pain. 
Just because someone looks okay on the outside, that doesn't mean they aren't struggling on the inside.
Read the room:
Everyone experiences grief differently, so it is so important that teachers are conducting class according to what it seems the majority of students need. Some students may need to focus on their schoolwork as distraction. Others may need to just sit there and process. Some students may need to just sit on their phones and connect with their friends who are also grieving. Others may need to talk about it with a teacher or counselor. 
Regardless, the best way to assist students struggling right now is to listen. Listen to what students are asking for, and do your best to accommodate their needs.
Everyone grieves at their own pace, so don't try to rush us through it:
Right now every task, big or small, is hard to do. So many of us are grieving, and though we know that our work is important, it feels like it doesn't matter compared to what we are going through. For those who need it, it would be helpful to hear from our teachers that it is okay to turn in work late or take a test when we are ready. 
And currently, a lot of us aren't ready. We aren't ready to go back to our normal life, and that's okay because we will be ready in time. But hearing that we have to continue on or look on the bright side is difficult to hear right now. This wound is still fresh. We'll get there, but not necessarily right now. After all, everyone is going to heal differently and at different times, so please understand some of us can't "play student" right now.
Though we understand that this is a hard topic and may be uncomfortable to address, right now we need support, we need compassion, and above all, we need time.
And to everyone who has intuitively understood what we need: thank you.
View Comments (8)