Seniors take their final bow as LHS Drama wraps up their virtual musical
This school year has been anything but normal. Between being hybrid, to fully remote, to now every student back together in person, constant challenges have been thrown at students and clubs. Some of these groups have fallen victim to a COVID-19 school year, but not the LHS Drama Club. 
After having to cancel the production of "Seussical: the Musical" last year due to the pandemic, the LHS Drama Club was able to adapt to the new set of restrictions and adjustments required to be able to produce the first, and hopefully last, virtual musical at the school. But right off the bat, the club ran a lot differently.
"This year threw every obstacle you could imagine at us," junior Colby Lynch said.  "The circumstances of this last year caused us to start late, cancel haunted woods, as well as alter the way we perform entirely." 
For those cast members who haven't performed in a show pre-COVID-19 with this club, it was even more challenging to tread in the new waters. 
"This was my first year in the LHS drama club. Being virtual, it was hard to connect with the cast because we were mostly separated and not all called to rehearsal," freshman Kelly Egan said. "But I also think that when we were all together for rehearsals we appreciated it so much more."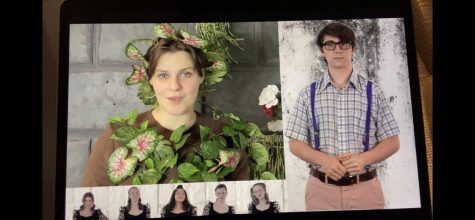 Usually, the club would put on the performance in front of a live audience, but this year with the social distancing guidelines and other restrictions, that wasn't feasible for this year's production of "Little Shop of Horrors." Instead of the musical being live, segments were pre-recorded by each cast member and edited together for the final product that aired at two separate times for ticket holders. The absence of an audience was an odd experience for some.
"I was definitely happy with the outcome, but I did miss the actual performing aspect," senior Chloe Ferraro said. "I like to see how the audience reacts to certain things and not having that was definitely a weird adjustment, but it was cool to be able to 'sit in the audience' with my family."
The choice to put on a virtual show this year eased the mind of the directors and cast members in terms of avoiding the challenges that quarantine could cause. 
"[Having a virtual show] was what we had to do to make things work and to ensure that if we cast someone and are trying to put the show together on a timeline, and they can't be there for a whole week, that can really set things back," director Zachary Paone said. 
The majority of the show was done virtually, not just the final production. For auditions, students sent in videos as well as learning their lines and songs remotely. The only time the cast really needed to physically be in school was to film the show.
"Those dates aren't too flexible, but we can work around someone having a sudden issue like being out of school," Paone said. "I was really cautious to make sure that the kids who were in a lot of scenes and needed several days of filming, to make sure their days were scheduled really well."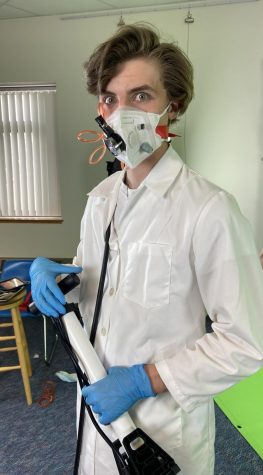 Although the setup of the show was drastically different than the club has done in the past, many of the cast members feel as though the changes allowed them to grow as performers.
"I for sure feel like I've grown as a performer because of this experience," Lynch said. "Acting by yourself with the cameras on, and a green screen behind you is a whole new concept to me. It really forced me to try new techniques when I'm performing to put out the best work that I could."
With the changes that needed to be made to put on a production this year, no one could have really predicted how the final product would turn out.
"I think this experience definitely helped me grow as a performer because no one expected that this year would go like this," freshman Rylee Dolliver said. "I think I will appreciate every show I do going forward a lot more than I normally would."
Overall this experience wasn't what anyone really wanted, but in the end, the cast was able to produce something they were proud of.
"At first when I heard it was going to be virtual, I was disappointed," senior Nicole Raza said. "Obviously I would have loved to do a real show, but what we were able to put together was so amazing considering the circumstances."
This show wouldn't have been possible without the help of the advisors, Zachary Paone, Danielle Loschiavo, and Joseph Mundy. Their help across all aspects of the show allowed even the experienced seniors to feel at peace with the new formatting. 
"When we had the idea to propose a virtual musical it was a very risky and unique decision to make. We wouldn't have been able to create the show we did without our advisor's support," senior Andrew Johnson said.
Even with all the adversity, the cast had to face this year, the senior students became the "solid performers" as Paone described them. Two seniors, in particular, rose to the occasion and used their strengths to relieve the stress of a virtual show.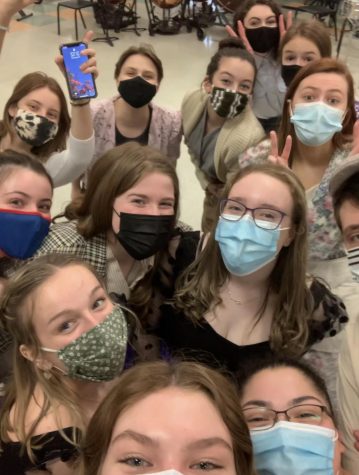 "We had a great group of seniors this year and I'm gonna be very sad to see them all go this year. Many of the seniors like Andrew Johnson and Emily Thomas stepped up and took big roles in editing the show as well as choreographing the dances," Lynch said. "All the seniors were also so welcoming to the newer underclassmen we had this year and I think they really appreciated it."
The seniors each year have taken the initiative to put on the best production, but Loschiavo was taken aback by the resilience and determination of this year's class. 
"They've put a lot of personal effort and energy, they've taken a lot of initiative," Loschiavo said. "I have seen it with students in past years, but I think you've seen it more this year. Certain students shine with things maybe you didn't expect them to."
Among a handful of good things that came out of this year's musical, there will be an actual, real recording of the show for the staff to watch for years to come and allow them to watch their hard work together as a group. 
"We always will have an actual video of 'Little Shop' to look back on to see them at their best," Paone said. "There were so many moments when we would watch the video all together where you would have senior Betsy Brown belting out this awesome song and you'd have all the kids just clapping for her because they knew she was just stepping up and had just 'arrived.'"
These seniors didn't just do their best for themselves, but for the underclassmen as well to provide them the best show to kick off their time with the LHS Drama Club. 
"
They are all so talented but to see them shine, especially in a year where things were particularly challenging and different. They all started out the same way, having never performed for a camera, and you couldn't tell by the time the production was actually edited."
— Mr. Paone
"I appreciate the seniors so much. They are so welcoming and positive and they made all the freshmen feel so welcomed," Dolliver said. "They haven't had the ideal senior year, but they still went out of their way to make this year great for not only us but themselves."
The underclassmen have their hopes and dreams for the upcoming year and how the production will run.
"I am looking forward to getting to really know my cast-mates, hopefully being able to perform on stage again, and welcoming the incoming freshman," Egan said.
The returning advisors have similar ideals for next spring's musical. 
"The hopes I have for the musical next year are that it is live, in person, and on stage," Loschiavo said. "And that it is something that the students will enjoy as much as the production staff."
But for the seniors, they won't get another chance to have a live performance with LHS Drama, but they were still happy with the outcome of this year's show. 
"I'm so grateful we could put on a show this year. I think being virtual had its pros and cons, but I was so proud of what we were able to make," senior Haley Hines said.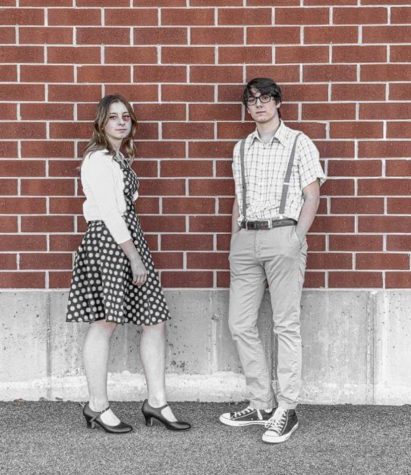 Goodbyes are always difficult, but in a tight-knit community like the drama club, they can be even harder. The advisors go through this every year, but this year seems to be different.
"I do really hope that, more than anything, this particular group of seniors does keep in touch because I am going to miss them a lot," Paone said. "I know they are on to some great things and I hope to hear from them."
As the seniors get ready to leave the halls of LHS and continue their new journey somewhere else, they have reflected on their time with the club and all it has done for them.
"LHS drama taught me to know my place in the whole ensemble. A show is never defined by one person's role, it's a group effort," Johnson said.
The performers have been able to take what they have learned on stage into other aspects of their lives as well. 
"LHS Drama has helped me gain more confidence when I perform and made me a happier, kinder person overall," Raza said. 
No matter how much or how little each student has learned about the performing arts, Loschiavo hopes the lessons they have learned on stage go deeper than just dance steps. 
"I hope that they will always remember their time here at LHS as being enjoyable and learning great, wonderful things, and making good friends," Loschiavo said. "I'd love to say thank you to them for letting me be a part of their journey and allowing me to be a part of the musical and teaching them."
"
I will miss seeing my best friends everyday and getting to do what we love together. Thank you Mr. Paone for an unforgettable experience"
— Nicole Raza
Leave a Comment
About the Contributor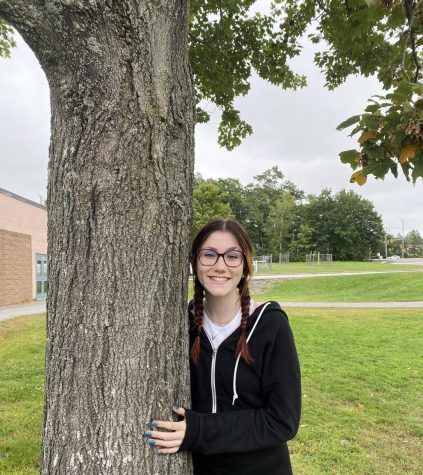 Audrey DeAngelis, Assistant Editor in Chief
Audrey is in her third year on staff, starting as a reporter her sophomore year. Her first year as an editor, Audrey was Online Chief and is very excited to be Assistant Editor-in-Chief this year. Next year, Audrey plans to study forensic science and pursue a Master's degree in chemistry in hopes of becoming a crime scene investigator.