Marzik retires after 40 years of teaching
After teaching about figures who left their mark on the world, Marzik has become one in the halls of LHS
With 40 years of teaching coming to a close, World History and Civics teacher Mrs. Marzik prepares to leave LHS and move into the next chapter of her own history.
Although she didn't know she would want to teach until her freshman year of college, Marzik has been a history "geek" since she was a young student, starting with her sixth grade social studies teacher.
"I couldn't get enough of history," Marzik said. "Since the time I was 10 or 11 it was something that was fun for me and gave me a lot of pleasure and I enjoy talking about it."
Finding her place in the teaching world was a journey that Marzik hasn't looked back on; it was the perfect job for her from the very beginning.
"Teaching world history was a dream job," Marzik said. "It's using what I went to school for and something I really like and sharing it with people. It's a nice thing to be able to enjoy learning and enjoy what you do with your time. Teaching was that for me."
Marzik spent her first couple of years teaching in Providence, Rhode Island, but eventually found her home at LHS and has never turned back.
"It's really hard to stay in one place for a long time unless you really like it," Marzik said. "I think the 38 years [at LHS] speaks to how much I've enjoyed it and working with some really great people and fantastic students. I feel like I've always been challenged to do my best and I think that's the atmosphere here, to always do your best."
When it came to retiring, Marzik had initially considered it back at the beginning of 2020, but didn't think it was quite time yet. Then 2021 rolled around and, after a long time of conversing with her husband, they both decided to retire this June, without being quite sure what retirement will bring.
"It's really hard to say what it's going to look like after I retire," Marzik said. "I'm going to try to have as much fun as I can, but I'm not yet sure what I'm going to be doing. My husband and I had been talking about this for the last year. I can't really say any more than that, it was just the two of us want to spend time together. We're ready for the next chapter."
Marzik hopes to be able to see her grandsons, as well as travel again once she and her family feel more comfortable with the pandemic
"I have family in the midwest, out in Ohio, the Cincinnati area, and Illinois," Marzik said. "Five of my siblings live there and I have a brother on the west coast. We were going to go out and visit everybody last year, but we didn't because of Covid, so that has to happen first at some point."
Outside of the United States, Marzik plans to channel her history geek and visit the places she has taught about for so long.
"Two places I want to go, one is Florence, and I want to do it well, and I want to see Normandy to go and see France and the battlefields," Marzik said.
Marzik has been a big contributor to the LHS and Londonderry communities during her time here. Being a co-advisor alongside Mrs. Wakelin for the Community Service Club is a large part of her life in and out of school.
"It's always nice to build relationships with students and with Community Service Club you have the kids who want to help other people," Marzik said. "It's so nice to be around them, they have that spirit of volunteerism and I hope they continue to help out in their community."
Marzik's passion for helping others in her community has influenced others to create that same passion for themselves and those around them.
"The last two years I have been a member of the Community Service Club, it has been so amazing to watch how dedicated to service Mrs. Marzik is," junior Audrey DeAngelis said. "I hope that, as president next year, I will be able to work with Mrs. Wakelin to continue Mrs. Marzik's legacy and make sure the club continues to provide for our community."
From volunteering as a ballot clerk during elections to donating and helping out at the Upper Room Family Resource Center whenever she can, even after retirement Marzik hopes to continue her service at establishments.
"Community service and volunteering is always going to be part of my life even without the students," Marzik said.
Marzik has been at LHS for a long time and known many different people in her time. She has often spent some time walking through the halls of the school reminiscing about all the things that have happened within its walls.
"It's going to be hard to separate from a lot of things," Marzik said. "Sometimes I look at my classes and think, 'I can't believe I'm leaving this, this is the perfect job,' but I do know it's time to go. It's been a very fulfilling career; those kinds of things are hard to leave."
English teacher Mrs. DeWinkeleer said she is going to "greatly miss" Marzik when she retires.
"There will be an enormous hole in the fabric of Lancer Nation without Mrs. Marzik here," DeWinkeleer said. "She has been such an important part of not only the social studies department, but of the entire school."
DeWinkeleer said Marzik has been more than a colleague to her, "she's also been a great friend."
"She's one of the most thoughtful people I know," DeWinkeleer said. "She would often put a card in my mailbox–in so many people's mailboxes!–when someone might need a little support. She has always been such a kind, trustworthy friend to me and to her 600's family. It's certainly going to feel very strange not seeing her in the halls next year."
Although Marzik is proud of the daily accomplishments in her career, she has also received large rewards, such as the honor of having the year book for the Class of 1988 dedicated to her.
"The year that I was an advisor to [the Class of '88] they dedicated their yearbook to me," Marzik said. "I was surprised and I was honored. And I gave one of the best speeches on record; I said 'thank you.'"
Teaching can sometimes be a career people shy away from because of the inconsistency of working with younger people, but this only helped fuel Marzik's love for teaching.
"I've had kids come in and apologize for not behaving or not doing homework, but they don't understand," Marzik said. "That is part of what you love about teaching, that you're teaching kids. Hanging around the kids has kept me young."
When you are currently in a situation, it's not always easy to take in all of the experiences and lessons gained from it. It isn't until after the fact that the whole picture comes into view. This is how Marzik views her time teaching as it is coming to a close.
"Putting 38 years into a story is really hard," Marzik said. "The number of kids I've known and had in my classroom; I think over time I'll have a good perspective on it. It's really hard to sit back and have a good perspective on it while I'm still in it."
Having had a satisfying career for nearly 40 years, Marzik regards her time fondly and the students and staff of LHS thank her for her service to our community and wish her luck on whatever comes her way.
"There are just some things I love about teaching and world history," Marzik said. "I've always felt happy that my career is something that is good for other people."
Leave a Comment
About the Contributor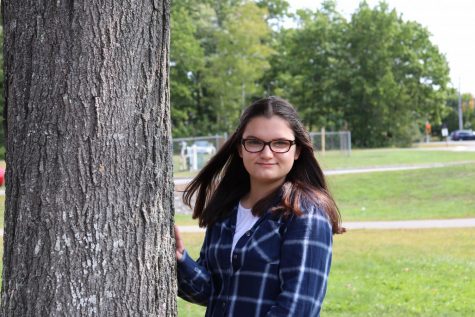 Kat Hallee, Executive Features Editor
Although she may be vertically challenged, Kat keeps her energy high and her adoration for Broadway even higher. You'll often find her with a pencil in her hand scribbling a poem into some notebook she got from Staples. She loves working hard and has a passion for helping others and making them smile whenever she can. Kat is ready for another action-packed year on the Lancer Spirit staff.