Couple's Halloween costumes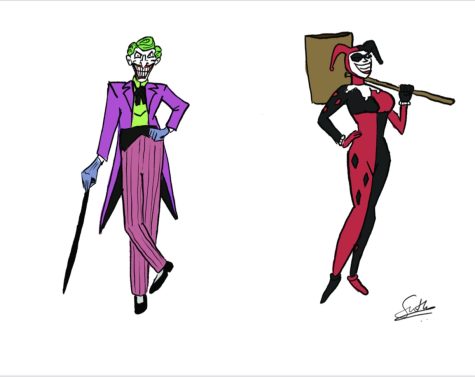 Harley Quinn and The Joker
I know this is probably the most basic couples Halloween costume out there, but I had to include it. Harley Quinn's outfit is composed of two side ponytails, one dyed red and one blue. You can find washable hair dye at stores like Walmart and Target, or you can order it off of Amazon. Now, you can either go to PartyCity and just buy Harley Quinn's whole attire, or you can get different pieces from different stores to put it together. All you need to get is the iconic red and blue shorts which can be found at Spirit-Halloween and PartyCity, along with her shirt that says "Daddy's lil Monster". If you want to go all out and do a Harley Quinn makeup look, just get some red and blue eyeshadow and put it on your eyes in a "messy" way and make it look smeared. Then add some classic red lipstick and cute boots and there you go, you are Harley Quinn. 
You can't have Harley Quinn without the Joker, so it's time to paint your face and dye your hair green. Again, you can buy washable green hair dye or a green wig for this look. The Joker is quite pale so by adding some white face paint to the face it can help bring out his character. For some crazy "joker-like " makeup, add some dark eyeshadow all around the eye, and an exaggerated smile with some red lipstick or face paint. For clothing, a long purple or red jacket, which can be found at Kohl's, on Amazon, and Macy's, will do. The pants should match the jacket so whatever color you go for, get the same pants. Pants can also be found at stores like Macy's, Amazon, and Target. For accessories, you can add a tie.
---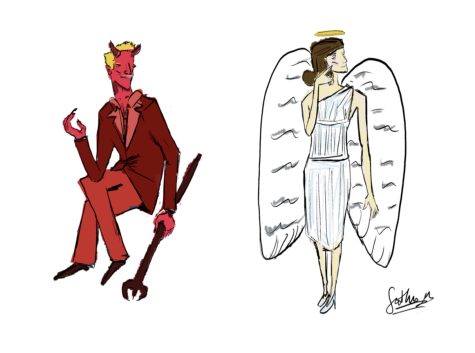 Devil and Angel
Another basic, but iconic costume. This one is pretty easy to put together. For an angel all you need is white clothing and a halo. The outfit can be a white shirt, white shorts, or a white skirt. If you don't already have these pieces in your closet, take a quick trip to the mall and check Forever21, PacSun, American Eagle, or Macys. For the classic angel halo, you can either make it yourself with some supplies you find at the craft store or you can head to PartyCity and buy one already made. To make the halo yourself, buy some wire to wrap around your head and cover it in a white boa. For the devil to the angel, red is iconic, again, red pants or shorts are perfect for this outfit along with a red shirt. You can't have a devil without horns so go onto Amazon and order a cheap "devil ears" headband. And there you have it, an easy and quick devil and angel costume.
---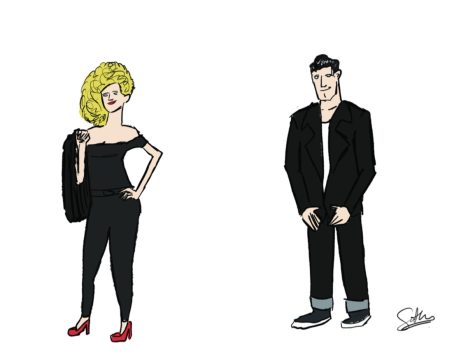 Danny and Sandy from Grease
One of my favorite costumes is Danny and Sandy from Grease. To create Sandy, you need black pants, preferably leather, a black shirt, black belt and black jacket. All items can be found at Windsor and Macys. Next, go on a little trip to Ulta, Sephora, or your room if you already have red lipstick. Grab a blonde curly wig from PartyCity and layer your outfit by tucking in the shirt to the pants and putting on the belt and jacket. Danny's costume is similar because he also wears a black leather jacket, and black pants. The only thing different is his hair and he wears a white t-shirt instead of a black one. All of his attire can be found from Amazon, Walmart, and Target. 
---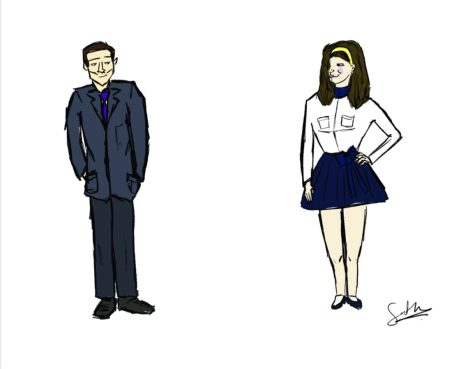 Blair and Chuck from Gossip Girl
If you are going for a more "rich-girl" vibe this Halloween, this costume is perfect for you. A classic Blair Waldorf look is a bow in the hair, a fitted shirt with a skirt and blazer. Obviously for shoes, heels are recommended. Forever21 will be your best friend when looking for Blair's clothing. They sell everything from the blazer to the shoes. Now you can't have Blair without Chuck by her side. Chuck is a sophisticated man who wears mostly suits. If you don't feel like breaking the bank and going to buy a whole suit, you can easily piece one together that is more simple. To do this, all you need is a black jacket, black pants, a white shirt, and black tie. These items can be found at Macys, Kohls, Walmart, and Amazon. There you have it, Blair Waldorf and Chuck Bass.
---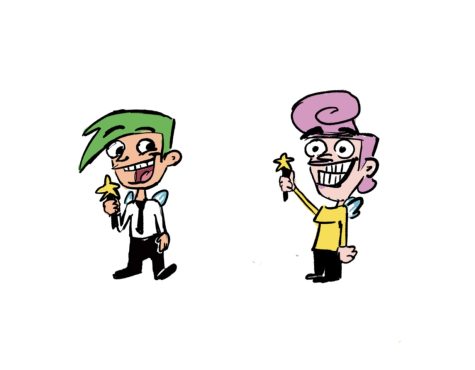 Cosmo

and

Wanda

 
This costume is so cute and easy to put together. For Wanda, she wears a basic yellow t-shirt, which can be found at Forever21, PacSun, Aeropostale, Target, and Walmart. Wanda also likes to keep her pants simple so she wears plain black pants, so the same stores above will have this item too. Lastly, some black shoes would help the outfit a lot. For those who don't already own a pair of black shoes, you can find cheap ones at Payless. You can not forget the wings, so head over to PartyCity and grab a pair of fairy wings along with a pink wig to complete the look. Cosmo's outfit is also very simple. All you need is some black pants, a white shirt, black shoes, and a black tie. Run to the mall and go to stores like Macys, and JCPenney to find the perfect clothing for Cosmos outfit.
Now that you have some ideas to help move the costume picking process along, head out to some stores and see if you can make these costume ideas come to life.
Leave a Comment
About the Contributor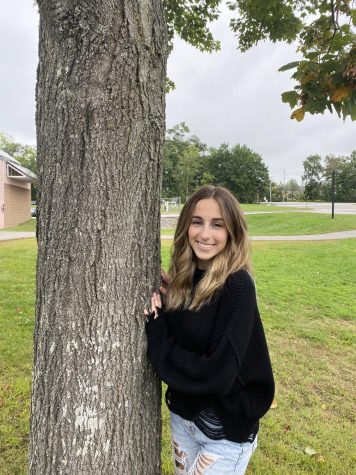 Abby Foley, Executive Features Editor
Senior Abby Foley has been on the Lancer Spirit Staff for three years, and has worked her way up to being the Executive Features Editor. In her free time, Abby enjoys hanging out with her friends, and playing with her dog.