Friend group Halloween costumes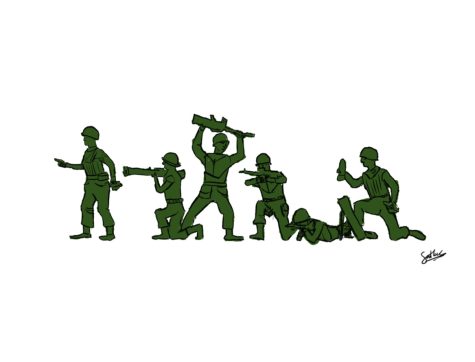 Toy Army Men from Toy Story
Toy Army Men is a fun and recognizable option for friend groups of any number. Find cheap camouflage pants and jackets from Party City or on Amazon. Get a simple helmet from Walmart or Party city and paint it green or camouflage with paint from Walmart. Pair the look with black combat boots that you can look for at thrift stores or Walmart. If you want to go all out, glue a board of cardboard to the bottom of the boots, like the stand piece on the bottom of the toy.
---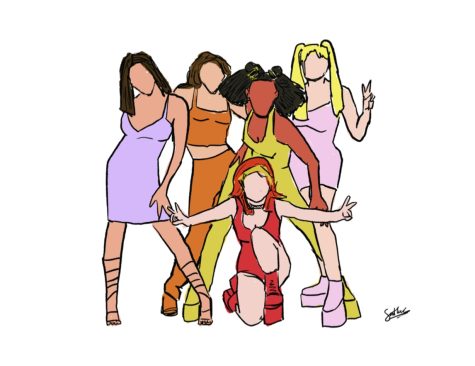 Spice Girls 
The Spice girls are an iconic look for girl groups. Try dressing up like the personas of the Spice Girls. They were known for their sparkly, flashy, 2000s style. "Sporty Spice" wore 90s style sweatpants and sweatshirts. "Baby Spice" wore cute, innocent dresses and skirts.  "Posh Spice" wore fluorescent, snazzy, sparkly, flare pants and vests. "Ginger Spice" was known for her red hair, but also for her iconic British flag mini dress. "Scary Spice" wore dark, gothic, leather pants and jackets. Since most of the clothes are vintage from the 2000s, you can find a lot of the style in thrift stores. You can also find "Baby Spice's" British flag dress on Amazon. 
---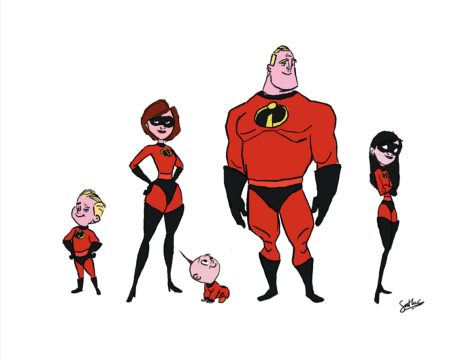 Incredibles
This is a fun costume for all of your friends to match. Find red morph suits at Party City or Amazon. You can create the Incredibles's 'i' logo by cutting the design out of felt or fabric and glue it to the front, chest of the morph suit. Add a pair of black spandex you can get from Walmart over the morph suit. For the black boots, you can find black, thigh-high boots from DSL or PrettyLittleThing, or you can just wear black socks that go above the knee with any black shoes over the morph suit. Cheap, black socks and shoes can be found at Walmart. Finish the look with the sleek, long black gloves. Gloves can be found on Amazon, or even the Dollar Store. 
---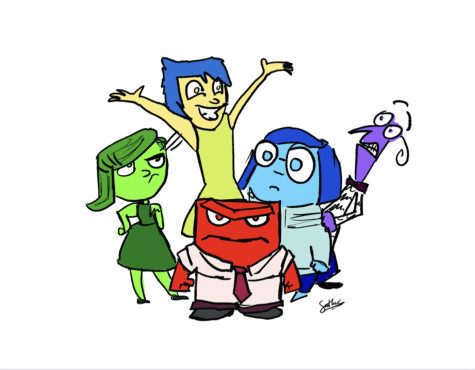 Inside Out Emotions
Dressing up as the emotion characters from Inside Out is the perfect way to personalize your friend group costume to each person's personality. Each of the emotions has a different colored skin, Joy is yellow, Sadness is blue, Fear is purple, Disgust is green, and Anger is red, so if your group wants to go all out, you could get morph suits, from Amazon or Party City, in each color to wear underneath each character's outfit. However, you could always just sport the character's unique outfit. For Joy, start with a short, blue wig that can be found at Party City, she also wears a cute yellow dress with blue flowers. Similar dresses can be found at Forever 21 and Shein. Sadness has a blue wig, but she wears big, round glasses that can be found on Amazon. Sadness's outfit consists of a simple, white, turtleneck sweater, blue pants or jeans, and black shoes. If you don't already own these pieces, this is an easy outfit to find at Walmart. Fear has a nerdy style with dress pants, black shoes, a dress shirt, a sweater vest, and a red bowtie. Once again, these are easy to find pieces that can be found in almost any clothing store but definitely can be found at Walmart. Disgust has the most unique look of the bunch with a green wig, long green eyelashes, a short, green dress, dark green leggings underneath, and purple shoes. The wig can of course be found at Party City, however for the lashes I would suggest getting big, fake lashes from CVS or Walmart and using green face paint, that can be found on Amazon, to paint the lashes green. Similar flowy, green dresses can be found at Windsor, Forever 21, Shein, or even Amazon. Finally, there is the most simply dressed, Anger. Anger wears black, dress shoes, brown dress pants, a white dress shirt, and a red tie. I would suggest first checking your dad's closet for these pieces, however they can also be found at some thrift stores or of course, Walmart. 
Leave a Comment