Lancer football wins Mack Plaque game for third year in a row
Lancer football has done it and won it again.
For the third year in a row, the boys defeat Pinkerton in the Mack Plaque game. With an impressive undefeated record of 5-0 and another Mack Plaque win, the Lancers are off to a great start this season.
The Lancers made some big plays to secure the win against the Astros once again. Two plays in particular were crucial in turning the game around. Head Coach Jimmy Lauzon says these two important plays may be "overlooked", but were pivotal in the overall success of the game.
"There were a lot of great moments, especially in the second half, but the 3rd & 1 defensive stop in the 4th quarter which forced Pinkerton to kick a field goal was probably the biggest play of the game," Lauzon said. "They missed the field goal, and that changed the entire game. I'd also say Trevor Weinmann's punt that switched field position in the 2nd half doesn't seem like it would have impacted the game as much as it did, but it was a big moment for us and gave our defense a chance to play in Pinkerton territory."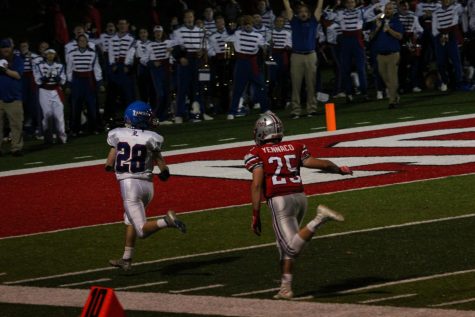 One play in particular had all Lancer fans on their feet. Sophomore Jake Schena ran the ball 93 yards to score the opening touchdown in the first quarter of the game. 
"To be honest I was flabbergasted, I couldn't believe that happened," Schena said. "I didn't think I was going to score at all and then that happened. I came off the sidelines and everyone was screaming, it was so crazy. It felt like the time had finally come because we've been working hard all year."
Senior Captain, Colby Ramshaw says it was "truly special" winning the Mack Plaque game his senior year. 
"We did a great job adapting and overcoming adversity, I'm proud of what we were able to do and I knew we could do it," Ramshaw said. "I'd definitely say our strongest aspect is our speed, we are a very high intensity and fast pace team."
Winning the Mack Plaque game is just the beginning of what is looking to be a very successful season for Lancer football. For now, Lauzon believes it's important to "stay focused".
 "We are pretty banged up with some key injuries right now, so I think a big goal is having the next man up mentality and getting the new guys prepared to play well each week until some of our starters are healthy again," Lauzon said.  "I'd like to just stay focused on one week at a time. It's easy to lose focus and think long-term and overlook someone along the way, that's an easy way for our season to get derailed. I hope we can just stay focused one week at a time."
Similar to his coach, Ramshaw is focused on winning each game and keeping up the hard work.
"The goal for the rest of the season is to continue to execute, work hard, and make it so we win the next game that we play," Ramshaw said.
One thing Lancer football has established is a culture. Winning the Mack Plaque game for the third year in a row shows just how strong this culture has become.
"A culture is built through the effort and support of a lot of people," Lauzon said. "The credit goes to the administration and town for their support, the assistant coaches for all their hard work, and the players for buying into everything we have them do. Our players show up to everything and work hard, they listen to coaching and they're talented, those things add up to victories vs a team like Pinkerton."
[foogallery id="34448″]
Leave a Comment