Residents, students protest new mask mandate
[foogallery id="34995″]
Photos by Gianna Siracuse
A group of protesters gathered outside Londonderry High School on November 15, 2021, off school grounds to protest the revised mask mandate.
The school board passed a motion last Tuesday, November 9 to mandate masks in all schools due to "substantial" spread of COVID-19 in Londonderry. 
According to COVID-19 New Hampshire, there has been a 22% increase in COVID-19 cases compared to the last seven day period in the state. 
After reviewing information presented by the NH Department of Public Health and Safety, the school board passed a motion to combat further spread of COVID-19 within schools. Some Londonderry residents did not agree with this decision , which led to a protest to publicly voice their disagreement with the mandate..
"You want to wear a mask? You want to be vaccinated? Go for it, but don't make me," said protestor Mark Michaud.
 Another protestor amongst the crowd was Scott Strong. For him, the school board mandating masking in all schools was his "last straw." 
Strong arrived in front of LHS alone at 8 a.m. and said that within an hour, 85 more people had joined him to protest.
Students came out to join the adults at around 9 a.m. LHS Principal Jason Parent made it clear that students who wanted to exit the school had to have parental permission to treat the exit as a dismissal. Students who went out to protest without parental permission would be skipping class and would receive detention as per the LHS student handbook.
The protest lasted from 8 a.m. to around 10 a.m. and remained peaceful. According to student protestor Reagan Fitzgerald, there was "zero violence" and multiple people were "beeping their horns in support."
Protestors were seen carrying around several signs which included the message, "Mask Choice."  Strong and others were present at the protest due to concerns over violations of self autonomy.
"It's time to stand up," Strong said. "If we don't stop it at masks, the next thing [the school board] does will be mandating vaccines."
View Comments (2)
About the Contributors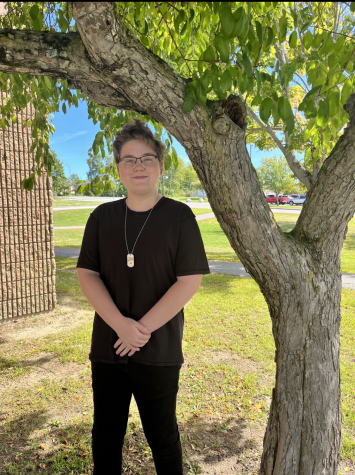 Andrew Macpherson, Opinion Editor
Senior Andrew Macpherson has written for The Lancer Spirit for three years, but this will be his first year as Opinion Editor. He is an avid activist for mental health and LGBTQ+ issues. In New Hampshire, he has spoken at the statehouse against harmful bills to the LGBTQ+ community. In his spare time, he enjoys riding his horse Whiskey.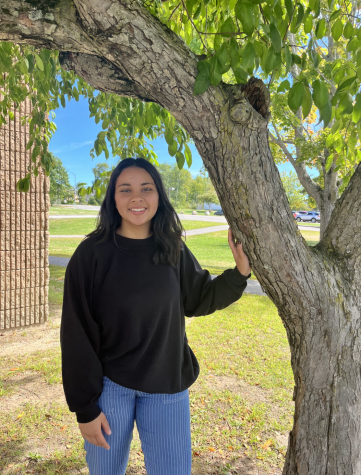 Alisha Khalil, Online Chief
Senior Alisha Khalil has been on staff for 3 years. Starting as a reporter her sophomore year, she is now The Lancer Spirit's Online Chief, Political Analyst, and News Editor. She started The Lancer Spirit's first Political news column. In her free time, Alisha enjoys making coffee and listening to music.