Pandemic helps senior artist find her passion
While senior Danielle Goodall was stuck in her house during the quarantine, she turned to her sketchbook to pass the time. She's always loved drawing, but brushed it off as nothing but a hobby. It wasn't until the pandemic that she decided this was the career path she wanted to take. 
"I had a lot of time with myself and my thoughts, so I would just constantly draw or paint," Goodall said. "I kind of just gave in and decided that I wasn't going to be happy in life unless I was making art full-time."
Since then, Goodall hasn't given up on her goal. This past fall, Goodall entered two art pieces into the art contest at the annual Deerfield Fair in Deerfield, N.H. The fair holds this contest for artists to submit different forms of art to win various awards. Not only did Goodall enter two pieces of her art, but both her pieces won "Best Overall" in their specific categories. 
"I was very excited," Goodall said. "I was under the impression that there was going to be a lot of really good competition, and the fact that I was picked out of all of them made me very happy."
Goodall has been drawing since she was three. What started out as drawings of objects in her kitchen has evolved into more and more detailed depictions—some of which have been hung up around her house.
"All the sudden one day, I told my mom 'I want to paint these wine bottles' that we had and [today] we still have that painting," Goodall said.
After discovering her niche and continuing to create art, Goodall started taking professional lessons when she was seven. She stuck with the lessons for eight continuous years, until deciding to teach herself the rest of the skills she was aspiring to learn. Goodall said what inspires her to keep going is that "it's a nice way of self-expression."
"Even just doing little doodles in class makes it easier [for me] to focus," Goodall said.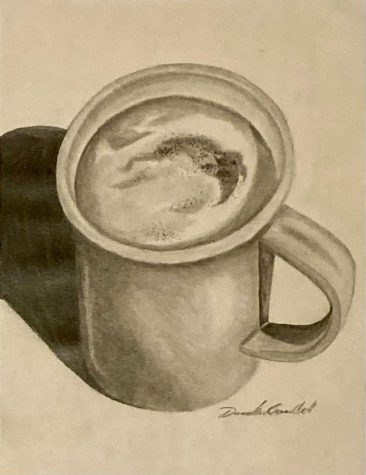 Goodall entered two original art pieces into the Deerfield Fair. One of them she described as a "still life of a coffee mug" and the other being a "still life of a bird." Goodall said she got the inspiration for her first piece while at a coffee shop.
"I thought the presentation of the coffee was really pretty," Goodall said.
Her second entry was an assignment in her drawing class here at school taught by Suzanne Hjelm. Hjelm describes Goodall as an artist who's "very dedicated to her work."
"[She pursues] until she gets it just the way she wants it," Hjelm said. "She is very patient and is willing to spend lots of time on something if it's needed."
From working with Goodall in class, Hjelm noticed how she uses her love of nature and animals in her artwork, which can be seen in her second entry; a detailed drawing of a bird.
"This is often a subject matter she excels in," Hjelm said.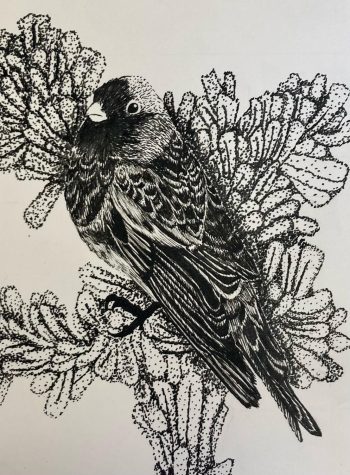 Other supporters of Goodall's art are her parents. According to Goodall, her mom is her biggest fan, and she was "very excited" when Goodall won the awards at the Deerfield Fair.
"She is the one who always says 'oh my god everything you do is amazing,'" Goodall said.
When winning the two awards from the Deerfield Fair, Goodall said how "excited" she was when she saw the blue ribbons attached to her displayed art. 
"I practically ran over to my parents to drag them over, so they could see," Goodall said. 
Since starting out, Goodall has achieved various accomplishments, one of which being four Reflection awards from a state competition that recognizes different mediums of art. Goodall also created the design for the senior class shirts this year. Goodall "always feels grateful" when she gets any type of recognition for her art pieces.
"It just makes your hard work feel validated," Goodall said, "like there was a purpose to all that time [put in]."
When going through her experiences of entering contests and winning awards, Goodall said getting recognition for her art has helped her by incorporating the feedback she gets into her projects.
"When I get complimented on my work, it makes it feel like the time and effort I put into my craft is paying off," Goodall said. 
Art helps Goodall understand her emotions and helps her "shut out everything in her life" that causes her stress. One little doodle on a piece of paper can "help make her day better."
"[Art] helps me put my thoughts on paper without words," Goodall said. "It also helps in tuning out everything else and doing something where it doesn't matter if it goes right or wrong," Goodall said. 
While taking art classes in school and entering art in contests outside of school, Goodall has kept her goals in mind when planning for life after high school. She plans to pursue a career in graphic design. Her top school of choice is Plymouth State and then she hopes to transfer to Maine College of Art and Design. 
"I hope to get a job at a graphic design company and hopefully start selling my designs on Etsy," Goodall said.
In pursuit to be an artist for the rest of her life, Goodall encourages anyone who struggles in dealing with their emotions to try using art to express themselves. 
"If you have a lot of emotions, you can try to figure out a way to put it on paper," Goodall said. "Not just writing, but in a different medium." 
Leave a Comment
About the Contributor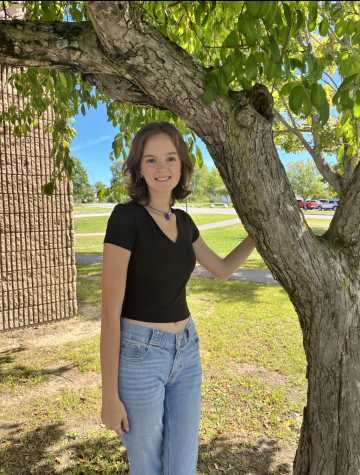 Kelly Egan, Arts and Entertainment Editor
This is Kelly's first year on staff. As well as being an editor, she is heavily involved in the music department here at LHS. She is in the chamber choir and the drama club. She also does theatre year-round outside of school. She loves being on staff and has been writing since elementary school.