Fashion Friday is revived with Mr. Rodrigo Rosa-Blackburn
For the first Fashion Friday of the 2022-2023 school year, we highlight Spanish teacher, Mr. Rodrigo Rosa-Blackburn, better known as "Profe" and his personal style and insight on fashion.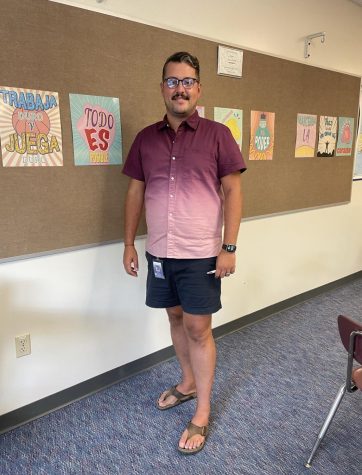 Profe describes his personal style as "elevated casual."
"I only like to dress up when I absolutely have to, but I also don't really wear t shirts and sneakers a lot," Profe said.
Following his dressy style, Profe's least favorite fashion trend is the "athleisure" style. Athleisure is a newly popular fashion trend in which clothing that would typically be classified as athletic wear, such as leggings and sweatshirts, is dressed up to be worn in the everyday setting, not just in an athletic setting. The trend has redefined everyday clothes for a more relaxed and comfortable fit. However, Profe is not a fan of the fad.
"I think it makes people look lazy and like they haven't put any thought into their appearance," Profe said. "Athletic wear has a place when you're doing athletic activities but no one should be wearing sweatpants and crocs to work or school."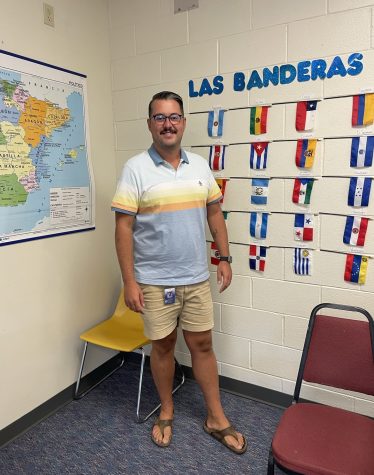 Although you won't find Profe sporting sweatpants to school, you can probably find him wearing his favorite clothing piece, cable-knit sweaters. Cable-knit sweaters are his favorite because he "sticks to natural fabrics" such as, cotton or wool. Another bonus is Profe can find his beloved sweaters in any array of colors that fit his liking.
"I try to stay away from reds, oranges, and too much black, but other than that, I wear pretty much any color," Profe said. "I have dark features, so in the summer when I have a tan, lighter colors look best."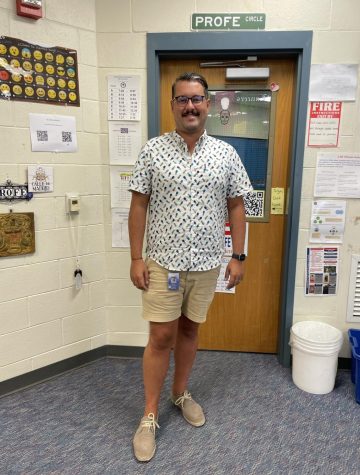 Profe finds all the colors of clothing he needs from his favorite brand, Original Penguin. Original Penguin is a dressy men's and women's online retailer.
"I like the way their clothes fit, and I've been buying from them for so long that I don't need to try anything on anymore, I know what's going to fit and what isn't," Profe said.
Even if you don't match his exact style, Profe's advice to others developing their own style is to "experiment with many different styles."
"A lot of it comes down to personal taste, if you want to wear clashing colors, go ahead, if you want to mix patters, you do you," Profe said. "It's all about how what you're wearing makes you feel."
Leave a Comment
About the Contributor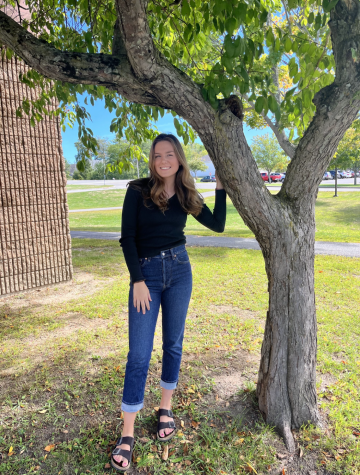 Megan Standifer, Assistant Editor in Chief
Senior Megan Standifer has been on staff since 2020, starting as a reporter, then Fashion Editor during the 2021-2022 school year, and now Assistant Editor in Chief as well as Magazine Chief. Standifer is accredited with bringing fashion feature stories back to The Lancer Spirit, with her creation, 'Fashion Friday.' When Standifer isn't carefully critiquing the fashion industry, or speaking on insightful podcasts, she enjoys playing volleyball, snowboarding, and sitting bench on the girl's track...