When students in art club meet, they grab their pencils, paints and sketchbooks. And more recently, a deck of cards.
Sophomore Alex Barnes was the first to suggest adding blackjack to the club, but it was adviser Suzanne Hjelm who came up with a way to connect this game to art. 
"They started [playing blackjack] and they have a picture they're all [drawing]," Hjelm said, "and when someone loses, they have to add to it."
The rules they follow are all the normal blackjack rules, except after every round, the losers have to add to a group drawing they've been working on.
The students enjoy being able to incorporate a game with the club, as it adds a new twist to traditional art.
"Well, I get to play one of the few card games I know, so it's really fun," Barnes said. "I get to watch all my friends draw, and add lines to [the drawing], since that's the extent I can draw."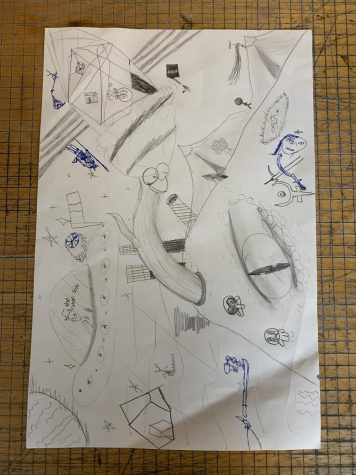 Although these students find their group drawing to become a bit "chaotic," there are some restrictions that everyone follows. 
"If you're not supposed to draw it in school, you probably shouldn't be drawing it in art club," sophomore Fin Nielsen said.
So far, the group has completed one drawing since the start of the club this year, but they have since started a new drawing.
"[The drawing] goes on until it gets too chaotic, and we decide to stop," Barnes said.
Doing a group drawing has been "enjoyable" for both Barnes and Nielsen for a number of reasons.
"You get some really wacky stuff," Nielsen said. "One of the first things that got added was a circle and then it turned into an eye, and then a dragon. [Then] there were aliens involved. It was a whole thing. It's really fun to see what everyone came up with."
Barnes said they would be willing to try doing other games "depending on the game," as long as the games have definite winners and losers. He said they'd have to find "some other short card game," so each club member is involved.
Blackjack has shown to be one of the "better games" to play for this activity according to Nielsen, as it's a quick game with a definite loser and winner.
"It's pretty easy to teach new people how to play," Nielsen said. "We do a round, and then everyone who loses has to draw something." 
Hjelm said this group of art club students shows the variety of people involved in art club.
"We have some kids that come in here and work on their talents," Hjelm said, "and I have some kids who draw on paper. I have some who come in and work with markers and do more design- type things. Everyone can come in and find their niche."
This group of students plan on continuing to play blackjack for the rest of this year. Hjelm said she did it to incorporate a game they were enjoying into what they do during art club.
"I mean the whole idea of after school activities is to bring kids together and get them to enjoy each other's company," Hjelm said.