LHS Lancers selected as seven of the top young musicians in New Hampshire
NH All-State auditions came to a close in Nov. 2022. Naturally, with the prospect of Holiday break ahead, during this time, a substantial weight was lifted off of hundreds of students' shoulders. And, with the results of the auditions currently out, we can now celebrate the success of six of our own Lancers, who were chosen to be part of the select ensembles yesterday, Thursday, January 12, 2023. 
Junior Sean O'Donnell made All-State Band on trombone, junior Nora Lees made All-State Orchestra on bassoon, junior Kelly Egan and junior Micheala Horan made All-State Women's Choir on soprano voice, juniors Timmy Dolan and Joey Cain made All-State Mixed Choir on tenor voice, senior Frank Thomas made All-State Mixed Choir on bass voice, and senior Rae Pizzi made All-State Mixed Choir on soprano voice.
Junior Nora Lees has been playing the bassoon since middle school. While 2022 wasn't her first-year auditioning for All-State, because of the effects of COVID-19, it might as well have been, since her first audition experience wasn't even in person. 
"I auditioned my freshman year," Lees said. "But auditions were virtual that year, which made the whole thing a lot less intimidating."
Lees chose to audition for All-State a second time because she sought to push herself out of her comfort zone; she wanted the experience of "playing harder music than [she] gets in music class."
Another reason Lees chose to audition was because of her private teacher, who "encouraged [her]" to put herself out there, and pushed her to trust in her own musical abilities. 
Overall, Lees felt like the All-State audition process (dissimilar to her first virtual experience) was intimidating, and it surprised her how prolonged the experience seemed. 
"It can feel like a very long process," Lees said. "Especially when you have to wait because someone is in the room doing an audition before you."
Nerves also played a part in making the audition seem lengthy, and Lees found that she wasn't able to easily dodge the oncoming anxiety that inevitably creeps up during moments where projecting confidence is vital. 
"I was actually shaking from the anxiety," Lees said. "To overcome this, I did my best to take deep breaths and remind myself it was not the end of the world if I messed up; everyone messes up."
And over time, as the auditions moved along, Lees found that the nervousness dissipated on its own. 
"I found the further I got into my audition, the less anxious I became," Lees said. "I started to think more about the music, which helped me to calm down. The sooner I got into a performance mindset, the better I felt, and the better I played."
When Lees had a conversation with another auditionee while waiting to be called into the judges' area, she was granted a lot of clarity on the commonality of nerves in general. 
"Everybody there is nervous, it's not just you," Lees said. "I was talking to the top bassoonist in the state and even they were nervous."
While All-State auditions can feel stressful and time consuming, Lees said that she recommends giving the process a try, as long as you're committed to practicing and learning the necessary pieces. 
"Give yourself time to learn the music," Lees said. "Don't try to learn it a month before the audition."
Lees also said that just because you don't feel all too confident with your instrument, or your vocal abilities, that doesn't mean that you shouldn't put yourself out there. 
"Even if you don't think you're going to make it, you should try," Lees said. "If everybody who thought they weren't going to make it did not show up, there would be very few people auditioning."
Senior Rae Pizzi has auditioned for, and been a part of All-State for all four years of high school. In fact, Pizzi has been performing as long as she can remember, whether it be in choirs, musicals, or pep rallies. 
"I have been singing pretty much my whole life," Pizzi said.
Even though she's been part of All-State since her freshman year, the entirety of this opportunity still amazes her, and she felt like the overall audition was a "really fun experience."
"You get to meet so many amazing people from around the state who love music as much as you do," Pizzi said. "It allows you to reconnect with people you may have been to at other events or organizations and connect with them as well."
Even while she's been part of All-State since her freshman year, Pizzi found that going into the audition, she still, like all the years before her, felt "really nervous."
"This was a really busy fall for me and so I didn't spend as much time focusing on my material as I would have liked," Pizzi said. "I was really nervous I would mess up the lyrics to the song."
However, Pizzi found that most of the nerves were simply in her own head, and she tried her best to find ways to get rid of the self created anxiety.
 "I just tried to change my mindset," Pizzi said. "I like to say, what's meant to be will be, and I tried to go in like that. I knew what I was doing, I just needed to convince myself of that."
Pizzi is so thankful and excited for a fourth opportunity to be in All State and is excited to see what the All-State experience will offer her this year. 
"It's such an incredible and unparalleled experience," Pizzi said. "It gives you a chance to meet people who share your passions and connect and reconnect with incredible individuals."
Junior Kelly Egan had never applied to All-State before. However, this year, her friends inspired her to push herself out of her comfort zone when they had nothing but positive things to say about the All-State experience. 
"A bunch of my friends did All-State last year," Egan said. "They said it was a really good experience for students who love music. So, after I joined the choir this year, I decided that I would try to audition, and see what happens."
To her excitement, Egan got into All-State on her first try, accepted into the All-State Women's choir on soprano voice. 
"I got in with some of my closest friends," Egan said. "I'm super excited!"
In order to prepare herself for the lengthy and stressful audition process, Egan practiced with her voice teacher, Mrs. Loschiavo, in order to make sure she felt confident she could perform the "best [she] could."
The hard word and practice paid off, and to Egan's surprise, she ended up performing better than she could've hoped for. 
"I handled my nerves a lot better than I thought," Egan said. "I usually get super nervous about things, and I remember sitting with my other friends feeling like I was going to vomit. But then I was waiting outside the audition room, I just took some deep breaths and reassured myself that I knew the music and could do the best I could. And I think that's what I ended up doing."
In the end, Egan believes it's vital to stress the importance of practice. Because if you go in not knowing what to expect, and not feeling good about the pieces you're performing the judges will most likely sense that. 
"Practice as much as you can," Egan said. "Don't push it to the last minute-have someone else listen to you singing the materials to get another opinion from someone, because that will be very helpful in the long run."
Junior Micheala Horan chose to audition for All-State because she hoped it would be an unforgettable learning experience. 
"I thought it would be such a good experience to get to sing with people from all over the state," Horan said. 
Because Horan had never auditioned before this year, many little things about the experience caught her by surprise. 
"There were so many people there," Horan said. "That was surprising considering this was my first year auditioning."
However, because she worked diligently months prior, practicing and practicing until she felt good about the pieces she had to perform during the audition, Horan was able to overcome the nerves, and sing her heart out. 
"I felt prepared going into the audition," Horan said. "I worked with the other auditionees beforehand, and I overcame nerves by practicing before I went in." 
While the audition was both exhilarating and nerve wracking, Horan felt that it was a fulfilling and challenging experience, one that she hopes will stick with her throughout whatever she may face in the future. 
Horan advises that if you have the drive to audition, you should go in believing in yourself. Because in the end, even if you don't get into All-State, you'd have accomplished something profound. 
"Be confident and go in with a good attitude," Horan said. "Because, the judges will recognize it, and appreciate it."
A huge congratulations to those who had the courage and drive to audition for All-State, and congratulations to our six Lancers who made All-State. If you're interested in viewing the All-State performances, feel free to check the performance schedules on the NH All-State calendar.
Leave a Comment
About the Writer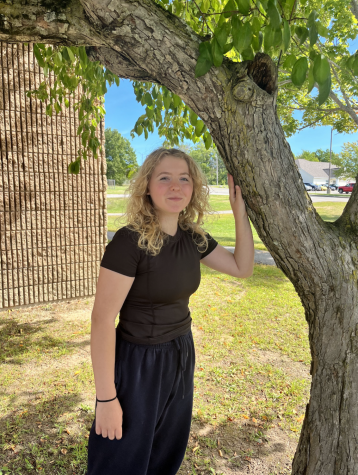 Catie Brown, Copy Chief
Catie is a senior, and has been part of the Lancer Spirit Staff for three years. Her interests in writing and photography are what drove her to begin. She also plays volleyball, tennis, and rock climbs in her spare time.