LHS Drama Club's "My Fair Lady" puts on a "loverly" performance
The lights have been raised and the curtains have been drawn. The costumes have been hung up and the musicians have packed their instruments away. The hundreds of congratulations flowers sit in vases, and the actors are left with a range of post-show emotions: looking back at the photos and videos with bittersweet happiness. After four months of non-stop memorization, preparation, and execution, the LHS Drama Club's production of My Fair Lady finally hit the stage this past weekend at the Derry Opera House—and it was nothing short of spectacular.
My Fair Lady follows Eliza Doolittle; a young flower girl with a thick Cockney accent, which makes it difficult for her to garner respect from those around her. She runs into Henry Higgins, a linguistics professor. Higgins is taken by Eliza's speech and mocks how she is unable to speak properly. Eliza confronts Higgins, asking him for speech lessons to better her chances of getting the job she desires. Higgins, alongside his friend Colonel Hugh Pickering, wagers that in just six months, his tutoring will be able to turn Eliza into a proper (and fair) lady.
The Drama Club's performance highlighted some major talent, such as seniors Rae Pizzi and Frank Thomas playing the leads of Eliza and Professor Higgins. These two seniors were backed by a strong secondary cast, highlighted by junior Kelly Egan (Mrs. Pearce) and junior Joey Cain (Colonel Pickering). 
Even with a younger ensemble, the Drama Club delivered a masterful performance; making the audience laugh, cry, and cheer on the characters they brought to life on stage. If you happened to miss the show, take a look at some of the photos below from the performance!
Leave a Comment
About the Writer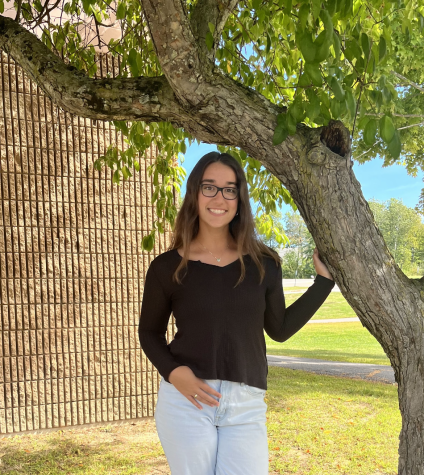 Makenna True, Editor in Chief
Heading into her third year on staff, Makenna is excited to take the reins as Editor in Chief of The Lancer Spirit. In her spare time, Makenna can be found playing competitive travel softball for the NH Prospects organization. She also is a part of NHS, the Green Council, and Senior Gators.