Class of 2016 dedicates new bench to Craig Fairweather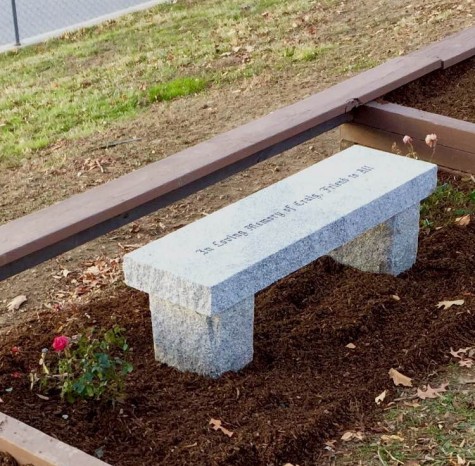 Dozens of students dressed in orange gathered near the track yesterday to honor classmate Craig Fairweather, as a marble bench engraved "In Loving Memory of Craig, Friend to All" was presented to the school and to the Fairweather family.
During the dedication ceremony, senior class president Max Hastings thanked everyone for coming, and senior Billy Flagg, who was the one who had the bench created, gave a small speech about his inspiration for the bench.
"I decided to use my [Eagle Scout project] as an opportunity to honor my friend," Flagg said in his speech.
Seniors Emily Dawson and Abigail Espaillat then performed a ukulele rendition of "Somewhere Over the Rainbow," which was followed by a moment of silence.
"I was really nervous," Dawson said, "but I'm glad I did it. It was really important to me. I'm very close with Mrs. Fairweather."
Senior class adviser Mrs. Lafore said she hopes the bench will become a place for people to come and remember all the good times that Craig had on campus.