Community Service Club taking donations for 'chemo bags'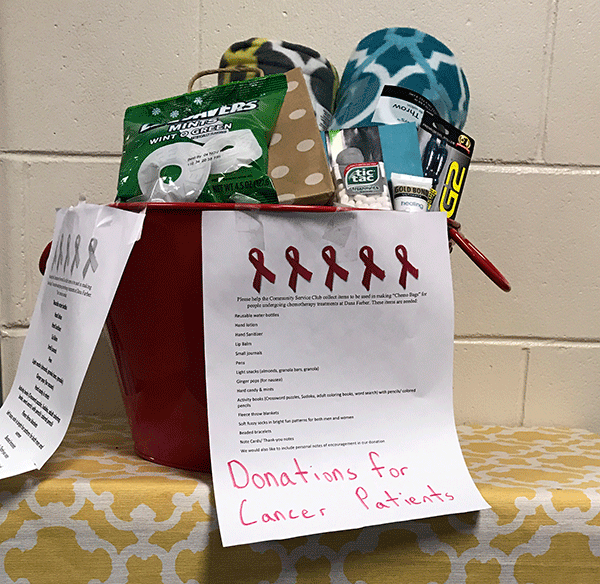 '
Through the month of March the LHS Community Service Club will be collecting donations for "chemo bags" that will be put together for patients undergoing chemotherapy and radiation at the Dana Farber Cancer Institute.
The idea came to fruition after the club was contacted by a parent in Londonderry who is undergoing radiation and wanted to do something to give back to the community.
"Surviving cancer and undergoing chemotherapy is a difficult process on its own," said senior and Vice President of the Community Service Club Lindsey Guenther. "If we can help alleviate some of the costs by donating recovery items like lotion and chapstick, then we are more than happy to do so."
Anyone who wishes to donate can find collection baskets in all house offices.
"We love to reach out in any way possible and doing donation drives is an easy way to get the whole school involved in a project to help people right here in Londonderry," Guenther said.
Mrs. Wakelin initially formed the club so students could serve the community by performing tasks like raking leaves or shoveling snow. Over the years, however, the club has evolved into something even bigger.  Now members participate in Toys for Tots, Sponsor a Family, the Boys and Girls Club as well as other service ideas brought to them throughout the year.
"We'll take on whatever role we can play," adviser Mrs. Marzik said. "It's not about us, and it's nice that we can help other people."