LHS Hall of Fame inducts new members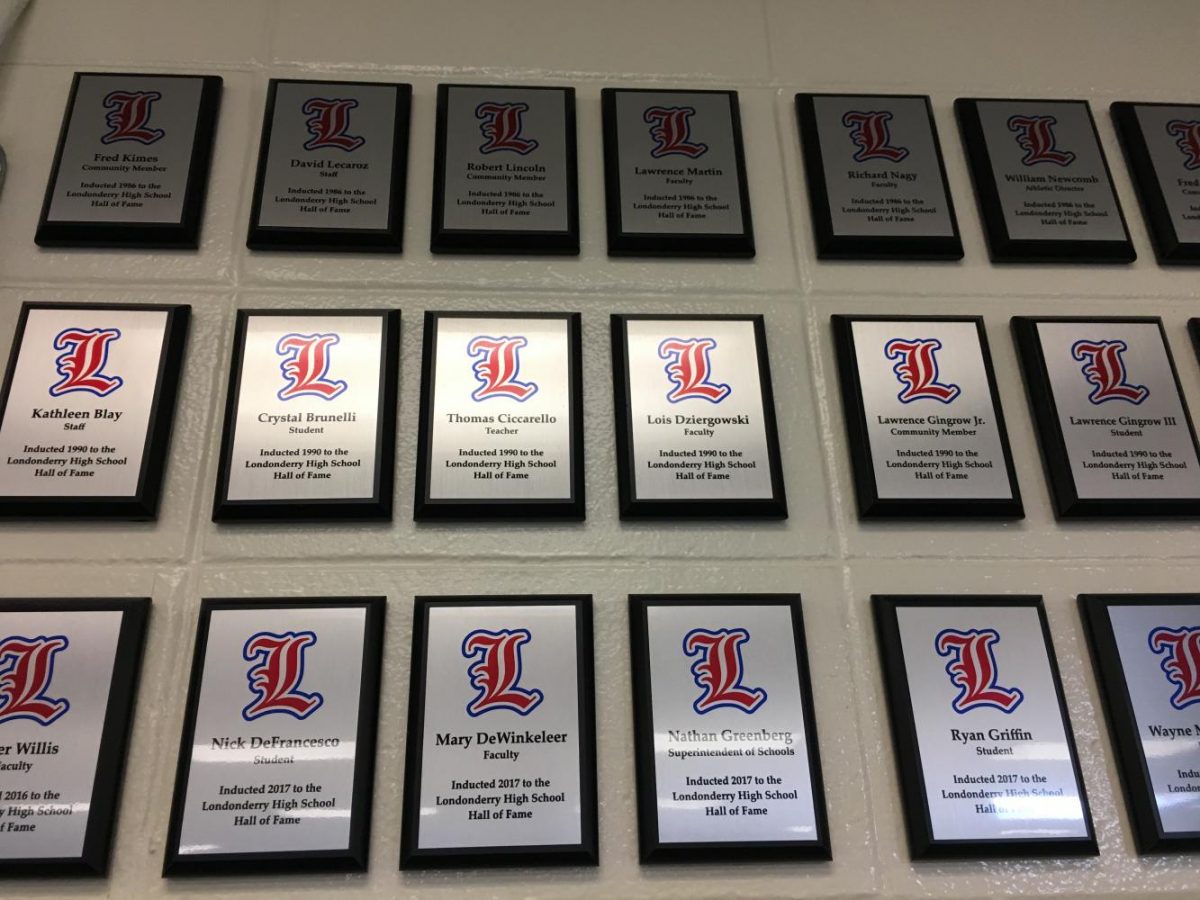 Allie Marsh, Sports Editor
October 2, 2017
Congratulations to the 2017 LHS Hall of Fame Inductees
Nathan Greenberg– Mr. Greenberg retired on June 30, 2017 after 17 years as the Superintendent of the Schools of Londonderry School District All total, Mr. Greenberg served as a Superintendent for 30 of his 48-year career in education. During his tenure as Superintendent in Londonderry, he received numerous awards which encompassed his total support for all of the different facets of the Londonderry School District including; New Hampshire Superintendent of the Year, Administrator of the Year from the New Hampshire Music Educators Association, New Hampshire Educational Media Association School Administrator of the Year, National School Library Journal Administrator of the Year, and AASL Distinguished School Administrators Award.
Jason Parent– Mr. Parent began his career at Londonderry High School as an Assistant Principal in the fall of 2003, and made an immediate impact on the students and staff at LHS by starting the Adult Education program, the GED Testing Center, Lift and World Studies programs, and revamped the Summer School program. In the Fall of 2008, he became the third and youngest Principal in the 39-year history of Londonderry High School as well as the youngest Principal in the state of New Hampshire. He is currently the second longest tenured Principal in the school's history, beginning his tenth year in that capacity.
Mary Dewinkeleer– Mrs. Dewinkeleer started her teaching career at Londonderry High School in the fall of 2004. She has taught College Prep English for 11th graders and she has taught both Journalism courses. Her biggest impact at LHS outside of the classroom has been as the advisor of the award winning school newspaper, The Lancer Spirit.
Jon McMahon– John is a member of the class of 2007. He was a four-year member of the varsity baseball team at Londonderry High School. Upon graduation from Londonderry High School, he earned an appointment to the United States Air Force Academy where he continued his baseball career at the Division I program. Upon graduation from the Academy, Jon received his commission and served his country proudly.
Crystal Rich– Mrs. Rich started teaching at Londonderry High School in 2005 and has had a significant, positive impact on the students, staff, and school culture. Mrs. Rich teaches a variety of courses in the English Department including Public Speaking, American Literature, and College Prep English for juniors. Mrs. Rich is very active as a coach and advisor for many different organizations at LHS. She started the Athletic Leadership Council and continues to be their advisor, is currently the PTSO Teacher Representative, and is the Penguin Plunge/Winni Dip advisor, which is a benefit for Special Olympics of New Hampshire.
Wayne McDougall– Wayne MacDougall worked industry for many years, but wanted to work with young people, so he left his first profession to teach and coach at Londonderry High School beginning in 1989. Mr. MacDougall taught Mathematics at LHS until his retirement in 2011. Mr. MacDougall was active as a coach for multiple teams and sports and continues to coach our softball team, which he has been coaching since 1994.
Nick DeFrancesco– Nick is a member of the class of 2011. He was one of Londonderry High School's most decorated musicians, earning Multiple All State honors in both voice and instrument. Nick is one of the few musicians in New Hampshire to earn All State for all four years of high school in three different disciplines. Upon graduation from LHS, Nick attended the Manhattan School of Music Conservatory in New York City where he graduated with a Bachelor's Degree in classical voice. While attending the conservator, he performed at many different venues throughout the city.
Rebecca Parascandola– Rebecca is a member of the class of 2010. Rebecca was a true scholar athlete at Londonderry High School, where in addition to her outstanding athletic career, she graduated in the top 10 in her class. She was a three-sport athlete at LHS, participating for four years on the field hockey team. Upon graduation from LHS, Rebecca matriculated at Cornell where she continued her career in track and field. She is currently attending medical school.
William O'Connor– Bill O'Connor is a legendary long-time Destination Imagination team coach/manager, having managed multiple teams for over 20 years. Starting in elementary school, Bill worked with each team through middle school and high school. He began as a coach for teams that his four children participated on, but since 2010, he has served as a coach for a team of elementary students who lost their coach midseason. Bill stepped in and has been with them ever since. The team recently won 2nd place at the New Hampshire State Finals and competed at the Global Finals this past May.
Ryan Griffin– Ryan is a member of the class of 2008. Ryan grew up in Londonderry and decided to attend New Hampton Prep School after his 8th grade year. Prior to his senior year, Ryan transferred back to Londonderry High School where he competed in both football and basketball. Midway through his senior year, Ryan played well enough to be offered a full scholarship to play football at the University of Connecticut. Ryan was drafted in the 6th round of the National Football League draft by the Houston Texans. He has maintained a relationship with LHS and always stops by to speak to and workout with our student athletes.