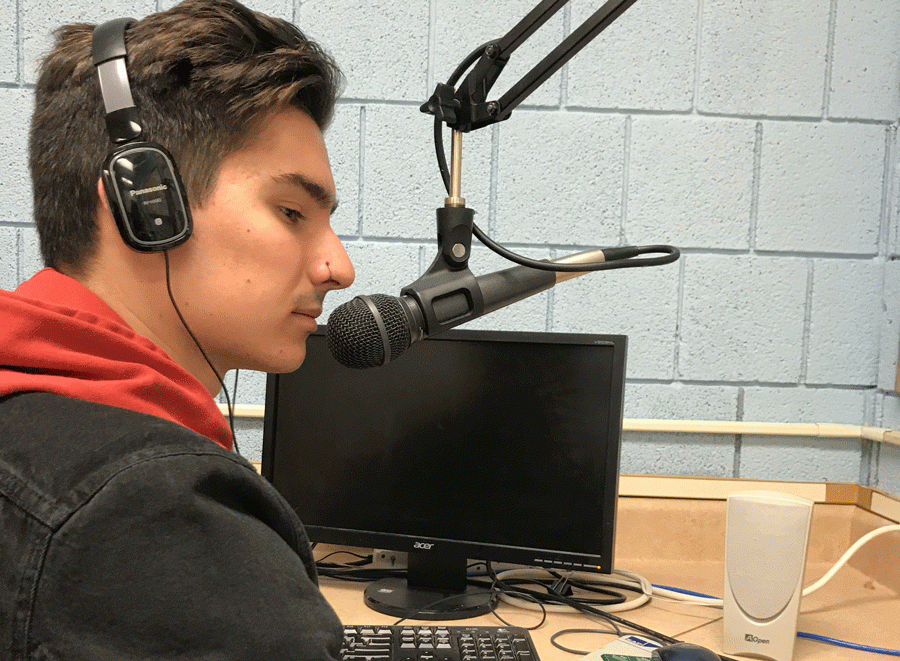 New multimedia class inspires students to explore creative outlets
     Filming videos, watching Youtube, editing, listening to podcasts, if any of these things pique your interest, then the new Multimedia class is for you.
     Basic video teacher Karen Robinson is starting a class that will be available next year for all grades, with no prerequisites needed.
     "Mrs. Dewinkeleer and I have been trying for years for this," Robinson said. "We've tried at the end of the year, over the summer, and in the beginning of the year to get more multimedia content on Lancer Spirit Online specifically. The point of this class is to dedicate this class time entirely just to doing that.
     Though in the past, Robinson has tried to produce multimedia content in her other classes, there has never been enough time for her to do as much as she wanted.
     "I have gone out of my way to make sure that I do some audio or video interviews this year," Robinson said. "This stuff takes a lot longer than people think it does, so I've lost maybe an entire week or week and a half of normal class time to do that, which on one hand doing it once a semester is okay, but I can't dedicate the kind of time that we need right now."
     With very limited time, most of the responsibility has fallen on her to do the editing. The hope is that this class will take some of that pressure off.
     "Right now, it's just throw it together as fast as possible," Robinson said. "All of the footage that we get is left to me to edit, or else it will just sit. Our goal is to speed up this process. So in the beginning, they'll learn how to do it, and then they can just do it. Right now, there just isn't time for students to learn."
     After the basic skills are learned, this either one semester or full-year class will stray from the normal classroom dynamic and routine.
     "The thing that I'm also trying to pitch to people is that this class will be 100% hands on, just go do it," Robinson said. "There won't be quizzes or lectures. The only time they're gonna hear from me is when I'm showing them something as a group, and then it'll be one on one, whatever you need help with."
     With more time to make videos and podcasts, more content can go up and benefit Lancer Spirit Online.
     "For us, I feel like we're at a different level than in the past," journalism teacher Mrs. DeWinkeleer said. "Things are finally coming together. We're publishing something every day. To get to that next level, we need multimedia content. I feel like just having a devoted class to doing this is going to be so amazing, so she can just feed stuff right to us."
     The goal is to produce podcasts for the district radio station WLLO and also create a variety of multimedia content to go along with and enhance some of the articles online.
     "A still photo is something, but it's not the same as having someone in front of you," Robinson said. "You know, do they talk with their hands like some of us do or whatever. People just don't realize that there are additional steps."
     Eventually, they want the multimedia content this class produces to become a regular and well-liked thing in the school.
     "Our podcasts, which used to be only on FM radio, are now moving to online to, so it will be even easier for people to listen to them," Robinson said. "I want it to be second nature. If they see you around recording something in the hall, I want people to know to go look or listen for it, so it's not like we have to keep pushing people to check it. Ultimately, I just want them to get used to people recording stuff that they just check for new things. I just want more voices and more faces up online."
     With the class just starting out, Robinson and DeWinkeleer want anyone who is interested to sign up and give it a try.
     "I would love people who are self-directed, self-motivated, and just excited," DeWinkeleer said. "Just like in journalism, even if your skills aren't perfect, if you really want to be there and you're excited about it, that's half of the battle. That's the best kind of people."
     Even if this field isn't something that you are interested in for the future, the skills that you will learn can still benefit you in the long run.
     "You have no idea where this type of thing can take you," DeWinkeleer said. "If you have experience with these skills, it will set you up for anything."
     Both teachers look forward to next year, when they can finally realize their dream of more multimedia content representing the school online.
     "There are so many things that if we had this one dedicated class, we could do so much more than what we do now," Robinson said. "What we do now is only 50% of what we could be doing if we just had more time in the day to focus on these things."