Baseball brings home State Championship
Lancer Baseball brings home a New Hampshire Division I State Title after beating the Bedford Bulldogs in a 1-0 game at the Northeast Delta Stadium in Manchester.
After leading a promising season with a record of 15-5, the Lancers continued their success through a strong playoff run against Spaulding, Pinkerton, and Concord before claiming the State Championship against Bedford.
The game was an intense pitcher's duel interrupted only once during the fourth inning by junior Sean Cavanaugh whose two-out single led senior Nick Cote to score from second base.
"Not every high school gets this opportunity and the way we took it was magical," Cavanaugh said. "Winning the state championship is one of the greatest feelings."
Senior Reece Manor said since most of the team had grown up playing together, they knew if we "put everything out there every game" that they would "be successful."
"The pivotal moment was when we scored a run," Manor said. "At that point we knew that it was going to be hard to beat us."
While the team had a combination of excitement and nerves, the Lancers were able to keep a calm mentality and clear head until the end of the game.
"It isn't something that just happens over night," said Brent Demas, the varsity head coach. "You work on it all year and hope when the time comes they'll be ready to go, and they were." 
According to Demas there were a few players that really stepped up in a crucial moment for the team, including Junior Nolan Lincoln, who was an important part to the teams' victory.
"Nolan Lincoln was basically un-hittable," Demas said. "I've seen a lot of good games by him, but that was the best I've ever seen him play." 
While the last few moments of the game were high pressure and kept fans on the edge of their seats, Lincoln remained calm as he continued to attempt to strike out his opponent.
"The entire team as a whole played a great game," Lincoln said. "I felt like I was able to stay confident and compose myself throughout the game just because I knew I had eight great guys behind me that would do anything to see us win."  
Lincoln's calmness kept his teams' nerves from interfering with their performance.
"Knowing we had our best pitcher on the mound, we all felt pretty confident," Cote said. "We couldn't have done it without him."
The 2019 team is the first to win the state championship for LHS baseball since 2014, and the players are optimistic about next season as well.
"I feel strongly that we're going to win again next year," Cavanaugh said. "I think we're feeling a back-to-back win."
Leave a Comment
About the Contributor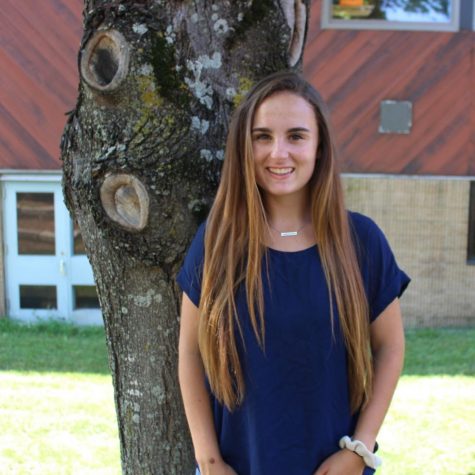 Kait Bedell, Editor-in-Chief
Kait loves to keep busy with her many hobbies of lacrosse, field hockey, drawing, guitar, and of course, writing. On the rare occasion her schedule is freed up, she is usually spending that time with family and friends or sprawled out on the couch watching her favorite shows.