'bad guy' Billie Eilish makes sad music stylish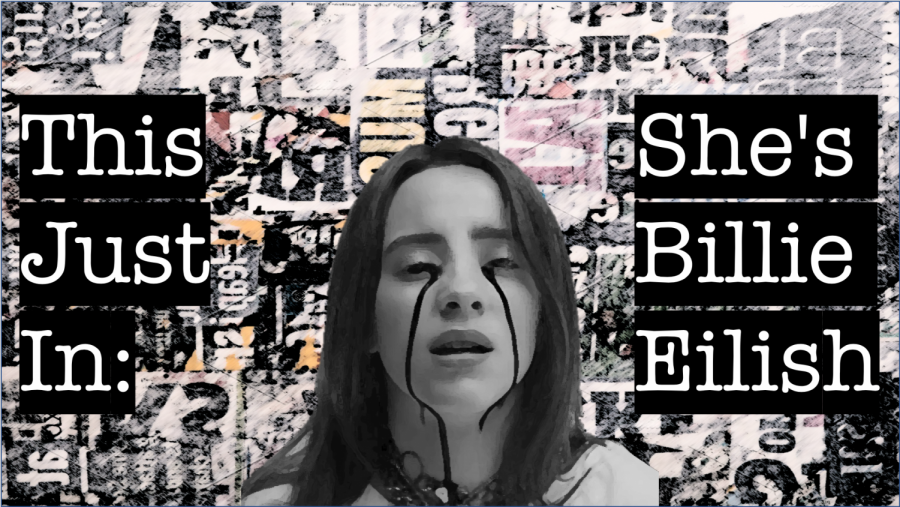 They say if you want to see living art, then watch a poet cry.
They say they have a way of making pain beautiful.
I know this to be true because I experienced it first-hand.
All thanks to a 17-year-old girl named Billie Eilish.
While only having released two studio albums to date, 2017's dont smile at me and 2019's WHEN WE SLEEP, WHERE DO WE GO, Billie Eilish's impact has been nothing less than meteoric. Through the release of hits, "idontwannabeyouanymore," "ocean eyes," "bad guy," "you should see me in a crown" and "bury a friend" over those two albums, Eilish has already cemented her legacy in modern musical greatness.
Eilish introduced the world to her melancholy melodies with her dont smile at me hit "idontwannabeyouanymore." The instrumentation of this track is that of a James Bond theme song. Sprucing it up with a more synthesized, compressed sound, the orchestration sets up an almost cyber-punk sound.
Eilish's writing is what really enhances the track, however. Her imagery instantly has the listener fall into a very relatable, almost depressive state. It tackles the self-dysmorphia-rampant society we have created with lyrics like, "If teardrops could be bottled, there'd be swimming pools filled by models," and the chilling titular verse, "I don't want to be you anymore."
The other hit from dont smile at me is "ocean eyes."  The track is similarly composed to Eilish's other works, with uber-compressed production, allowing for a mellower, softer song to have a louder effect.
For this song, Eilish doesn't even rely on her writing ability to carry the song. While still providing catchy yet visceral writing in this intimate track, its Eilish's vocals that steal the show. Her range is on full display, with flying falsettos and her beautiful natural voice that sounds as if she's speaking to the listener rather than singing a song.
For her second album, WHEN WE SLEEP, WHERE DO WE GO, Eilish flips the script for the sound of her music. Take a song like "bad guy." The instrumentation shies away from recognizable sounds, and instead opts for a syntho-bass heavy sound.
Eilish also changes up the message of her song. Leaving behind the "woe is me" style from previous songs, Eilish reinvents herself by making herself a leather-and-tight-jeans, James Dean-style bad guy. She transforms herself into the "make your momma sad type" bad guy that holds no punches in her angst towards life.
"you should see me in a crown," is Eilish's self-coronation into greatness. The song again is so simple, but the eerie and dreary sound mixed with the occasional unsheathing sword sounds and crescendoing bass makes it great.
The song is basically all bass and 808 drum loops drowning out a layered, heavily-produced set of vocals. Given that Eilish's singing ability is almost unparalleled, it would seem to be a risk to give her vocals the back seat in a song; and a risk it was, but one that paid off.  Her vocals act as the supporting instrumentation, allowing for the bass and drum loops to take the main role of the melody, creating a truly unique song.
Eilish didn't completely leave her dark days behind her in this album. Arguably the strongest song on the album, and the darkest Eilish has ever produced, "bury a friend" is an unsettling take on mental health.
The song is three minutes of messed up thoughts that go on behind a set of pretty ocean eyes.  Tackling the idea of self-worthlessness and what it's like to deal with it, "bury a friend" is a very accurate representation of the knavery, dark thoughts committed in the minds of individuals dealing with mental health struggles.
The dark messages in her music, the raw perspective of being a modern teenager and the excellent writing have made Eilish an artist that isn't living in fear of the future but has the future in fear of what she'll do next.
The sky's the limit for this budding young artist, and soon enough, time will tell whether Billie Eilish will be remembered as a great or be one of countless forgotten artists.  Regardless of what time has to say about Eilish, her music has something to say now:
Run in the sun for her and she'll never be found.
But walk out on a cloudy day, and you'll find her dancing in the rain.