Oldies But Goldies: 'Come as you are': Nirvana cleanses prejudice with grunge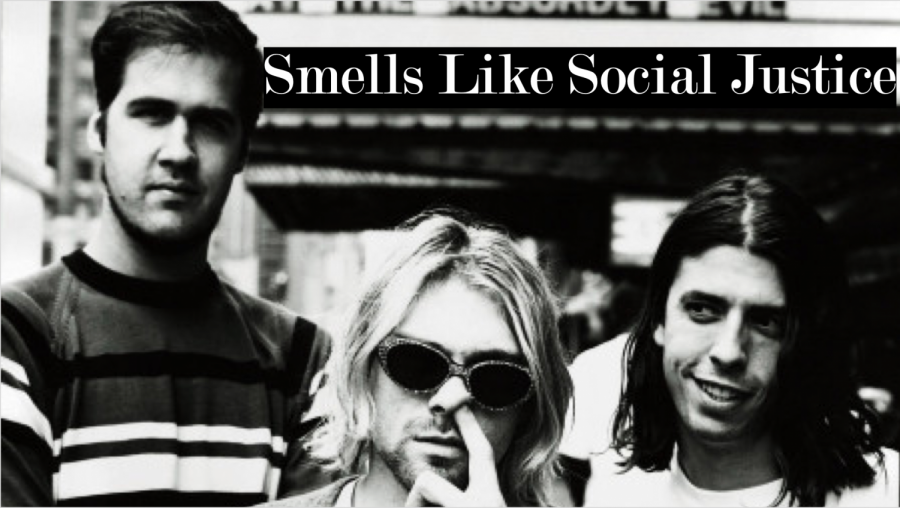 It's 1993.
A grunge-rock star is doing an interview with John Savage. The apoplectic rocker makes sure everyone in America knows what's on his mind, saying, "I just felt that [women] weren't treated equally and they weren't treated with the same respect.  Especially because of the way Aberdeen treated women. I mean, just in general; you know, women are totally oppressed in small towns like that all over America."
And he tagged his stance with one word to be heard the world over: Nirvana.
Kurt Cobain, and Nirvana's progressive views weren't a marketing ploy to sell records through the "any publicity is good publicity" marketing strategy.  It was their true feeling, one they would not only preach through interviews, but also a feeling that became a recurring theme in their art.
Take a song like "Been A Son."  The track reflects on the biases Cobain saw against women, specifically inspired by what he saw growing up in Aberdeen, Washington. The song is written from the perspective of an abusive father who takes his anger out on his daughter, who he wishes was born a son.
With lyrics like, "She should have died when she was born / She should have worn the crown of thorns / She should have been a son / She should have been a son," it is clear that Cobain and Nirvana were trying to paint some of the injustices women face just for being female in a sexist society.
Another Nirvana song, "Sappy," deals with how women are shamed for their sexuality.  It insinuates that men can be controlling and emotionally abusive, by shaming women for acting too "provocatively" but also judging if they act too puritanical.
This message is reinforced in the lyrics, "And if you save yourself, you will make him happy /  He'll keep you in a jar, and you'll think you're happy." Then the chorus goes on to hammer home the idea of domestic servitude with the line, "You're in a laundry room."
The Nirvanian feminist message didn't stop at the macro-levels of sexism in our society, but also delved into specific atrocities women face, often in a blatant, uncomfortable manner.
In a song like "Rape Me," Nirvana makes listeners uncomfortable with the blunt message of sexual assault in modern society.  The track describes how sexual assault is often committed by those closest to the victim.
The song opens up with the line, "Rape me / Rape me my friend / Rape me / Rape me again."  Cobain wanted the jarring lyrics to convey the notion that, "She's saying, 'Rape me, beat me.  You'll never kill me. I'll survive this.'" The song becomes even more jarring when the chorus comes around.  Refraining the verse "I'm not the only one," makes the listening experience a sobering reminder on how commonplace rape and sexual assault is.
"Polly," another Nirvana feminism piece, looked to bring to the forefront the frequency of crimes against women.  Sticking with their abrasive and uncomfortable tactics, lyrics in the song "Polly wants a cracker / Maybe she would like some food / She asks me to untie her / A chase would be nice for a few," tell of a woman being trapped and abused.
The message of the song, however, was lost on fans. One example of this disconnect was when two men sung "Polly" when assaulting a woman.  When Cobain heard of the atrocious act committed to his song, he called the two men, "Two wastes of sperm and eggs," and going on to say, "I have a hard time carrying on knowing that there are plankton like that in our audience."
This contempt towards the disconnect between artists and fans lead Nirvana to create hit, "In Bloom."  The song is Nirvana's abnegation towards the things they hated most: machismo sexism, institutionalized racism, and rampant homophobia.
The chorus of the song reflects the message cogently by calling out these very fans, saying, "He's the one who likes all our pretty songs, and he likes to sing along, and he likes to shoot his gun, but he don't know what it means."
Nirvana's final studio album, In Utero, was there most overtly progressive thinking album.  Tagged with the album was the proclamation, "If you're a sexist, racist, homophobe or basically an [expletive], don't buy this CD.  I don't care if you like me, I hate you."
Consisting of songs like "Pennyroyal Tea," a song empathizing with a woman seeking an abortion; and "Frances Farmer Will Have Her Revenge on Seattle," a song that tells the story of a golden age actress who was persecuted by the media and institutionalized against her will, In Utero was Cobain's final rebellion against stone-age-minded people.
Nirvana backed up the messages in their music through their actions too.  They were one of the headlining acts for the first ever Rock for Choice, a series of pro-choice benefit concerts.  The band also rallied against Measure 9, an initiative to add a homophobic amendment to Oregon's state constitution.  Their ultimate statement, however, was turning down an opportunity to tour with Guns 'n' Roses after hearing Axel Rose make sexist and bigoted comments, a decision that had Nirvana miss out on millions.
But the money didn't matter to Nirvana.
They saw the bruised hearts and flesh scraped bones of the disenfranchised.
And they decided to take a stance in the best way they knew how:
Grungy.  Heavy. Great.  Rock 'n' roll.