LHS alum Noelle Lambert "more than just her injury"
The warm sun was blazing over the Martha's Vineyard sea and a day of fun lay ahead for LHS Alumni Noelle Lambert, when it was soon cut short after one decision changed the course of her life forever.  
Lambert rented a moped that day expecting a fun and relaxing day at the beach, but what she got was something life changing. While riding along the street the moped collided with the side of a dump truck. Lambert lost her left leg above the knee. Due to the level of damage to her knee, the rest of her leg had to be removed during surgery.
"I remember looking down and my leg was severed on the scene," Lambert said. 

Once Lambert awoke from surgery she immediately thought of lacrosse. Her parents Geoffry and Judy Lambert were the first people who saw her, and comforted her as she realized what had happened. 

"The first thing she [Noelle] said to me was 'I'll never play lacrosse again,'" Judy Lambert said. "She was crying." 

Lambert played lacrosse at University of Massachusetts at Lowell and was a rising star on the team her freshman year. During her first year there she was second on her team in assists and tied for first in goals with a total of 21 assists and 15 goals. 

"Sports were my purpose in life," Lambert said. "I knew that this was going to be tough." 

While spending time in rehabilitation and the hospital, Lambert had an overwhelming amount of support from her family, friends, and teammates. Lambert's  teammates had become family. She knew that she wanted to stay a member of the team.

"When I was in the hospital, my entire team would come and visit me and show me their support, so I still wanted to be a part of [the team] any way I could," Lambert said.

Not only did Lambert have support from family and friends, she also had many people to motivate her.

"While I was in the hospital, a lot of the Boston marathon survivors came to me and reassured me that my life wasn't over," Lambert said. "And seeing the things they have gone through really inspired me."

The support that Lambert received during her time in the hospital gave her an eye-opening sense of happiness, but it also introduced an underlying wave of emotion. 

"What got me emotional was people reaching out to me, it wasn't me feeling sorry for myself," Lambert said.

Lambert's coach visited her and reassured her that there was still a spot for her on the team. It was then that Lambert knew that she was going to do anything she could to get back on the field.

Lambert put out a strong face, and kept a positive attitude, though the stress got to her at times. She worked hard at improving with her coaches, Head Coach Carissa Medeiros, Assistant Coach Forrest Stillwell, and Assistant Coach Carly O'Connell.

"I always put up an image that I was fine," Lambert said. "I was sick of it. It was to the point where I didn't think that I could play."

One day after a grueling practice session Noelle had a breakthrough, and finally revealed her true emotions to her assistant coach. After experiencing this moment she knew that she was ready to continue pursuing her dream of getting back onto the field.

"I didn't just want to play because she wanted to put me out there, I wanted to earn my spot," Lambert said.

Lambert knew she had to change her ways and fully commit to getting back onto the field. 

"I am so grateful that this happened to me," Lambert said. "It changed my mindset and changed the type of person I was."

Lambert knew that she would never be able to play like she did before the accident so she created new ways to be an asset to the team.

"I created a new role, I knew that I needed to be a different part and play a different role," Lambert said.

Before her accident Lambert describes herself as a "lazy athlete", but after her accident she began to change her outlook on life. After months and months of hard work Lambert was able to get back on the field her junior year.

"She [Lambert's coach] never officially told me I was playing, which helped me," Lambert said.

Lambert's hard work paid off when her first game back she scored a goal. 

"The best part about it was how I got to share the moment with my teammates and seeing their excitement," Lambert said. "They were the reason why I was able to return playing because they always believed in me and never let me give up."

Lambert continued playing lacrosse for the University of Massachusetts at Lowell as a senior. Once she graduated she went on to find a new passion.

"I still wanted to be active so decided I wanted to pursue a career in the Paralympic Track and Field," Lambert said.

Her training began in the first week of May, and she competed in her first meet on May 28 2019.

"I feel a lot of anxiety [when the starting gun goes off] because I'm so new to the sport but every time I compete I'm always so excited to be able to represent my country," Lambert said.


Despite being a rookie, Lambert has already made huge strides in her career as a Paralympian. Lambert set the U.S. record for the 100 meter with a time of 16.31 seconds. This was a defining moment for Lambert's career as a paralympian.

"It was really special to beat the U.S. record," Lambert said.  "The best part about it was being able to compete alongside the best in the world and to represent my country. Competing in that atmosphere has been amazing."

Representing her country and striving to do her best has made Lambert successful in atheltics as well as life. The young athlete is grateful for all of the support she had during her journey, and created the Born to Run Foundation in order to give back to others dealing with the same challenges she faces.

"Personally I had two foundations donate my water prosthetic and my running prosthetic to me to be able to live my life the way I wanted," Lambert said. "Seeing what those foundations do for other people really made me want to start my own because I really wouldn't be where I am today if it wasn't for them."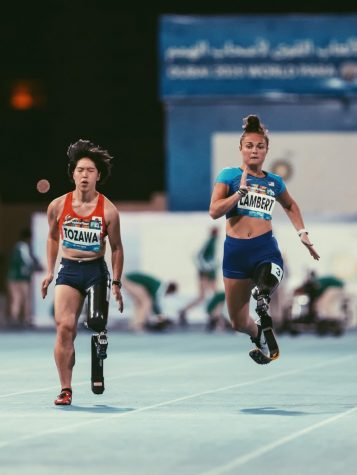 Lambert's foundation has helped six people, and counting, live a fuller and more active life by donating prosthetics.
"It feels amazing to finally be able to give back to so many people." Lambert said. "Getting to meet these amazing people and hearing their stories really is something that I am so grateful for." 
Lambert's drive never let her down.. She continues to make strides in her own life and improving others. Lambert has proved to herself and others that nothing in life can become a setback if you don't let it.
"My goal is to just never give up and to not let this accident define who I was as a person," Lambert said.
View Comments (2)
About the Writer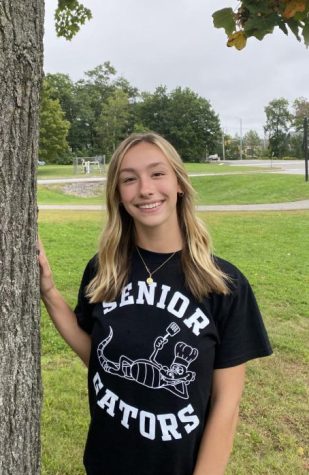 Olivia Windisch, Sports Chief
Olivia has been on staff with The Lancer Spirit for three years. Olivia is a huge sports girl; when she isn't on the field, court, or track with the Unified family, she spends her time cheering on Lancer Nation. Olivia is also involved in many clubs at LHS and enjoys spending her time volunteering. If there was an award for loudest fan... Olivia would win it.