As the doors to LHS reopened this past Tuesday, September 8, a series of COVID-19 friendly precautions and procedures were set into place. With new ways to navigate the halls, a controversial addition to the dress code, and the remodeling of the cafeteria, how will life in the school look this semester? 
Let's start with the biggest change: masks have been added to the student handbook's dress code this year. They must be worn at all times in the classrooms and in the halls, meaning the option of eating or drinking in class is not available. There are a few exceptions to this rule. 
"Mask breaks are permitted outside between periods, or outside in the lunch area, or on the fields for PE classes," Principal Mr. Parent said. 
However, there will be no medical exceptions to the mask rule like there are in stores and other facilities. Students unable to wear one are enrolled in the remote program. Those who are in school and fail to wear a mask will face disciplinary consequences.
With the new implementation of masks, Physical Education classes are also going to be modified this year.
"If students cannot maintain social distance outside then masks will be required," athletic director Mr. Sobolov said. "For all indoor activities, masks will be required." 
Students have been asked to use outside routes to travel to their classes as often as possible, reducing numbers inside the school, allowing for a mask break, a snack, and/or a drink of water. 
"There are five exterior doors that students can use to exit and re-enter the building during the five-minute passing times," Parent said. "Being outside further reduces congestion in the hallways. Social distancing of six feet or more must still be maintained while outside." 
Don't worry, students who do not have a lunch period in their schedule will not be going hungry. If they have a study period, there are options for them. 
"Students who have a scheduled study period during D through G will be able to eat in [room] 221," Parent said. "A vending machine will be placed in room 221 and dedicated to this group."

There is now an outdoor seating area for lunches, as well as single desks being placed in the cafe to promote social distancing. In an attempt to have fewer students in the cafeteria at once, seniors have been given the new privilege of open campus this year.
"Seniors are only permitted to leave campus during their scheduled lunch or study hall," Parent said. "Seniors do not need to sign out prior to leaving nor do they need to sign in upon their return."
The halls have also changed a bit, if you look down at the floor as you walk through the lobby, you will see laminated footprints pointing in one direction. This creates a rotary style system, having each student walk to the right and continue that way until it is time to exit to reduce possible contamination.
To create an even smoother flowing lobby system, the vending machine that usually resides there has been moved to room 221 to reduce clutter. Lockers will also not be used in the halls, only in the gym this year.  
"Athletes who are in school will be allowed to use locker rooms to change for practice," Sobolov said. "PE lockers will still be used for PE if needed by the students."
Another exemption athletes have is to the 3 pm rule. Most students must be out of the building by 3 pm for allowance to deep clean each classroom prior to the start of class the following day.
"Students should only remain after school for sports, music, extra help, the library, or if they are taking classes through adult education," House 2 Assistant Principal Mr. Secor said. "Co-curricular club meetings will need to be held virtually until further notice per the school district's reopening plan."
And, of course, cleaning supplies will be heavily available in all classes for whatever reason students and staff may need.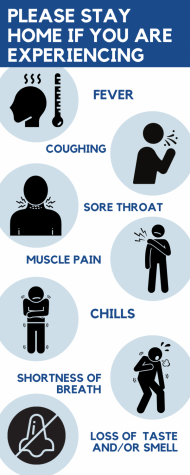 "There will be cleaning supplies available in every classroom for teachers and students to use," Secor said. "There will be increased cleaning of common areas by our custodial staff such as hallways and bathrooms, as well as 'high touch surfaces' such as doorknobs."
In the chance that there is a positive case at LHS, health officials will come and evaluate those who came in close contact and what the next steps will be. Those who are told to quarantine must self-isolate for 14 days. Symptom screenings should still be done at home.
"We ask all families to complete self-screening each day and [students] to stay home if any symptoms exist," Parent said. 
If you are experiencing a fever, loss of taste and/or smell, cough, chills, etc., please stay at home to recover and keep the rest of your classmates safe. 
All of these procedures will take some getting used to for everyone, but if we can all just obey by the rules for a little bit, we can come back from this better than ever. So please be patient and mask up, and remember to stay Lancer Strong.