Meet the 2022 girls lacrosse seniors
When this year's seniors were sophomores, their season got canceled due to COVID-19. Yet even though these girls'  lost what could've been a very successful season that year, they never stopped preparing and practicing for their senior year and to play lacrosse at the collegiate level.
Get to know these senior players and see what they've done to prepare for this lacrosse season.
---
Meet senior Tara Wright
Wright has been playing lacrosse since third grade along with most of the other seniors.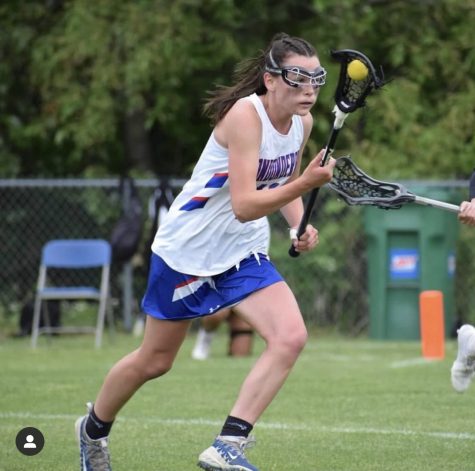 "I'm looking forward to being a senior this year and being looked at higher and having more responsibilities for the team," Wright said. "Also seeing how our team progresses throughout the season."
Wright will be playing Division 2 lacrosse and furthering her academics at Assumption University next year. 
Q: Throughout your three years playing lacrosse  at Londonderry High School have you seen progress with you and the other seniors?
Wright: "Yes, 100%. I think playing lacrosse with them at the high school level really helped me become closer with them and seeing their progress really helped me become better"
Q: Because you were so close, how did that reflect onto the field?
Wright: "It helped our chemistry on the field because everything we did together off the field affected how we played together. Especially when we got hyped up before games. We connect better on the field because I know whenever I'm looking for a pass or a clear that Tess and Abby will be there for me. And I know that if I'm looking for someone to pass to or someone to take a wideout shot, I can always give the ball to Caroline." 
---
Meet senior Caroline Leone 
Senior Caroline Leone has been working towards lacrosse almost her whole life. For as long as she can remember, Leone knew that she wanted to continue playing lacrosse after high school. She has been improving her skills through high school and from the club team, Tomahawks. Next year, Leone will be playing Division 1 lacrosse at Stonehill College where she will further her academics.
Q: How do you see the team looking this year?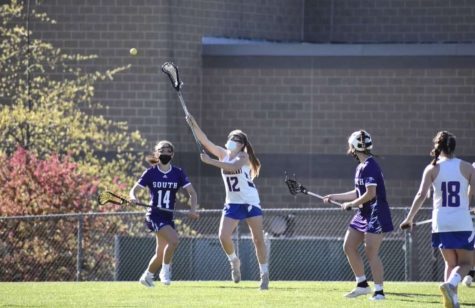 Leone: "We have a very new team with a lot of young talent and I have no doubt we will make it to the playoffs. We are a super close team."
Q: What is your favorite memory from Lancer Lacrosse?
Leone: " All of the bus rides to away games with my friends, singing songs and getting hyped before games. Another favorite is when my sister made varsity last year and we were able to play together on the same team."
Q: When and how did you know you were passionate about lacrosse?
Leone: " I have been passionate about lacrosse ever since I started in second grade. It's always been something fun for me to do and it turned into a lifestyle and passion."
---
Meet senior Quinn Brown
Senior Quinn Brown, the team's goalie, and  a strong component of the team, has been playing lacrosse for five years and this will be her second season as goalie. Brown will continue playing lacrosse at Saint Joseph's next year while studying nursing.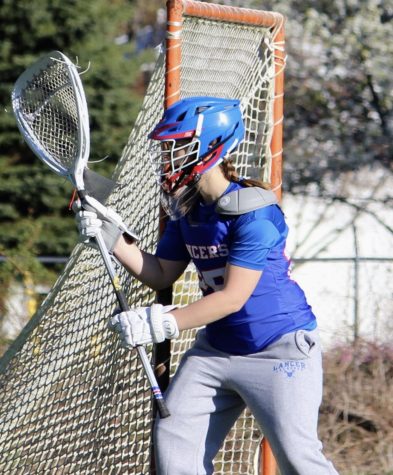 Q: How will you make an impact on the team this year?
Brown: " I hope to make an impact this year as a leader in the defensive zone and making as many saves as possible."
Q: Do the seniors work well together on the field?
Brown: "All of the seniors are so supportive of one another and are great role models to the underclassmen, and it definitely carries over on the field."
---
Meet senior Abigail Whitley
Senior Abigail Whitley(captain) has also been playing lacrosse for the majority of her life. Whitley has always been a strong element to the team on the defensive end. With years of dedication to lacrosse at Londonderry High School and her club team, Tomahawks, Whitley will continue to play at Saint Michael's College, while studying neuroscience. 
"I hope to make an impact by locking down on defense and helping our defense stay strong so we can push the offensive plays," Said Whitley "Also by encouraging positivity and intensity for our team."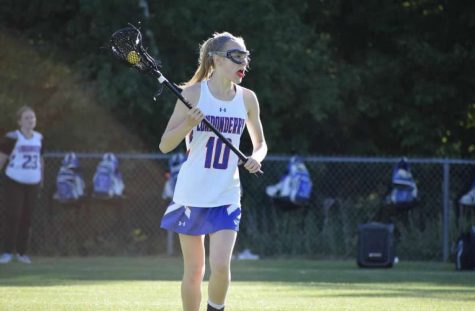 Q: What are you looking forward to this season?
Whitley: "I am most excited to finish out my high school lacrosse career strong with the best teammates and getting ready for college." 
Q: Do you think this will be a successful season?
Whitely: " We may be coming in as underdogs, but considering we have always been a young team, I think that will come to our advantage this year because we have all been working together for so long." 
Q: Do the seniors work well together?
Whitely: " All the seniors definitely work well together and we all compliment each other's strengths and weaknesses, and we have been playing since the very beginning together so it's a really special thing to share so many memories with everyone." 
---
Meet senior Tess Brown
Senior Tess Brown(captain) has had a more difficult time than the other girls on the team due to her ACL tear. This tear didn't only stop her from getting back on the field as quickly as possible, but it helped her come back stronger than ever. According to her teammates, Brown will be an important, strong force on the defensive end.  Brown will be playing lacrosse at Keene State College while furthering her academics.
Q: Do you see a championship win in the future?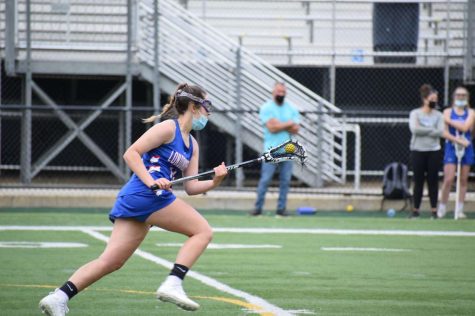 Brown: "I hope we make it to the championship this year but Bishop Geurtin will be a tough one to beat to bring home the win."
Q: Do you think the seniors work well together?
Brown: "All the seniors work great together on the field. We've been playing together for over ten years and really trust each other and see the same visions on the field." 
Q: What is your favorite memory from lacrosse?
Brown: " Beating Pinkerton last year on their home turf 14-10, it really brought out an intensity in our team and continued to push us forward."
View Comments (1)