Day of Giving to be held on Friday, January 6
After two years of disruption due to COVID-19, the Lancer Pep Rally Team is hosting their annual "Day of Giving" on Friday, January 6 in the gym where all LHS students will be able to view the event.  
The Day of Giving is an annual event in which members of the Londonderry community donate their hair to organizations which manufacture wigs for those suffering with hair loss. This highly anticipated event is made possible by LHS English teacher Mr. Juster and LHS Pep Rally Aides. 
Last year, only seniors were allowed to view this event in the gym. However this year, freshmen, sophomores, juniors, and seniors are welcome to view from the gym where the event is taking place. This event is also open to members of the community who were invited by the Pep Rally Team or hair donors. Donations for Dana-Farber Cancer Institute will also be accepted during the event as a part of the National Honor Society's chapter fundraiser. 
The Day of Giving is an emotional event, not only for those in the audience, but for donors as well. Many of those involved in the event signed up to donate their hair in honor of relatives or close friends battling cancer or other diseases resulting in hair loss. 
"I'm donating my hair in honor of my mom and the many other women that I've known that have battled cancer," senior Teresa Bompastore said. "Personally, I saw how having a wig made my mom feel a little bit more normal and like herself again during her battle. It made her feel like a regular mom again to me and my brothers and I want to do the same for another woman, just as someone so generously did for my mom."
A huge aspect of the Day of Giving event is spreading positivity and donors wanting to give back back to their community.
"I saw other girls donating and realized now mch this event means to others," senior Aliza Khalil said. "I wanted to be able to give back and hopefully put a smile on the faces of those who need it most."
Leave a Comment
About the Contributor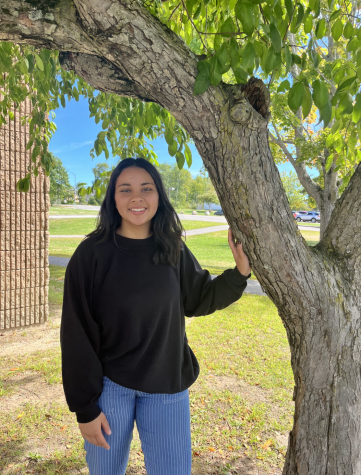 Alisha Khalil, Online Chief
Senior Alisha Khalil has been on staff for 3 years. Starting as a reporter her sophomore year, she is now The Lancer Spirit's Online Chief, Political Analyst, and News Editor. She started The Lancer Spirit's first Political news column. In her free time, Alisha enjoys making coffee and listening to music.