The last bell of the school day has rung. To escape the after-school traffic, you walk the empty halls to pass time. Your walk has led you to the 300s hallway. While passing by the music rooms, you're exposed to a mix of melodies. The clicking and clacking of tap shoes punctuate a classic jazz beat, while students sing about where it rains in Spain, and the vowel sounds of old-time cockney accents. 
This is no ordinary group of students: this is the cast of this year's school musical, My Fair Lady. These actors are working on their material for hours every day after school until their dance numbers and ballads are what they would call, loverly. 
Since November, the cast of My Fair Lady has been regularly rehearsing for their upcoming show. They rehearse multiple times each week after school in preparation for four performances at the Derry Opera House in February. 
My Fair Lady tells the story of the young Eliza Doolittle in early 20th-century London. As a young girl with big dreams, Eliza hopes to one day open a beautiful flower shop and live the life of a wealthy, respected proprietor. Her dreams are achievable on paper, but her low societal placement and incoherent cockney accent hold her back. As phonetics professor Henry Higgins and his colleague, Colonel Pickering, take an interest in her troubles, they attempt to transform her into a "fair lady" by teaching her the ways of an esteemed duchess. In doing so, the three form an expected friendship, despite the frustrations of Eliza pronouncing "rain" as "rine" and "Spain" as "spine."
"My Fair Lady is a super unique show. The music is gorgeous and the story is really incredible," cast member and senior Rae Pizzi said. "One of the things I love most about the show is the subtle jokes that make you laugh. While I think people should see this show for the incredible music and story, I think there's something to be said for seeing the show for a good laugh as well."
Pizzi and Frank Thomas play the deemed protagonists, Eliza and Henry. The pair have been a part of the Drama Club for all four years of high school, and are "very proud" of everyone involved in the show.
"From the cast, to the directors, to the crew, to the customers, [we] all have put in so much effort to make this show the best it can be," Thomas said. 
Like Thomas, Pizzi is also "so proud" of how the cast has taken on "such a difficult and unique" show and score.
"Classics are difficult and not many people pull together productions of My Fair Lady," Pizzi said. "I'm really proud of the way the cast has worked so diligently to tell this story so well."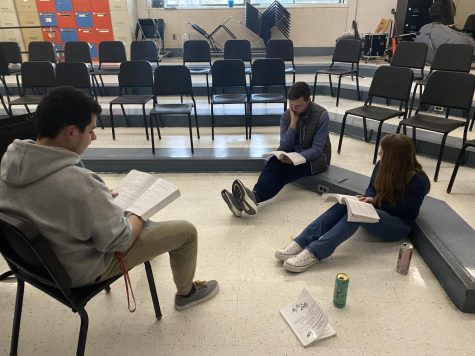 Both Pizzi and Thomas have been especially working on their characters and the development they face within the show. Pizzi's role requires her to learn how to speak in a British cockney accent, while Thomas as well as other cast members must speak in British accents.  The dialect and the character development Pizzi and Thomas have to get a grasp on has made the rehearsal process "challenging" according to Thomas, but they still find the fun in working diligently together.
"I haven't had to do an accent like this before, or play a role with this type of personality," Thomas said, "[but] rehearsals are always fun [and] it has been great to work with all the directors on this show."
Through her exploration of her character, Pizzi's has discovered how "strong" Eliza is, and she's had "so much fun" portraying this bold character.
"[Eliza] knows what she deserves, she's not afraid to fight for it, and she won't settle for anything less," Pizzi said. "It has been incredible getting to explore her character."
The show is directed by Londonderry Middle School orchestra teacher, Molly Goldstein. This is Goldstein's second year being an adviser for the drama club, as she directed Freaky Friday last April. Through working with her for the second year in a row, Pizzi has grown great admiration for her as a director.
"[Goldstein] is incredible," Pizzi said. "She has been so helpful in rehearsals."
The show is music directed by the high school's Choir Director, Danielle Loschiavo. Since she's previously had Pizzi and Thomas in class for the last four years, Loschiavo said she is most looking forward to audiences seeing them portray these roles.
"It's their last show at LHS and they have really put a lot into their characters this year," Loschiavo said. 
Though the rehearsal process has brought challenges to the cast and everyone involved, Thomas said he "loves being able to perform with this amazing [cast]."
"I love that I get to spend so much time on stage with my friends [Pizzi], Joey Cain and Kelly Egan," Thomas said. "I will miss them all next year."
As juniors, Cain plays Higgins' trusted colleague, Pickering, while Egan, plays the housemaid, Mrs. Pearce. Along with expressing his gratitude towards his castmates, Thomas encourages patrons to come see the show because it's "a classic," with many "amazing songs and funny lines."
"The cast has worked really hard and deserves to have people sitting in the audience for every show," Thomas said.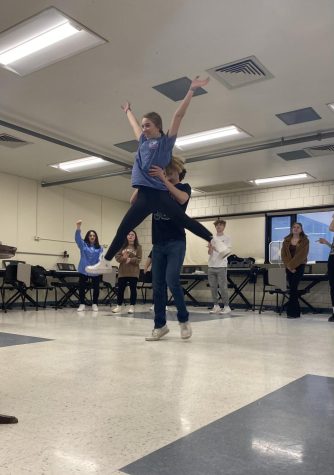 Pizzi describes My Fair Lady as "unexpectedly funny" with an "incredible story." She also encourages patrons to come the the show, as she is looking forward for audiences to "get a new feel for musical theatre."
"I love Broadway classics," Pizzi said. "I think my favorite part of this show has been getting to explore the more classical side of theater, something I've never done before."
Sophomore Mason Turek plays the role of Freddy Eynsford-Hill, a young optimist who hopes to win Eliza's heart. As this is Turek's second year in drama club, earning a lead role has been a "blessing."
"I was not expecting such a big role as an underclassman," Turek said. "I think [Goldstein has] put a lot of faith in me, and I hope I can live up to that."
Turek says rehearsals have been "amazing," and the cast is "very kind and supportive."
"I love to hang out with [these] people and do my favorite activity," Turek said. "At times, rehearsal can be tiring, but there's no other group of people I'd rather spend three hours every day with."
Along with being close with his castmates, Turek's favorite part of the rehearsal process is working on "challenging songs" and dances that "improve [his] skills" but are "fun to perform."
"Everyone has worked so hard and everyone is having a great time," Turek said. "When the actors are having fun, the audience can definitely tell and I think the audience will be able to pick up on the energy the actors are putting into their parts."
Similar to Turek, sophomore Maddie Tufts, playing a maid, is excited for audiences to see the "bold and expressive" characters in the show.
"This show is very unique, and I feel like not a lot of people know about it," Tufts said. "It tells such a touching and entertaining story." 
Tufts is "so proud of the talent and effort" the cast and crew have displayed during rehearsals.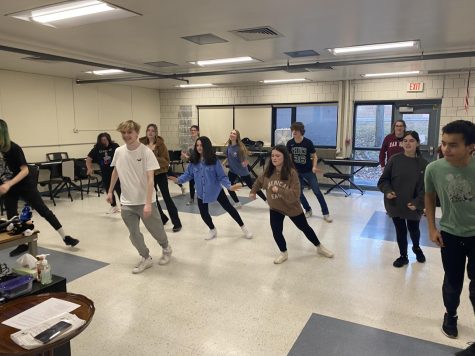 "So many different people have been working hard to get this production together," Tufts said. "Everyone involved has made a large impact on this production, and [the cast] can't wait to share it with the public."
Tufts was also given the opportunity to choreograph multiple numbers in the show. As an underclassman, Tufts is "thrilled" to be involved in this aspect. 
"It has definitely been a challenge, but I have had so much fun doing it," Tufts said. "I cannot wait to get closer to the show and see these numbers of mine on stage."
The dances are Tufts's favorite part of the show, and she said they are "explosive" and "so much fun to perform." Turek has assisted Tufts in her choreography, and he shares her anticipation for audiences to see their work.
"There's definitely a lot of cool, interesting moves that have been choreographed in," Turek said, "We could not be more proud of how it's turning out so far."
Loschiavo is also proud of how "hard" the cast, crew and all the musicians involved have been working not just in their numbers, but across all aspects of the stage performance. She encourages all to see the show this February.
"My favorite part about this show is working with the music students in a different capacity than I would during the school day," Loschiavo said. "They are all such wonderful musicians."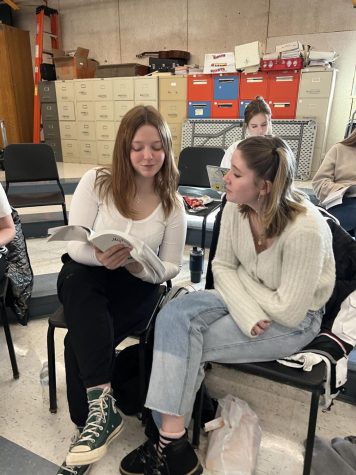 As well as teaching the score to the cast, Loschiavo is directing and conducting the pit orchestra for the first time. The musicians have been rehearsing weekly under, and Loschiavo said she is the "most proud" of this ensemble.
"I have lead the vocals for many years and played piano in multiple pit orchestras but this will be my first time directing the instrumentalists," Loschiavo said. "I am a bit nervous but also excited for it."
Though the rehearsal process has been "challenging," Loschiavo believes the hard work of the cast in and outside of rehearsals will allow them to do their best for their performances. 
"The students have worked so hard," Loschiavo said. "They would love to see their family and friends in the audience." 
My Fair Lady will perform at the Derry Opera House on Feb. 16,17, and 18. Tickets are on sale now for the four performances. Click here to purchase tickets.
CAST LIST
ELIZA DOOLITTLE…….Rae Pizzi
HENRY HIGGINS…….Frank Thomas
COLONEL PICKERING…….Joey Cain
MRS.PIERCE…….Kelly Egan
ALFRED P. DOOLITTLE…….Timmy Dolan
FREDDY EYNSFORD-HILL…….Mason Turek
JAIME…….Devon Pacheco
HENRY…….Alex Barnes
MAID 1, MRS.HIGGINS……. Ellie Holcombe
MAID 2……. Ava Amaro
MRS. EYNSFORD-HILL……. Bridget Berry          
MRS. HOPKINS, SERVANT…….Maddie Tufts
PROF. ZOLTAN KARPATHY, SERVANT…….Madeline Rolfe
LORD BOXINGTON, ENSEMBLE…….Jake Birch
ENSEMBLE…….Mick Kling
                                   Vanessa MacDonald
                                   Julia Pizzi 
                                   Danielle Goodall
                                   Melissa Holt
                                   Amina Dallahi