Molly Goldstein takes the stage as new LHS drama adviser
Molly Goldstein applied to the middle school for the orchestra teaching position, and ended up filling a vital role in the high school's arts community. Goldstein, a theatre education graduate, has been hired as the high school drama club's director and the newest anchor on the board of teachers running the club.
"It's exciting to be in a community that really realizes and supports the arts," Goldstein said.
Goldstein grew up in a rural area with a family that had a passion for teaching and music. She explained that she was "exposed to a lot of theatre" from her mom and sisters.
"Both of my parents are teachers and my mom is musical," Goldstein said. "She never made us do any of it, but my two older sisters both did music and theatre. That all stemmed from my mother incorporating so much music into our lives in every element."
Starting at a young age, the arts have always been a big part of her life.. As she got older, she discovered the real importance of theatre.
"If you count little skits I'd do with my siblings in my living room, that's definitely [part of] that," Goldstein said."But I didn't formally get into theatre until I was in high school."
After high school, Goldstein jumped at the first opportunity to continue her passion for teaching and theatre at Emerson College. This school is known for its substantial arts programs, which drew Goldstein's eye.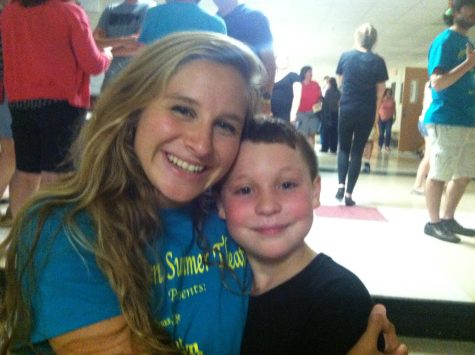 "Emerson has a great reputation so that was huge," Goldstein said. "The director of theatre-ed was incredible; it seemed like they were a school that got it, like they really understood the purpose of theatre."
Influenced by her family's background in teaching, along with their love of theatre, Goldstein was inspired to combine her two passions into one career path. 
"I love working with students to help them discover who they are," Goldstein said. "And that's exactly what I think theatre, in particular, does."
She was given that very opportunity when former music teacher Monica Keshigan retired from the middle school, leaving an opening for a new orchestra teacher. Goldstein applied for the position, and got a call back right away. She said she "just felt comfortable in the interview," and knew "immediately" that she clicked with the staff.
"I thought 'oh this is a great feel for a school' even in the interview," Goldstein said.
Goldstein's fellow drama advisers are Danielle Loschavio, the full-time choir teacher, and Joseph Mundy, assistant band director. The two are veterans when it comes to Londonderry drama and are excited to have Goldstein as a new member of their team.
"We didn't want to overwhelm her in her first year of teaching," Loschavio said. "But she is rising to the occasion and ready for the challenge."
Goldstein described Mr. Mundy as the "middle man" between her and the students, and that he's been a huge help when it comes to coordinating meetings and times for the students to get to know her.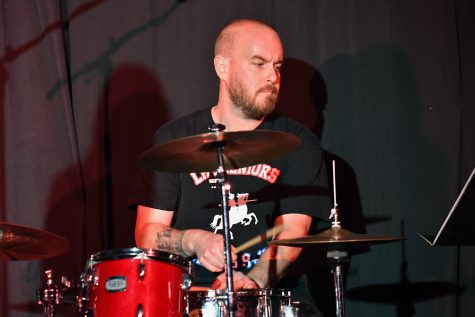 "Ms. Goldstein has extensive background in theatre, so she was excited to get involved," Mundy said. "We were very fortunate that she was so enthusiastic about taking over the position."
The pandemic has been a struggle in the theatre community as it canceled events, such as their annual spring musical in April 2020. Students and teachers in the arts community found ways to adapt to society's situation,  the 2021 virtual musical Little Shop of Horrors being one example.
"For me, music is kind of what helped me get through the harder times of the pandemic and quarantine," Loschavio said "So I think [for] a lot of my musical theatre students, and drama students as well, it's done the same for them."
The virtual musical was almost crafted completely by using green screens, and shooting each individual cast member's part within the show. Once each part was shot and edited, the show was edited together to make it as close to an in-person production as possible. Now that society has found ways to deal with the virus, Goldstein and the other advisors are ready to put the club back in person and on a real stage.
"With the separate screens of [the cast] singing one-on-one, I cannot wait to have them be together and be next to each other," Goldstein said.
Because theatre requires actors to work closely together, COVID affected the way the club ran and put on it's usual events and fundraisers.
"I think I'm looking forward most to having the students be able to work together and form friendships through that," Loschavio said. "I think that's one of the coolest things about theatre and drama [in general]."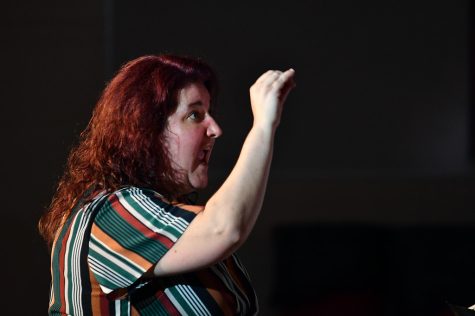 Goldstein has already met with the executive board of students, and a majority of the club's members. She said she got a good overall impression from the group and their ideas.
"Truthfully, drama people can be different, like each group of people," Goldstein said. "But the feeling I got from meeting the E-board and everyone at the [club] meeting was very positive."
The drama club students' positivity is heavily influenced by the support of the Londonderry community. Goldstein is "really looking for a place that has that."
"I hear that there is a huge amount of community support," Goldstein said. "and whether you realize it or not, that's not common."
Behind the board of teachers running the club, the student executive drama board meets throughout the year to agree upon all the big decisions regarding their season. The members act as the voice of the whole club. The students are excited to get back into their regular season activities and fundraisers, and to get to work with a new adviser. Senior executive board member Paige Boyon said she sees Goldstein as "super passionate."
"When I was first introduced to her at an Executive Board meeting, she was very kind and knowledgeable about the performing arts," Boyon said. "She let us know about her education and experiences in musical theatre."
Boyon says that the friendships made through theatre are "so genuine," mainly because of the time the cast members spend together, especially during the final weeks leading up to the production. Boyon, along with the students, are not the only ones who feel this way according to Loschavio.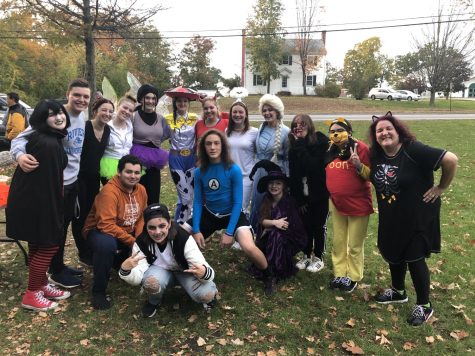 "Because you work together to bring that common product to others and to the masses," Loschavio said. "You have to rely and trust others to work with you and you have to help them as well."
The music program, along with theatre, provides many opportunities for performers to connect and form bonds with their peers. Watching these friendships blossom over time is one of Loschavio's favorite parts of teaching.
"Sometimes because of the time they spend together in class they become friends outside of class," Loschavio said. "Then ten years later they're sending me a message saying [that] they're still friends and still hanging out."
Goldstein shares Loschavio's admiration for watching the students grow on and off the stage. She says the reason she loves theatre is because "people discover themselves." 
"There's so much more than just 'read the script and put it on stage," Goldstein said.
The students have bonded over this period of time without theatre, and are continuing to keep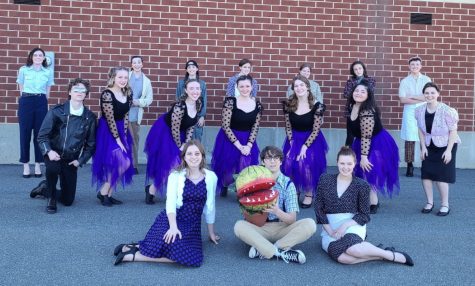 their relationships because of that.
"Drama club is a safe space where mistakes are not only allowed, but encouraged," Boyon said. "Our directors provide you all the resources you need to succeed, and we would love new people auditioning for the musical."
The current advisers, and executive board members are "so excited to work with [Goldstein] on the spring musical," and encourage students to audition and be a part of the experience. 
"I would say at least try it," Goldstein said. "It's a fun way to build confidence, not just onstage. You'll never know what you'll discover, just don't wait until it's too late."
Leave a Comment
About the Contributor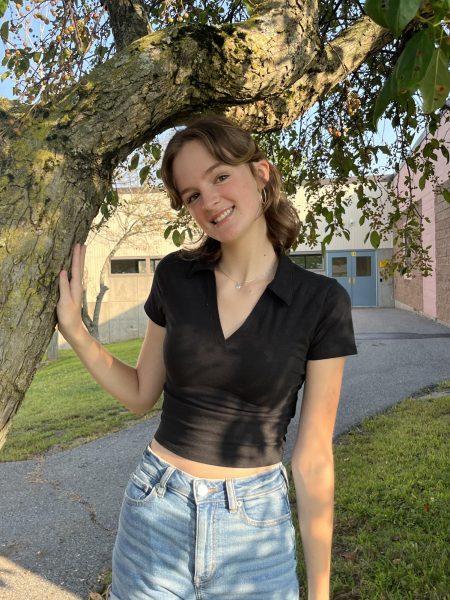 Kelly Egan, Editor-in-Chief
This is Kelly's second year on the editorial board. As well as being Editor-in-Chief, she is heavily involved in the music department here at LHS. She is in the chamber choir and the drama club. She also does theatre year-round outside of school. She loves being on staff and has been writing since elementary school.