Marching Lancers return to the 'Big Apple' after 4-year hiatus
Since their 2020 trip to NYC was canceled due to COVID-19, Londonderry High School's marching band has been unable to join the St. Patrick's Day festivities until this year.
On March 12, 2020, the students of the LHS Marching Band were anxiously awaiting their trip to New York City for the annual St.Patrick's Day Parade. They were leaving in two short days.

The freshmen class was especially excited, as this would be their first trip as part of the high school band. The students' excitement faded quickly as the next day brought news headlines that schools would be closed due to a "deadly virus" and a "global pandemic."

Their trip was canceled less than 24 hours before they were scheduled to get on the bus.
Those previously disappointed freshmen band students are now seniors, and they got to redeem their unlucky turn of events as the Marching Lancers played their Irish songs down the streets of Manhattan last weekend. This included senior Drum Majors Sarah Dygd and Heidi Ricker.
"It was so exciting to be in the parade," Dygd said. "[The freshmen] missed out on a lot so it was just such a great experience."
Ricker shares Dygd's appreciation for the experience, and felt as if the freshmen who missed out on the same parade freshman year "really came full-circle." 
"After our opportunity to travel to this parade freshman year [was] ripped away, it felt like the past years of my band experience have been leading up to this moment," Ricker said. "Everything that has happened along the way created the perfect person to march in the parade."
Junior Drum Major Lauren Fontaine "felt really amazing" upon seeing everyone out on the streets to celebrate for the parade in New York City.
"I was really proud to represent and lead my band at such a large event," Fontaine said. "It felt like we were getting back to what we're known for as a band."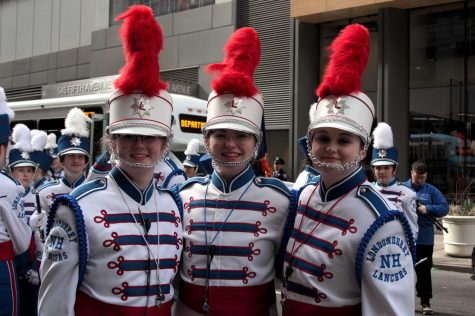 From Pasadena, California to Beijing, China, the Marching Lancers are known for their travels all over the world. During the uprise of the pandemic, the band was sidelined from any trips. Their first trip since COVID-19 included a parade in Disney World last April. Now, as they got to return to NYC for the first time in four years, the senior band members and everyone involved were "really excited" for the trip and parade, according to Band Director Serge Beaulieu.
"It was really great to be back," Beaulieu said. "[Especially with] having nice weather, and a huge crowd turnout."
Leading the band alongside Beaulieu was first-year Londonderry band director, Emily Dawson. As an LHS band alumni, Dawson got to be on the other side of preparation for the parade. Though it was "much more stressful" leading rather than playing, Dawson said she "couldn't be more proud" of the students and staff involved.
"It took just about as much mental strength as a director as it did when I was a student," Dawson said. "However, it was much more rewarding to get to see the band's hard work come together and to see them really flourish as they marched down 5th Ave."
In being this year's marching Drum Majors, Dygd, Ricker, and Fontaine get to lead the band in their parades in and out of state. According to Dygd, getting to lead the band in New York City was an "incredible" experience.
"I've never felt anything like it, it was just amazing," Dygd said. "I mean it's a huge parade, there were half a million people there. It's probably the coolest thing I've ever done."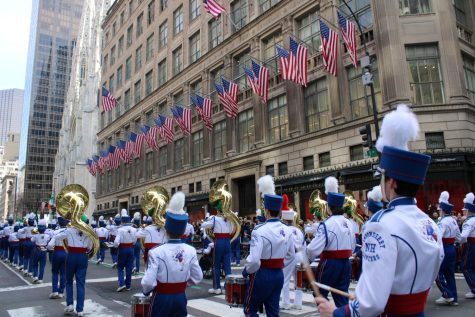 Similar to Dygd, Ricker described the experience as "surreal."
"I remember reminding myself to show the pride in my eyes as I marched, because I really do feel such pride with this band," Ricker said. "They work so hard and have so much passion, I'm happy they get to see that work paid off this year."
In light of being able to travel again, the band plans to perform in London's annual New Year's Day parade this coming December. 
"The parade lengths are approximately the same," Dawson said, "and it's all the same process when it comes to practicing and preparing for the parade where we spend a few hours a week working on marching technique and musical techniques."
Though preparation for future events is helpful to the band, Beaulieu adds that the traveling the band does "isn't just about the parade," or other events they may be participating in.
"Sometimes, it's the [students'] first taste of freedom away from their families," Beaulieu said. "They [also] have to be responsible to pack their own stuff, get up on time, and stay with other roommates, which is an experience that prepares them for college."
Along with Beaulieu, Dawson emphasizes the significance and impact of the student musicians getting opportunities to travel with the school. 
"They learn discipline, hard work, and how to work as one unit and one team," Dawson said. "They also get to see many parts of the world that they may never see."
With St.Patrick's day concluded, the Marching Lancers will prepare for their trip to the United Kingdom by practicing the music in class and marching while playing at their night rehearsals starting next year. 
"As students work and memorize music now, it'll be less work for them come next year when we start preparing for London," Dawson said.
The seniors who missed out on their NYC opportunity three years ago now get to leave LHS after "coming full circle."
"The most rewarding part of this parade was knowing that all of the practice and effort paid off, and that we marched well and represented the Lancers proudly," Fontaine said. "I'm so proud of this experience, and I can't wait to see what we do in the future."
Leave a Comment
About the Contributor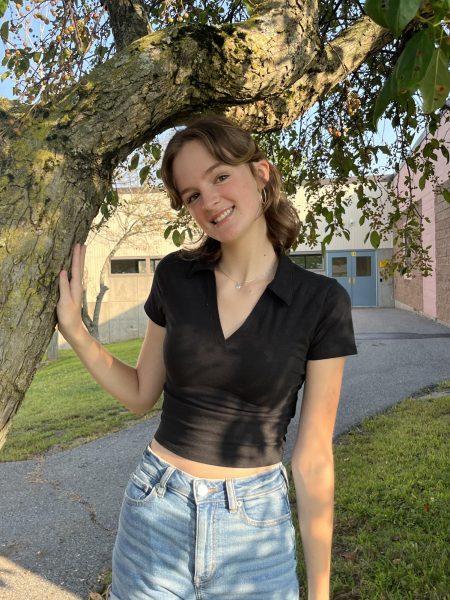 Kelly Egan, Editor-in-Chief
This is Kelly's second year on the editorial board. As well as being Editor-in-Chief, she is heavily involved in the music department here at LHS. She is in the chamber choir and the drama club. She also does theatre year-round outside of school. She loves being on staff and has been writing since elementary school.