Fall Fashion Feature: Olivia Wilson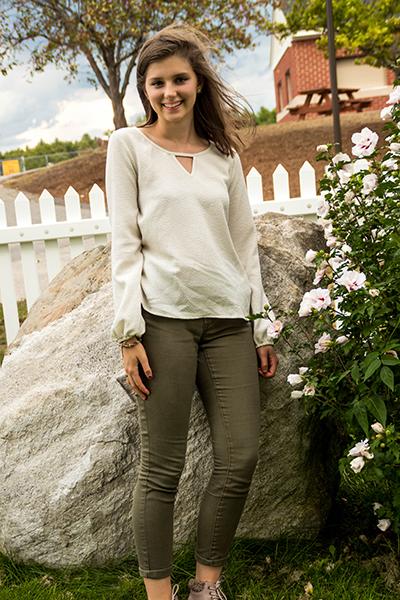 Autumn is right around the corner, and some of us can't wait to delve into fall fashion. Senior Olivia Wilson is one of many.
Wilson is always on top of trends, whether she is sporting her Birkenstocks or colored denim. Fall fashion is a favorite among trendsetters, and senior Wilson is no exception.
"I love fall," Wilson said. "The crispness, the weather, the color of the leaves… the fashion. I can't wait to wear sweaters again."
As pictured above, Wilson is wearing the ideal fall palette: olive greens, soft browns, and light creams.
Although many of her clothes come from thrift shops, some of Wilson's favorite stores include Target, Forever 21, Old Navy, and Charlotte Russe.
"I go shopping about once every two weeks, and I like shopping for new shirts the most," Wilson said.
Wilson describes her style as "Northwestern." Many modern day trends derive from the Northwest: including Birkenstocks, cuffed jeans, and flannels. Her style icon is Instagram singer Cailee Rae, who shares the same modern style.