Traveling leaves an impact to last a lifetime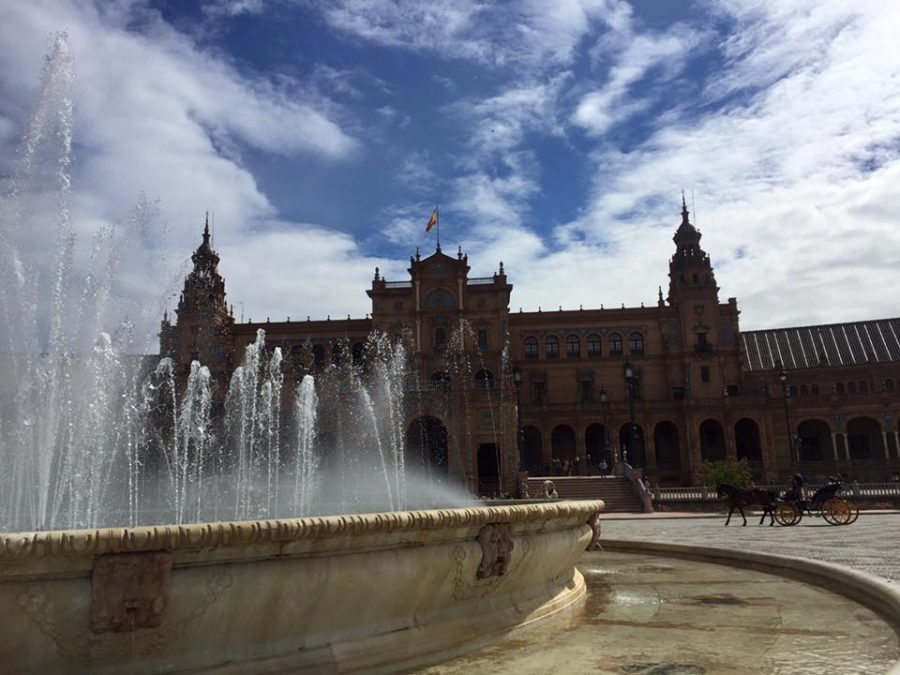 Caitlin Cassidy, Reporter
November 14, 2017
People in N.H. often consider traveling as going to Disney World or down to Cape Cod for the summer, but what we should be realizing is that there is so much more to the world that others haven't gotten the opportunity to see yet. This whole planet is full of different foods, types of music, occupations, complicated languages, religions, and different people in general. We all grow up and learn about the community we live in, so if we have a good opportunity, we should go see what other people in this world call "home."
Londonderry High School thrives on giving every student what they need to succeed and flourish. One of the greatest opportunities they offer are educational trips. These trips give students the opportunity to expand their knowledge on places, people and cultures they may have never heard of or seen before.
What do you do on educational trips?
Everyday the students will wake up early to eat breakfast, and then shortly after, they get on the bus to explore. After exploring with the group is finished, the students may have free time to wander and try new foods, shop or overall just take in the culture around them. The group does not get back to the hotel until late at night, so rest is then needed for another fulfilled day of exploring in the morning.
How do I enroll in this opportunity?
This is an opportunity of a lifetime, and nobody should miss out. To find out more information on how to enroll in the EF Tour, see a Spanish teacher, or Mrs. C in House 4.
More facts about the Educational Trips
These trips normally last from 9-10 days.

You can still contact others from home as long as you update and pay for extended data to the foreign countries you end up going to.

You can use your Debit/Credit card as long as you notify your bank that you are going to those places.

You get to choose your roommates, unless there is an issue or an uneven ratio of boys to girls.

You get an immense amount of freedom to explore on your own.
When I went on the Spain trip in April 2017, I can honestly say it changed my perspective on the world we live in. I signed up for the trip because my friend told me to go with her, and I thought it would be a safe way to travel out of the country for the first time. I set up a payment plan to be able to financially afford it and anxiously waited until the trip. This was most definitely a trip of a lifetime.
Experiences from Travelers
Ms. Carrasquillo (House 4 Secretary):
"I've traveled all of my life, so from the point of view of taking the students, it just shows me how you can take them out from their own country and see how they behave and flourish and become diverse not only in the language but their behavior and how they think about the world."
"…they also become students who want to help countries and learn to pinpoint what is right from wrong and what they can do within this country to make it better."
Katie Host (senior, experienced traveler of EF Tours):
"The life-long friendships I made with the people who went on the trip with me was probably the best part."
"I feel like traveling in general definitely opened my mind to the world around me in many different aspects."
"The teachers and chaperones get us to try new things and have fun with it. For example, one day we split into groups to do a scavenger hunt around the city all by ourselves with just a map, and our knowledge of the language around us. With the timer ticking, and the competitive mindset, in the end, we got to explore and learn on our own, while challenging ourselves to socialize with people who don't know english."
Marissa Cassidy (graduate from LHS, experienced traveler):
"Recently, I took a road trip to Niagara Falls, which allowed me to explore at my own pace. I stayed on the New York side, but was able to easily walk across the border of Canada to see the Falls and it's entirety. I realized by the end of the trip I learned more in three days of touring and going back and forth between two separate countries than I do sitting through most of my college courses."
"Traveling and seeing people from many different places and walks of life was an eye-opening experience, and makes me want to see what else this world has to offer."
Connor Phillips (graduate from LHS, experienced traveler of EF Tours):
"I believe the educational trips provide a unique experience that gives kids real world exposure to what they may be learning in school."
"I highly recommend students to look into this opportunity. It is a once in a lifetime experience and high school is the right time do it! I made memories on our trip that'll last a lifetime."
Sophia Scaccia (senior, experienced traveler of EF Tours):
"Overall, I made a ton of new friends that I'll keep in touch with for the rest of my life. I experienced culture and food and a bunch of other things I could never learn in school or experience in America, and it opened my eyes to the opportunity to study abroad in college."