An inside scoop on the high school job search
Alex McIntosh, Reporter
January 3, 2018
Hang on for a minute...we're trying to find some more stories you might like.
When job hunting, it can quickly become apparent that the amount of options is overwhelming. Reading about the experiences of other students may be a helpful tool when conducting your search. There are many opportunities out there, and it is up to you to find your best fit.
 McDonald's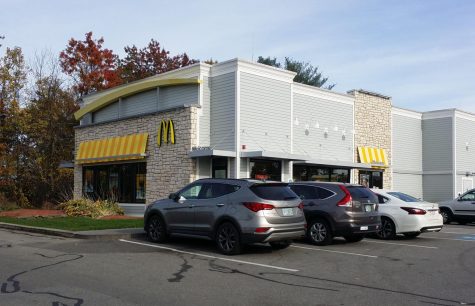 Of all the food establishments that dot Route 102, it's likely McDonald's is the most famous. Just about everyone in town has had a meal or two there, but what is it like to prepare an order? Senior William Luzunari, who has worked the lines for eight months, knows exactly what it's like.
When you order some sort of burger at McDonald's, there's a chance Luzunari is the one working the grill and assembling the order. He describes this task as easy, but he certainly doesn't take a liking to the constant heat of the grill or the rather unconventional orders some customers place.
"This one guy ordered a triple cheeseburger with an extra piece of meat– it was a quadruple cheeseburger," Luzunari said. "We don't even sell those, but I had to make it."
The Good
Get to socialize with friends on shift
Easy/straightforward job
The Bad
Hot environment due to grill
Very specific/difficult orders
Is it recommended?
"If you can't find anything else, then yeah, McDonald's is always open," Luzunari said. "If you need a job, McDonald's is always hiring."
Dunkin' Donuts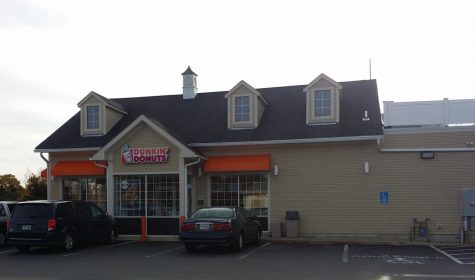 During your morning run to Dunkin' Donuts, you have seen the numerous employees eagerly working to keep the influx of orders at bay. One of those individuals may have been Brendan Cantone, a former employee who worked there for about a year.
A normal day at Dunks for Cantone involved either working the drive-through or counter, switching between the two as needed. On other days, he would be assigned to one task, working it for the duration of the shift.
According to Cantone, the job was easy once he understood the routine, yet difficult during busy times, like the morning. Cantone didn't enjoy his job at Dunkin' Donuts, but he did like some of the funny moments dealing with the variety of customers a daily basis would bring.
"One time, I had a customer say she wanted half ice in her iced tea, but she got full ice." Cantone said. "So in front of me she shoved her hand into the cup, pulled out all the ice and threw it on the ground."
Something that sets Dunkin' Donuts aside from other entries on this list is their scheduling situation. They are strict about scheduling, so if your school activities may not permit you to work there, you may want to reconsider.
"For the one I worked at, you gotta be there," Cantone said. "School work or any other things aren't an excuse."
However, Cantone did note it was usually easy to find someone to cover for him.
The Good
Relatively easy job
Get to socialize with friends
The Bad
Can be hard with scheduling
Working morning shift can be stressful
Is it recommended?
"For a first job, it is terrible, but it teaches you a lot– so yeah, I would [recommend it]," Cantone said.
Home Depot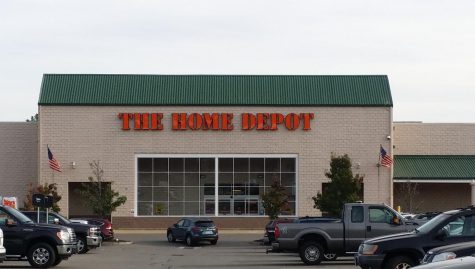 Anyone who has ventured to the Home Depot in town has likely seen the various employees in orange, eagerly awaiting customers. If you have ever considered becoming one, Anthony Pirolli's experience may be able to tell you what you need to know.
Pirolli, who has worked there for the past six months, enjoys his position as a lot associate. His daily routine involves managing the carts, as well as helping customers to both load up their vehicles and locate items throughout the store.
"I actually really enjoy going to the job," Pirolli said. "An eight hour shift doesn't feel like eight hours– it feels like two to three hours if you are having a good time."
The Good
Flexible hours (easy to trade shifts)
Nice staff and management
Opportunities to socialize
The Bad
Working the lot during hot days
You're on your feet all day
Is it recommended?
Pirolli does recommend the Home Depot, noting high pay and an abundance of open positions as reasons you should head down and apply.
Market Basket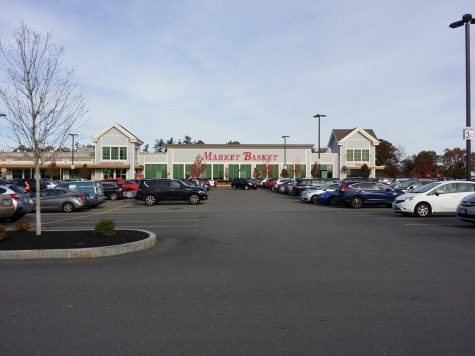 Market Basket is the most popular grocery store in town. It is very likely you have been inside it and have seen teenage employees working various tasks around the store, but have you ever wondered what it's like to be one? Ben Doris, who has been employed at the Basket for a year, has some experiences to share.
According to Doris, his typical four hour workday will often involve bagging and cart retrieval, two hours on each. While on shift, Doris notes he is able to socialize often, which is something he enjoys doing. However, he dislikes working carriages in unfavorable weather. Carriage duty is not required by every employee at the basket; any girl employed there won't be required to work the lot.
Funny or unusual moments between co-workers are another thing that ease the shift at the Basket. Doris recalls a minor dress code violation turning into a rather comical situation while on the clock.
"You have to have a clean shave, and my friend didn't," Doris said. "The manager made him shave with a really cheap razor, and he cut himself four times."
The Good
Flexible hours
Lots of other LHS students employed there
Get to socialize on shift
The Bad
Pushing carts in bad weather
Difficult customers
Is it recommended?
Doris recommended Market Basket, highlighting the good pay (including increased pay on Sundays) and formidable hours as reasons to certainly go for the job.
501 Pizza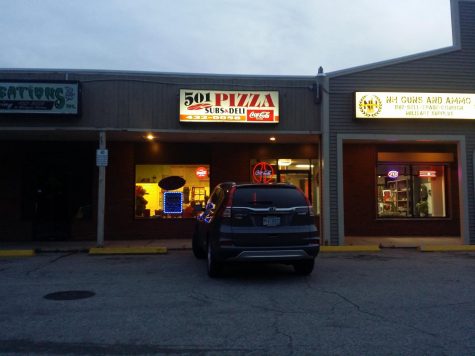 501 Pizza is a small pizza joint that sits within one of the many strip malls of North Londonderry. It is possible that the pizza you ordered from there was once prepared by Patrick Strong, who was employed at the restaurant for two months.
While on shift, Strong would be required to work constantly with little downtime, performing a variety of important tasks. He would re-stock shelves, fill up dressing containers, re-stock the soda machines and sometimes make a pizza or two. While the work was perpetual, Strong did note a powerful upside– he would receive free food while on the clock.
"[The best part was] getting your free slice of pizza for lunch," Strong said. "If I didn't eat before I got there, they'd give me a half pizza, or if they didn't deliver [an order, they'd give it to me]."
The Good
Relaxed scheduling
Free food on shift
The Bad
Little downtime
Tough boss
Is it recommended?
"If you're looking for a challenging boss… a job's a job," Strong said.
Photos by Alex McIntosh