One cold Saturday afternoon, I was home alone, and I really wanted tortilla chips. I didn't want factory-processed and bagged tortilla chips, I wanted homemade tortilla chips. So,
I did what every young teenage cook does, and I went to the internet. As I was researching I came across two easy recipes. One was baked, and the other was fried. I was going to bake them, but instead I decided to try them both.
Baked Chips:
This recipe was really easy, it's a low risk with a decent reward. I kind of liked it. It was really dry and it didn't really look like a classic tortilla chip, but it still came out pretty good. It had the saltiness of a chip, but just didn't feel like one in your mouth.
Ingredients: 
~8 tortillas (flour, corn, whole wheat or multigrain)
~Canola cooking spray
~Sea salt or kosher salt

Instructions:
#1) Preheat oven to 400°F. Spray a large baking sheet with cooking spray.
#2) Cut each tortilla into 8 equal wedges with a sharp knife or pizza cutter. Arrange tortilla wedges in a single layer on the prepared baking sheet. Spray the wedges with cooking spray and sprinkle each one with a little sea salt or kosher salt.
#3) Bake chips on the top rack of the oven for 10-12 minutes, rotating the baking sheet halfway through, until chips are crispy and starting to turn light brown in spots.
#4) Remove from oven and let chips rest on baking sheet for about 5 minutes before serving. Repeat with remaining wedges or bake them on multiple baking sheets at the same time, rotating which shelf the baking sheets are on halfway through baking time as well.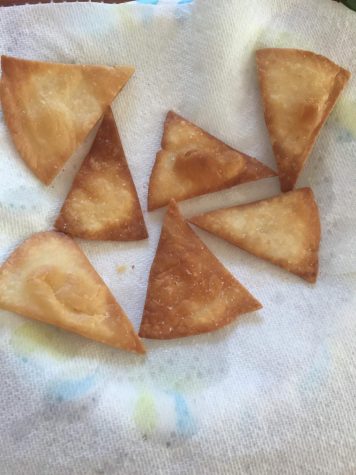 Fried Chips:
This recipe is low risk, but it has that looming danger of burning yourself with hot oil. It looks like a classic tortilla chip, and it feels and taste like one too. It has bubbles like what you see on a regular tortilla chip.
Ingredients:
~Vegetable oil for frying
~Eight, ten-inch flour tortillas, each cut into 8 triangles
~Salt
Instructions: #1)Pour 1/4 to 1/2 inch oil in a heavy 10-inch skillet; bring oil to 360 degrees F (182 degrees C) over medium-high heat, about 8 minutes.
#2) Working in batches, gently arrange tortillas in the hot oil using a slotted spoon; cook, frequently turning tortillas with the slotted spoon, until golden brown, 2 to 3 minutes. Remove chips with slotted spoon and place a paper towel-lined plate to drain.
#3) Sprinkle salt on to and serve.