Hungry for something new: restaurants offering delivery (or takeout)
As the number of COVID-19 cases continues to rise in New Hampshire, we are starting to realize that social distancing is probably going to last a little longer than a few weeks. However, the longer we're stuck inside the house, the more we start to miss the food from our favorite restaurants. 
While we're unable to dine-in at restaurants, many of them are offering to deliver straight to your door. If you're on the fence about it, think about some of the local businesses you could help out by simply ordering yourself a meal. Even during this time of struggle, it would be nice to lend a hand. 
I have gone through the ordering process for each of the following restaurants and have created a list of the ones delivering to homes Londonderry. 
Applebee's
Located in Derry, Applebee's is offering free delivery and you can order straight from their website. The initial link brings you a page that will allow you to enter your address, letting you know whether or not Applebee's is delivering to your location. From there, you can choose from a variety of food selections.
Domino's 
If you love pizza, then it's a good thing that Domino's in Londonderry is still offering delivery services. You can even request to have a contactless delivery. The process is simple, all you have to do is go onto their website (or the app), enter your location, then place your order. Once you select what you'd like, you can move onto the checkout page and finish out the process there. 
Giovanni's Pizza
In North Londonderry, Giovanni's is one of many pizza services that are delivering. By going to their website, you will find the option to order anything from their menu. When you're ready to place your order, just click the checkout option and it will bring you to a quick login or signup page. The process is less than a minute when signing up and they just take down basic information. The last few steps will take your address and card information, then you'll be all set to go. 
Olive Garden
While Olive Garden in Manchester is not yet offering delivery, they are offering curbside pickup. If you're in the mood for some Italian, head on over to their website. Make sure to click on "ToGo Carside Pickup" before placing your order. If you don't plan on immediately picking up your order, don't forget to select your time/date. Once you enter all your information, you'll have the option to pay online or in store. Once your order is placed, all you'll have to do is pick up your meal!
Chipotle
Unfortunately, I found that Chipotle in Manchester only delivers as far as North Londonderry. However, if you happen to live there, the process is quite simple. First, go to Chipotle's free delivery page and click "Order Now." The page will direct you to their menu and you'll be able to select what kind of order you want to place. You will then have to enter your address (or you can do pickup!). Once your information is in, you can finish adding your fillings. The final page will basically be your receipt, just enter your card information and your order will go through.
Burger King
If you're a fan of Burger King, then you'll be happy to know that they're offering free delivery. From their link, you can choose to either pick up your order or have it delivered. When you select delivery, you'll be immediately asked to enter your delivery address and phone number. Then, you are directed to their menu. When ordering online, you are required to sign up with Burger King. However, the process only takes about 2 minutes and then you'll be well on your way. At the checkout page, you're given your estimated delivery time and you're asked to enter your payment method. From then on, you just await your delicious meal.
I know that these are unprecedented times and everything is complicated right now. However, ordering out could definitely contribute to a new atmosphere. Something "new" could be a change from the same food you've got at home.  
In the meantime, you'd be helping out restaurants that may not be getting their usual business. It's important to keep these local restaurants in mind as they may also be having a hard time during this pandemic. That being said, also keep your restaurant workers and drivers in mind when you're tipping them— with less business comes less tips! 
If there are any restaurants that you may have in mind, please let us know and I will happily add them to the list. 
Be safe and remember to wash your hands!
Leave a Comment
About the Contributor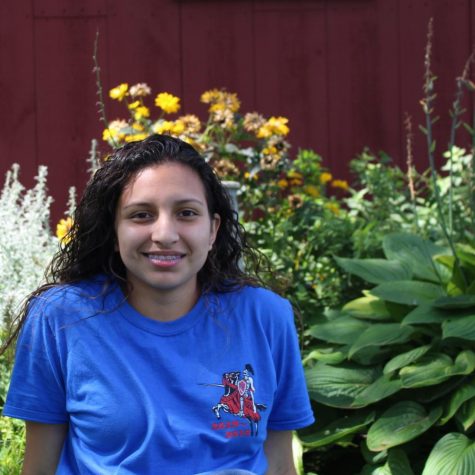 Jazz Conde, Lifestyle Editor
Jazz is the returning Lifestyle editor and is ready to have another amazing year. She enjoys casually playing "I'll Make a Man Out Of You" on the piano and being constantly distracted by Madam Secretary or Instagram when she's not busy doing something school or band related. Jazz is an avid fan of anything having to do with Marvel, #blackwidowmovie. She also just so happens to be fervent Yankees fan living in the middle of New England, yikes.