Holiday recipes to cure your cravings
It's evident that the holidays are practically here. In fact, many people have already been admiring their decorated Christmas trees or celebrating Hanukkah. Whether you and your family tend to celebrate Christmas or not, food is usually a great bonding device. Despite the COVID-19 scare that has taken the wheel of the burning, one-wheeled vehicle we call 2020, we can still create classic dishes to enjoy. 
I have provided some recipes below for those who are vegan, those who are carnivores (like me), and some other healthy recipes as well. There are desserts and entrees included, so please take a gander and try to create whatever inspires you the most! 
Living in New England means bitter winters and the comfort of warm food. For those who enjoy tender meat, check out this delicious "buttery herb-roasted chicken."
Classic holiday foods such as lasagna, glazed ham, and fancy mashed potatoes can be found on this website: 
Lasagna

Glazed ham 

Mashed potatoes
For those who wish to maintain or begin a vegan lifestyle, you simply cannot miss out on the holiday staples. This time, it's gingerbread. Click here for a sweet, healthy recipe for vegan gingerbread cookies.
I couldn't help saving the best for last. When it comes to quarantine during the second half of December, there is no debate as to which dessert to whip up. That's right, "Healthy apple crisp IN A MUG"! Continue scrolling for my trial run of the hyperlinked recipe.
Firstly, prepare your ingredients. 
one medium-ish apple that has been peeled and sliced, and be sure to eradicate the core

1.5 tablespoons of maple syrup

1 tablespoon of oat flour (oat flour consists of fine, ground-up oats)

2 tablespoons of whole oats

1 tablespoon sugar substitute, I used maple syrup again

½ teaspoon of cinnamon, but I used a whole teaspoon

dash of nutmeg
Secondly, put your apple slices in a bowl. Before adding all of the other ingredients into one heaping bowl of deliciousness, mix one tablespoon of your oats, oat flour, and maple syrup, along with ½ teaspoon of your cinnamon and nutmeg with the apples before putting the mixture into a microwavable mug. Thirdly, stir your remaining ingredients together and spread them onto the top of your mixture in the mug. Lastly, microwave the mug for 1.5 minutes and enjoy! 
This recipe came out so well and smells amazing! My mom, who is currently working from home (as many other adults are) due to the pandemic smelled the heavenly aroma herself. That being said, I wound up making two servings. My mom and I each devoured our portions and hope you will too.
Leave a Comment
About the Contributor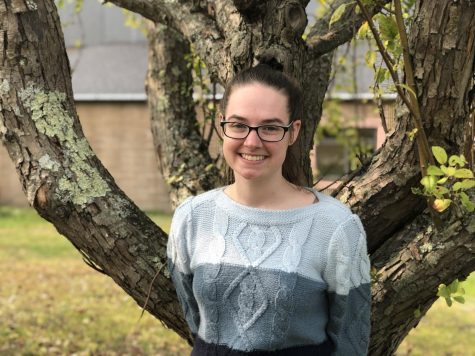 Rachel St. Louis, Copy Chief
While some kids are busy with sports, theater, or dance, Rachel is either diving into another book or writing one. She likes to spend time with her beagle when she's not vigorously typing new chapters for her unfinished novels. This school year, she is the copy chief and very excited to continue writing for the Lancer Spirit in her new role.