Why reading is important
From the somatosensory cortex to the stimuli within the frontal lobe, reading outside of school is important for people of all ages. Whether you grew up hiding the newest Diary of a Wimpy Kid under your pillow with a flashlight or spending your summers with Elizabeth Bennet, the power of reading can speak for itself later in life.
Based on the "Matthew Effect," substantial cognitive abilities are heightened at a young age. Those who are introduced to reading as younger children outside of school will, inevitably, continue their recreational reading and therefore become mentally stronger, if not more mature in general. 
According to a recent article from healthline, reading can prevent declining cognitive abilities, which are directly linked to age (excluding diseases such as Alzheimer's). The National Institute of Aging strongly encourages casual reading throughout one's life, beginning with kindergarteners all the way up to adults whose minds are starting to fog.   
In addition to these perks, reading can improve emotional stability. The capacity to relate to stories or experiences heightens one's level of inward empathy. This provides a better understanding of how to help others or have sympathy for them, at the least.
If you are a student who struggles with reading or finds it monotonous, there are many different genres to choose from. For instance, a few local juniors and seniors who took a reading-related survey provide titles of their favorite books:
"Scythe" by Neal Shusterman (science fiction, fantasy)

"Six of Crows" by Leigh Bardugo (fiction, fantasy)

"The Hating Game" by Sally Thorne (fiction, romance)

"Pride and Prejudice" by Jane Austen (fiction, romance, drama)

"Walden" by Henry David Thoreau (nonfiction, autobiography)

"Twilight" by Stephenie Meyer (fiction, fantasy)
If your interest has not yet been sparked, there are other recommendations for young adults:
"The Hate U Give" by Angie Thomas (fiction, young adult)

"The Great Gatsby" by F. Scott Fitzgerald (fiction, tragedy)

"The Chemist" by Stephanie Meyer (fiction, thriller)

"They Both Die at the End" by Adam Silvera (fiction, young adult)

"The Giver" by Lois Lowry (dystopian fiction, young adult)
According to an informative article from collegexpress, reading nonfiction during students' high school experience can influence them positively. It can give them literary knowledge, awareness of current events, and more. Reputable, easy-to-understand news sources for beginners include the New York Times, National Geographic, and Psychology Today for some laid-back nonfiction.
In addition to the survey, juniors and seniors shared their thoughts on why they think reading is important, both in school and out of school. From relating to fictional characters to improving conversation skills, reading is a "productive hobby" that helps people of all ages, opening them up "to a whole new way of thinking."
"Reading can help people with comprehension, sounding more intelligent, and being to hold a conversation. It also definitely helps people have a better imagination as well as somewhere they can escape to and characters that they know will always be there for them."
"It's made me understand the world in a new way and helped me have somewhere to turn to if the days are hard."
Overall, reading will influence one's life positively and prove to be a benefit later on in life.
Leave a Comment
About the Contributor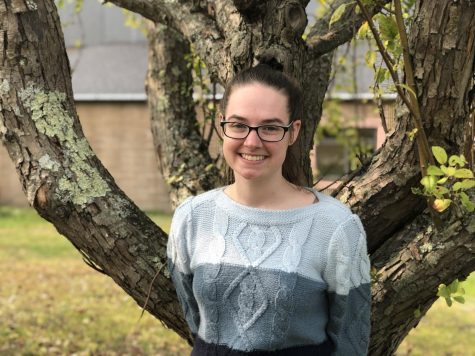 Rachel St. Louis, Copy Chief
While some kids are busy with sports, theater, or dance, Rachel is either diving into another book or writing one. She likes to spend time with her beagle when she's not vigorously typing new chapters for her unfinished novels. This school year, she is the copy chief and very excited to continue writing for the Lancer Spirit in her new role.