Witch way to go in Salem
From movies to urban legends, Salem, Mass. is nationally recognized for the Witch Trials that took place in 1692. Films such as "Hocus Pocus" and "The Crucible" depict the stories of the trials, but nothing compares to actually being in the town where it all took place.
Although Salem itself doesn't feel historic since it has been modernized, there are still a lot of fun activities to do that make this town a popular attraction in October.
But it can be hard to navigate, so here are the best ways to spend your time in Salem, Mass.
Visit a Museum
I know that this is cliche and can seem boring, but there is so much history in Salem that when you actually get to see what happened hundreds of years ago, it makes the experience so much more interesting.
From Pirate Museums to Wax Museums, there are so many options to choose from. However, the town's personal favorite is the Salem Witch Museum since this is what the town is best known for. 
This attraction features replicas of the Salem Witch Trials and exhibits that showcase how life was during this time. But if you are to go here to see the chilling witch stories in person, make sure to book your ticket in advance since spaces fill up quickly.
But if witches aren't your thing and you'd rather see the life of a pirate and their crimes in Salem, or even wax figures of Salem's history, those museums are usually less of a wait and are open all day.
Take a look at the shops
You may be thinking, why would I want to go all the way to Salem just to shop? Well, because the shops help you get into the Halloween spirit of course! 
Near the Witch Museum, you can see dozens of tents lined up all containing "haunted" items. Of course the items aren't really haunted, but they all relate back to Halloween in some type of way. Maybe you find a witch's broom or a jack-o'lantern, the possibilities are endless.
But people don't only go to Salem for Halloween-inspired items. Because the town is mainly known for its involvement with witches, a lot of authentic Wiccan and Pagan shops have settled there.
In those shops you can find crystals, intention candles, and books all on spirituality and religions. Even if you don't follow those ideals these shops are still really interesting to look around since they are different from any other shop you can find in Londonderry, for example.
So even if there is a line outside the shops, I encourage you to wait if you can. The lines do move quickly, the shops are well priced, as well as being well worth the wait.
Get lunch or dinner at a themed restaurant 
Now I will admit, these restaurants seem intimidating. There is usually a long wait and you can see how stressed the staff is, but once you are seated and are just enjoying your time, I think it's worth it.
The restaurants are just a nice way to step back from all the chaos on the streets while staying in the Salem spirit. 
Most of the menu items are themed and the staff is dressed up too. Personally, I think it's an experience everyone should try once, but after that, any restaurant will do the trick.
But if you do want to go to popular restaurants like The Witch's Brew Cafe or The Mercy Tavern, make sure to get there before the lunch rush or you'll be stuck in line for hours.
Although the restaurants are fun, if you are just looking for a quick bite, this is not your place. Instead, try going to vendors on the street, or even a gas station, cause nowhere in Salem will have under a 30-minute wait in the month of October. 
Take in the views
Sure I get that this is simple, but I mean it. Salem is such a beautiful town and there's a lot to see outside the museums and shops.
For example, you are right on the coast and there's a beach just a mile down from where all the attractions are. Of course, it isn't like Hampton or other packed beaches, but it's a nice, quiet place to sit by the ocean and watch the wildlife.
There's also a lot of art that you can find just in the streets of Salem. Going back to the beach, my group and I found a large sculpture of a seahorse made entirely out of metals. But there aren't just sculptures, there's a lot of street art on the sides of buildings and you can actually get to see the artists in action.
Overall, I think Salem, Mass. is a great getaway in the month of October. Although it can be difficult to get down there due to traffic and parking filling up quickly, I think it's a must-see for everyone to do at least once. 
Leave a Comment
About the Contributor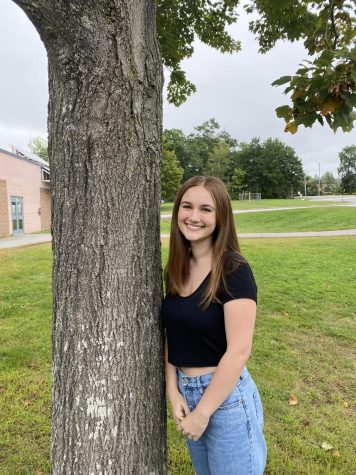 Courtney Clark, Editor-in-Chief
Senior Courtney Clark has been on staff for 4 years. Starting as a reporter in her freshman year, she then worked her way up to an Opinions Editor, then Assistant Editor-in-Chief, and now Editor-in-Chief. Next year she plans on being an Elementary Education Major at Keene State College.