Fashion Friday: Kaylie Donahue
On this Fashion Friday, we highlight senior Kaylie Donahue's personal style and some of her outfits from this week. 
Donahue describes her style as "lonely librarian." 
"I try to find things that most people wouldn't put together, or they would see something and think it's ugly, but I see something and think, 'oh it's ugly I want it'" Donahue said.
Donahue's favorite stores to find pieces to fit her aesthetic are Talbots and L.L. Bean.
"Those are my favorite brands to look for in thrift stores; they're very high quality," Donahue said.
A staple in Donahue's style is skirts.
"I really like the flowly-ness of them and I get a lot of inspiration from Korean and Japanese outfits and long skirts are very prevalent in that fashion," Donahue said. 
For others trying to develop their own personal style, Donahue suggests, "take inspiration from the people around you."

"Don't be afraid to wear something that's outlandish, or something that you think you're going to get made fun of for," Donahue said.
---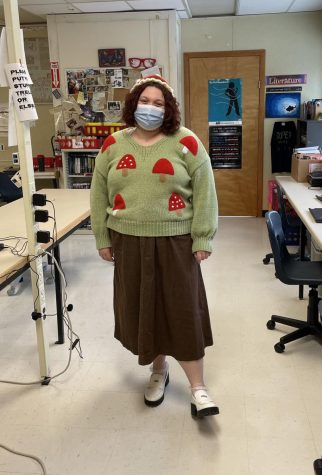 In this outfit, Donahue's mushroom crochet hat is from a personal business on Esty. Her sweater is from Shein, jewelry from Kay Jewelers, the skirt is from Oasis, socks are from Savers, and the loafers are Calvin Klein.
---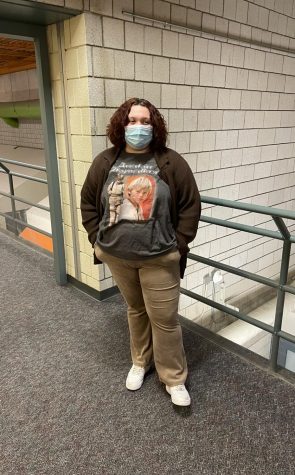 Here, Donahue's cardigan from Victorian Corner, the Star Wars shirt is from Kohl's, her suede pants are from Charlotte Russe, and her shoes are Nike Air Force 1's.
---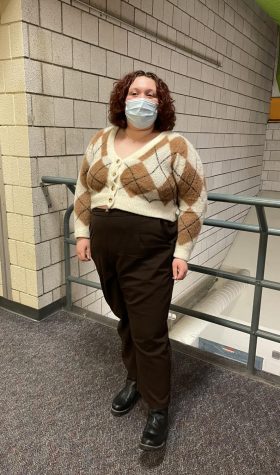 For this outfit, Donahue's sweater is from Kohl's, her trousers are from Calvin Klein, and the Chelsea boots are from Kohl's. 
---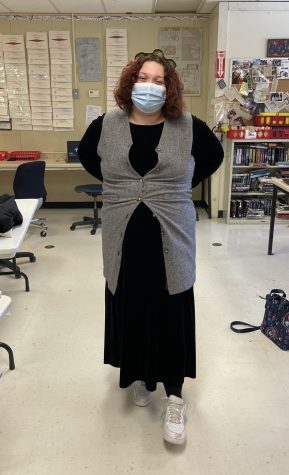 Here, Donahue is wearing a dress from Savers, the vest overlay is also from Savers, and the shoes are Nike Air Force 1's
---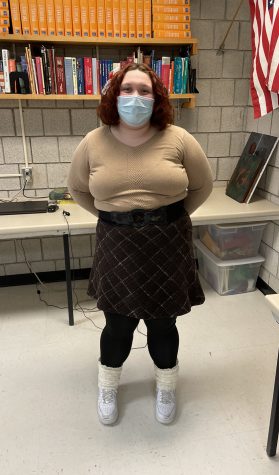 In this outfit, Donahue is wearing a top is from Talbot's, the plaid skirt is from Saver's, and her leg warmers are from Goodwill, and the shoes are Nike Air Force 1's.
Leave a Comment
About the Contributor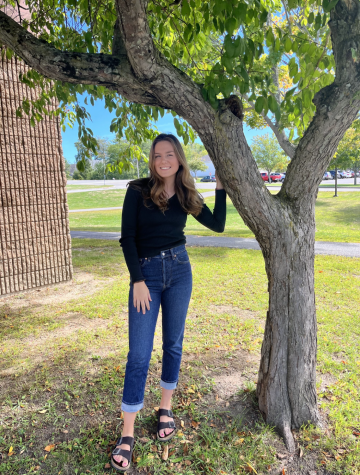 Megan Standifer, Assistant Editor in Chief
Senior Megan Standifer has been on staff since 2020, starting as a reporter, then Fashion Editor during the 2021-2022 school year, and now Assistant Editor in Chief as well as Magazine Chief. Standifer is accredited with bringing fashion feature stories back to The Lancer Spirit, with her creation, 'Fashion Friday.' When Standifer isn't carefully critiquing the fashion industry, or speaking on insightful podcasts, she enjoys playing volleyball, snowboarding, and sitting bench on the girl's track...