What to do if you want a tattoo
You've just turned 18 and are looking for a way to express your newfound adulthood. This may be buying a scratch ticket, building credit, or, if you are like me, disappointing your parents by getting a tattoo. 
Although I was so excited to get my first tattoo, I was also nervous and wished I knew more before going into it. With that said, here are some things everyone should know before investing your time and money into a tattoo.
Planning for a tattoo
Before you even get to the tattoo parlor, you need to do your research. Know what you want before your appointment so you can find an artist that can properly execute your design.
For example, I wanted to get butterflies with a lot of detail, without being bulky. I researched every tattoo shop in New England and found an artist that specialized in the exact style I wanted.
Going along with planning, every artist and shop has a minimum price. Though I found an artist with a portfolio that I loved, her minimum was $200. 
Though I was shocked by the price because my tattoo was going to be tiny, I think it's better to invest in something good rather than cheap since you wear a tattoo for your entire life.
Getting a tattoo
Once you get into the parlor and meet your artist, they are going to show you the design they made. Don't be scared during this time to ask for any changes; it's going on your body forever. But at the end of the day, when it comes to technical stuff, listen to your artist.
I originally wanted my tattoo to be super tiny, but after talking with my artist she explained to me how, when it heals, all of the fine lines would fade away. So, I worked with her and now found a size that I love.
After agreeing on what the tattoo will look like, your artist will print out a stencil and place it on your body for you to approve on. Again, don't be scared to ask for it to be placed in a different spot; you are paying a lot of money and want to like it. 
Once the stencil is on, it's time to tattoo!
When getting a tattoo, don't be scared of the pain. The process will hurt to some extent on any part of your body, so you might as well get what you want.
I wanted my tattoo to be placed on my ribs and everyone warned me about the pain, including my artist. But when it actually got down to it, it wasn't that bad. It felt like a cat scratch or hand sanitizer on a cut, at most.
But, be sure to consider the time it takes for a tattoo as well. I was positive my tattoo would take 30 to 45 minutes, but it ended up being an hour and a half. Make sure you not only mentally prepare for how long a tattoo takes, but the price as well, since artists typically start increasing their price after 30 minutes.
Aftercare
Before getting a tattoo, I wish someone would have warned me about how annoying the aftermath of it all would be.
A tattoo is essentially a wound, so it's constantly sore, itches, and burns when you try to take care of it.
I had no clue that the aftercare of a tattoo would affect my daily routine so much. I've had piercings before so I thought it would be like that, but I was wrong.
Not only do you have to wash your tattoo thoroughly three times a day, but when taking a typical shower the water needs to be lukewarm or cold. Yep, you heard that right, cold showers in the winter, so fun!
Also cleaning and lotioning the tattoo just causes it to be more and more irritated. There are some days where it was hard to move or sleep since it felt like a sunburn. 
However, although the aftermath was hard for me, this could just be due to the location of my tattoo. If a tattoo were to be on an arm or leg without a lot of movement, it might be better.
Disclaimer 
Obviously I'm not an expert since I have one tattoo. But, I was shocked about a lot of the process and thought it may be helpful to share my experience.
So to those of you who are thinking about getting a tattoo, do it! It's definitely not as bad as it seems, and even though the process was sort of difficult, I already can't wait to get another. Just make sure to research as much as possible before, and always tip your artist!
Leave a Comment
About the Contributor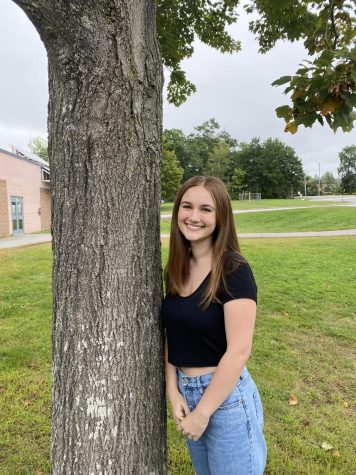 Courtney Clark, Editor-in-Chief
Senior Courtney Clark has been on staff for 4 years. Starting as a reporter in her freshman year, she then worked her way up to an Opinions Editor, then Assistant Editor-in-Chief, and now Editor-in-Chief. Next year she plans on being an Elementary Education Major at Keene State College.