Second to Last Minute band releases debut extended-play record
Check out related stories to read the previous article on this band.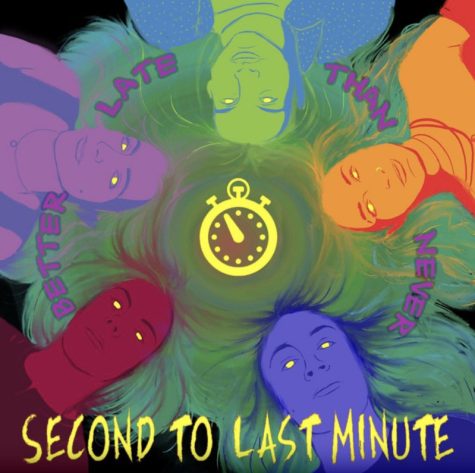 After months of work, local band Second to Last Minute has reached their goal of releasing their original music for fans to listen to on any streaming platform.
The band has been working on combining each member's different style of songwriting into one cohesive piece that represents them as a group. 
"The most exciting part [was] getting to see our work and our ideas come together into something we can listen to and share with our friends," singer Emerson Carracedo said.
On October 9 2022, Second to Last Minute released their debut extended play record entitled Better Late Than Never. The EP consists of four songs: Half Past Three, Lovely Days, Echoes, and Apple Pie.
The band's members, drummer Elliot Lempke, bassist Killian Daron, guitarist Logan Bower, lead singer Lorelei Stahl, and Carracedo, are all high school students. Bower and Daron go to LHS, while Lempke and Stahl both attend Pinkerton Academy, and Carracedo attends Windham High School. 
"All of the different styles of music and different audios really demonstrate who we are as a band, as friends, and as individuals,"  Stahl said.
The band recorded the EP over the summer at the Blackheart Sound Studio in Manchester, N.H. After finishing recording in two days, Bower said the process was "a ton of fun."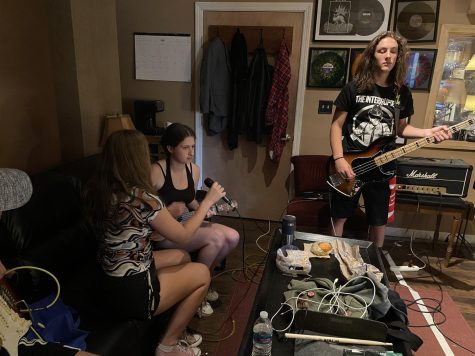 "It takes a lot of effort," bassist and junior Killian Daron said. "But it was so fun finally recording what we've had written down for months."
In celebration of the EP, the band held a concert for their family, friends, and fans to attend before their music was officially released. The release party was held at the Press Room in Portsmouth, NH. The group performed at this venue over the summer when they opened for the professional recording band, Catbite. However, this time, the crowd was there to hear their music, which lead singer Stahl found "really emotional." 
"I actually started crying," Stahl said. "To see a room full of people singing along to a song I wrote in middle school [that I thought] no one would ever hear [is] just so special."
Over 100 people came out to support the band. The crowd was filled with "familiar faces" and "many new people who were willing to give [their] music a chance" according to Carracedo. She said it felt like a "joint triumph."
"Performing for people [who were] there to listen to the music we created was a surreal experience," senior Logan Bower said. "It's an experience I want to continue to have."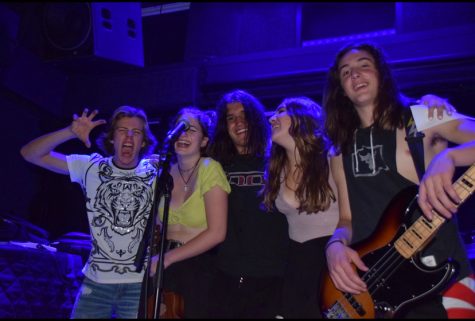 Daron and Lempke agreed the night was memorable for them. Lempke described the concert as full of "insanely high energy" and "one of the best experiences [he's] had in [his] entire life." Daron said he'll "probably remember that night forever."
"The audience was having fun, we were having fun, and it was an amazing connection between them and us," Daron said. "It's definitely the best show we've played yet."
Following the release party, the band got to open their preferred streaming platforms and hear their music. Daron said listening to something they made was "just incredible." 
"I like the fact that [the EP] feels like our own," Lempke said. "It feels like all the work paid off in the end."
Second To Last Minute has received "overwhelmingly supportive responses" from friends, family, and fans who have taken the time to listen to their songs according to Stahl. Daron said when people come up to him and tell him they like the band's music, it "fills him with joy."
"Many people I go to school with, who I wouldn't expect to have listened to it, have told me that they really liked it," Carracedo said. "People have been very supportive of our music and I'm so thankful."
Since they each come from "different roots of music" as Bower said, the band members would collaborate with their individual styles of songwriting to create each song. 
"Each song is so different from the last," Daron said. "All of our music tastes together definitely adds some variety."
Lempke describes the EP as an "accurate combination of their sense of humor."
"It [represents] all of our hard work and late nights paying off," Lempke said, "along with our disagreements, good times, get-togethers, and everything else we did together."
At the beginning of three of their songs, the members included snippets of their voice memos from when they first recorded their songs. The snippets include recordings of the band members laughing and talking with each other. Carracedo said this aspect of their songs "always brings [her] back to the days in the studio."
"Those parts always bring a smile to my face," Carracedo said.
Stahl, Lempke, and Carracedo all agree their favorite song off the EP is Echoes. Lempke wrote the drum part while Bower and Stahl collaborated on the lyrics. Lempke said he's "very proud" of the part he wrote, and Carracedo said she "loves how it has a vibe that can get [the fans] pumped up."
"The guitar part makes you feel like you can take on the world," Carracedo said. 
After their debut release, Bower said the band "can't wait" to start writing more music. Stahl said the release has made her "genuinely so excited and hopeful for the future." 
"It really proved to us that there are people who want to hear our music and want to hear what we create," Stahl said. "I'm really looking forward to seeing what comes next for us." 
Since three of the five members will be graduating by the end of the year, Carracedo said they are going to take as many opportunities and enjoy as much as they can.
"With three of us being seniors, we don't know what the future holds," Carracedo said. "The five of us are focusing on the present and all of the things that we can do in music right now." 
View Comments (2)
About the Contributor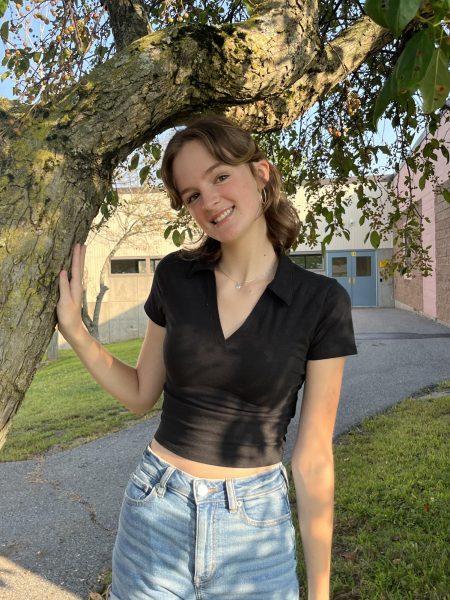 Kelly Egan, Editor-in-Chief
This is Kelly's second year on the editorial board. As well as being Editor-in-Chief, she is heavily involved in the music department here at LHS. She is in the chamber choir and the drama club. She also does theatre year-round outside of school. She loves being on staff and has been writing since elementary school.