Senior prepares to fill Dolly Parton's boots in local musical
She rose to fame in the late 1960s through her country music career. A little over a decade later, she starred in a movie based upon arguably one of her most famous songs, 9 to 5. In 2008, the film was adapted into a Broadway musical with lyrics and music written by her. Needless to say, Dolly Parton has become a household name over the past 50 years. Now, senior Rae Pizzi gets to fill those cowgirl boots in a local production of Parton's musical.
This past August, Pizzi was cast as Doralee Rhodes in Nashua theatre company Peacock Players' teen production of 9 to 5: The Musical.
"I was so excited," Pizzi said. "I love [Parton] and getting the chance to play a character that was not only played by her but based on her as well is a dream."
9 to 5: The Musical follows three women working as office secretaries in the late 1970s: Judy, Violet, and Doralee. Though they each lead different lives, they all have one thing in common: hatred towards their boss, Franklin Hart. The story revolves around the idea of women being mistreated in the workplace. Their boss does not stray away from themes of sexism, as he thinks the only thing the female secretaries are capable of is "fetching his coffee."
As the women's hatred towards Hart grows with each day that passes, they get together after work one night and discuss hypothetical ways they could get rid of Hart permanently. Though the scenarios originate as playful jokes, their imagination becomes reality when a misunderstanding leads them to kidnap Hart. While they keep him captive in his home, the three women run the office and transform it into a colorful and inclusive workplace. Through this, they prove to Hart and corporate that women are capable of running an office just as well, if not better than a man could.
"It's such a unique show," Pizzi said. "It's a crazy storyline with thousands of twists and turns. It's hilarious and the music is incredible."
Since the 1980 film is based on the hit song by Parton, the directors decided to cast Parton as one of the three protagonists, Doralee Rhodes. They even based Rhodes' personality traits on Parton, as Rhodes also has a southern background and a strong personality. 
Pizzi has been involved in theatre since she was 7 years old, and has participated in productions at Peacock Players since 2017. When Pizzi  found out the company was auditioning teens for a local production of 9 to 5, she was "immediately intrigued."
"I have always been a big Parton fan," Pizzi said. "Knowing that [Peacock Players] was doing a show that Parton wrote and created really interested me right off the bat."
To prepare herself for auditions, Pizzi picked a song in a similar style to the show and familiarized herself with the show's score in case she got a callback. Going into auditions, Pizzi was attempting to get the role of Judy, one of the other female leads. Though that wasn't the role she was cast as, Pizzi said it "worked out for the better," as she got cast as Doralee.
"One of my really good friends, Sofia, is playing Judy so it all worked out well," Pizzi said.
Once the cast list was announced, the cast started rehearsing three times a week. Being one of the three main leads in the show, Pizzi had to do a lot of work at home in order to do her best inside the rehearsals.
"[There's been] a lot of me working at home to memorize my lines, songs, and dances," Pizzi said.
Pizzi explains that she was "lucky enough" to be cast alongside two of her close friends: Grace Giannetti and Sofia Santoro. All three girls are seniors this year, each going to different high schools. Each of them have a history of being a part of numerous Peacock Players productions, and they get to experience their last show with this company together.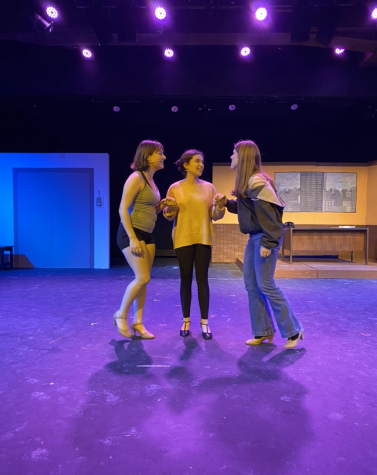 "This show [allows us to] work together so closely which is really great," Pizzi said.
Pizzi's close relationship with her co-stars has helped them be efficiently prepared for their rehearsals, as they often practice their materials together.
"We talk on the phone to run lines and we meet up early before rehearsals to run lines," Pizzi said. "We really have each other's backs through the whole process."
Giannetti said her favorite thing about performing with Pizzi is "how supportive she is of her cast members."
"Whenever you are having a rough rehearsal, she will be the first person to pick you up and tell you you're doing a great job," Giannetti said.
Along with getting to share this show experience with two of her good friends, Pizzi said her favorite part about playing Doralee is "digging into portraying Parton."
"Doralee isn't always the same person as Parton," Pizzi said, "[so I've been] kind of finding a way to be inspired by her but not completely mirror everything she does."
While the character she is playing was based on and originally portrayed by Parton, Pizzi said the most difficult part about impersonating Doralee is "finding a balance between the two personalities."
"Parton is very unique," Pizzi said. "There is no one else like her, so I think it's been hard to live up to that. At the same time, my director's been telling me to be Rae playing Parton [rather than] completely becoming her."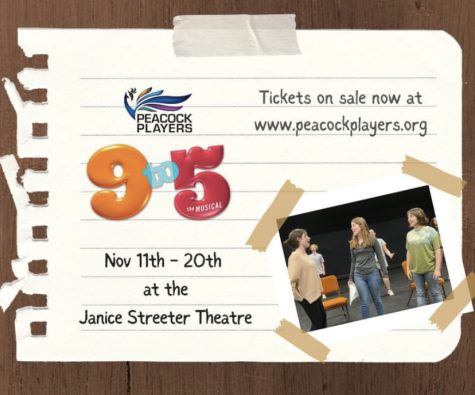 As opening night of the production approaches, Pizzi is "really excited for audiences to see the show." 
"The music is unique and it's also a really funny show with a lot of funny lines," Pizzi said. "I think it's going to be a funny show for everyone to watch."
9 to 5 will perform Nov. 11-20 on Fridays, Saturdays, and Sundays. The show will be held at the Janice Streeter Theater in Nashua, NH. Click here to purchase tickets and see Pizzi and the rest of the cast live up to Parton's legacy.
"I'm really looking forward to going out with a bang and making this [show] the best we can make it," Pizzi said.
Leave a Comment
About the Contributor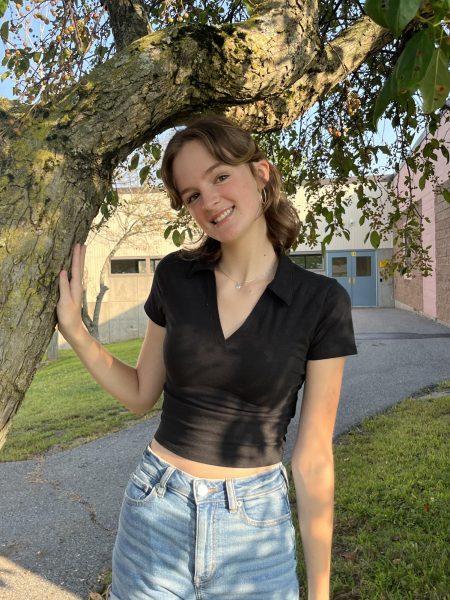 Kelly Egan, Editor-in-Chief
This is Kelly's second year on the editorial board. As well as being Editor-in-Chief, she is heavily involved in the music department here at LHS. She is in the chamber choir and the drama club. She also does theatre year-round outside of school. She loves being on staff and has been writing since elementary school.