Chamber choir's carols spread joy within Lancer Nation
On the last day of school before winter break, Wednesday, December 21, 2022, the chamber choir brings holiday spirit to LHS with their musical renditions of the most popular holiday songs—but this isn't the first time they've done so. For over 20 years, LHS Choir Director Danielle Loschiavo has brought her choir kids hallway to hallway to serenade the students and staff of LHS with their favorite carols of the season. 
"We try not to do just Christmas music," Loschiavo said. "We'll have a few songs in different languages and winter themes, but I do appreciate that no matter what people follow, they appreciate the music."
Loschiavo said her favorite part of caroling is "how well-received [the] choir is" by the students and staff.
"I [love] that the choir enjoyed learning the music and sharing that with others," Loschiavo said.
The caroling before the freedom of winter break is annually influenced by positive responses from the students and staff alike. English teacher Mary Shank said she "looks forward to the carols every year."
"I think it's amazing," Shank said. "I know students tend to be difficult about getting into the spirit sometimes so I think [the carolers] heighten the spirit in the school."
Similar to Shank, Spanish teacher Carolyn Morse said she was "more than impressed" with the singers.
"They are so talented and it was just really uplifting," Morse said. "It was just really nice to hear them."
As well as singing through the halls, the choir performed their renditions of Carol of the Bells and Feliz Navidad for the school at the annual winter pep rally. Loschiavo said this performance was one of her "best memories" from caroling throughout the years.
"It was just kind of a spur of the moment," Loschiavo said. "The fact that [the choir] sang with no microphones, and brought the student body to silence within like half a second. That was the best."
English teacher and Pep Rally Coordinator Steven Juster described the choir's feature as a "fantastic performance."
"It was great to have them involved," Juster said. "It just worked perfectly."
With the numerous positive responses to the caroling, Loschiavo has considered starting a new tradition of caroling more than once a year.
"I have thought about teaching the choir some love songs and doing a Valentine's Day fundraiser, so there could be a possibility," Loschiavo said.
Leave a Comment
About the Contributor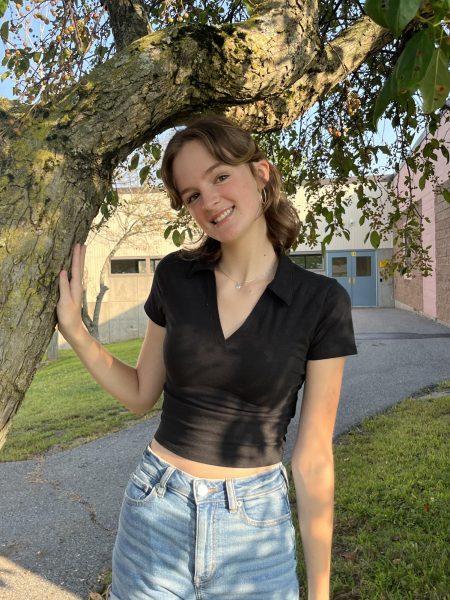 Kelly Egan, Editor-in-Chief
This is Kelly's second year on the editorial board. As well as being Editor-in-Chief, she is heavily involved in the music department here at LHS. She is in the chamber choir and the drama club. She also does theatre year-round outside of school. She loves being on staff and has been writing since elementary school.