Ms. Sullivan honored as one of 20 outstanding women in N.H.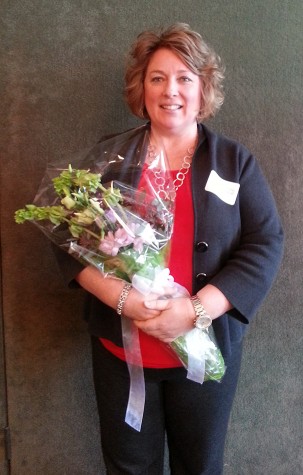 House 4 assistant principal Ms. Sullivan is an outstanding woman.
While that's always been known within the walls of LHS, it is now also known throughout N.H. because she was recently selected as one of 20 Outstanding Women in N.H. through the WZID and Hannafords annual contest.
For the past seven years, WZID radio and Hannafords have taken nominations for this award in the form of letters from friends, family, coworkers, etc.
This year, psychology teacher Ms. Gagnon nominated House 4 assistant principal Ms. Sullivan to be one of these women, and she was selected from 633 entries to be one of the 20.
"I figured [she] had just as good of a shot as anyone else," Gagnon said. "I had hope, but you never know with these sort of things. Honestly, I was shocked."
Gagnon nominated Sullivan for all the work she does not only in the school, but for the town as well. In addition to being the assistant principal of House 4, Sullivan works with Pay It Forward, places flags on graves for veterans every year, volunteers at soup kitchens, and attends athletic and extracurricular activities regularly. Gagnon wanted to emphasize in her letter that Sullivan is a valued member of the community for not only the work she puts in during school hours, but for the person she is outside of school.
"I grew up in Londonderry. Ms. Sullivan grew up in Londonderry, and we stayed here for a reason," Gagnon said. "Ms. Sullivans instills a sense of community and belonging in this town. I see her at almost every single school event. If she can make it, she's there."
On Friday, Feb. 5, Sullivan received an email from WZID, informing her that she had been selected from hundreds of entries to be one of the 20 Outstanding Women.
"My first instinct is that I was incredibly honored," Sullivan said. "And then I was really overwhelmed. It's so cool to think that somebody would take the time to write a letter like that about me, you know?"
In addition to the honorary title, Sullivan received an award at WZID's annual women's expo on March 12, at the Raddison Hotel, accompanied by Gagnon, and she will receive various gifts from the contest's sponsors, a feature in the 20 Outstanding Women Program Guide, and a $250 gift card from Hannafords.