Sophomore wrestler impresses early in season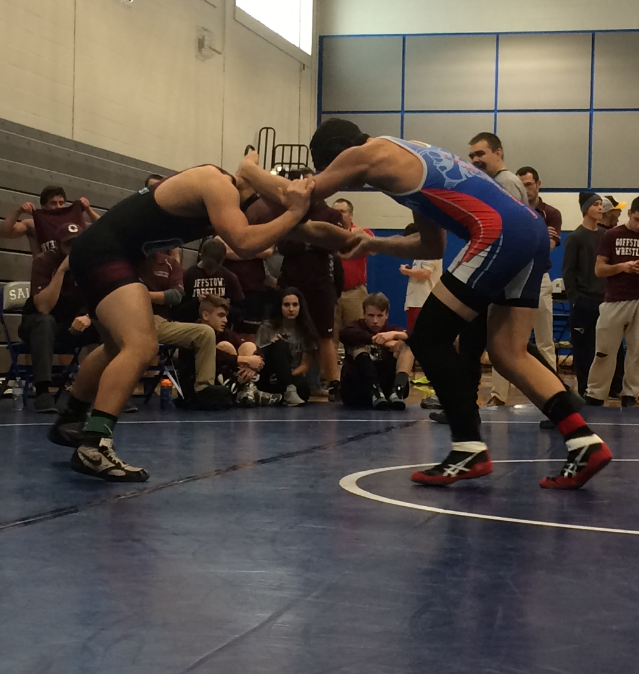 Nick Desrosiers, Reporter
January 5, 2017
The transition from a JV team to a varsity team can be a rough one for many athletes, but that isn't the case for sophomore Vincent Del Signore.
"[Last year] was my first year, so I struggled as anybody would expect," Del Signore said. "I wrestled JV most of the year and lost a lot of matches which was discouraging. This year I realized that the experience is starting to pay off more."
And his JV experience really has started to pay off in the eyes of junior wrestler Craig Santos.
He has developed his skills a lot more from being on JV last year to a Varsity athlete this year," Santos said. "This is a huge step in the positive direction for him as an athlete."
This season, Del Signore has got off to a fast start, winning four of his first six matches. He has continued to gain confidence and is turning into a valuable asset for his team.
"I really enjoy the competition and discipline that it takes to wrestle," Del Signore said. "Each match is a battle both mentally and physically between you and your opponent."
A good amount of Del Signore's early success can be credited to his work in the weight room in the offseason. His hard work at practice is really starting to rub off on the mats.
"Practices are usually a mixture of drilling and live matches with some teaching mixed in to develop us for meets," Del Signore said. "It takes a lot of focus and effort."
He has also started to catch the eye of senior captain Drew Chase.
"He is hardworking, determined, and always has great sportsmanship," Chase said. "I can tell that in the next few years he will become one of the best wrestlers on the team."