Dedicated senior wrestler earns first place at Meet of Champs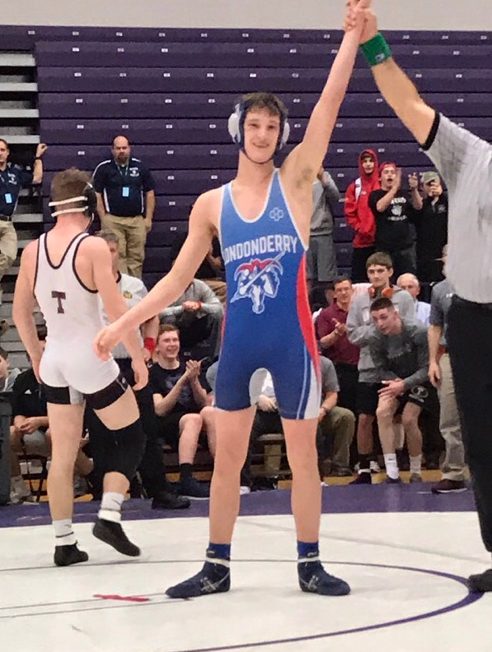 Nick Desrosiers, Reporter
March 24, 2017
After years of hard work on the mats and in the gym, senior captain Drew Chase has made a name for himself as one of the best wrestlers in Londonderry history after bringing home a first place victory at the Meet of Champions.
The 6'0" 155 lb senior may not seem intimidating at first glance, with his slender frame and friendly nature, but once he steps onto the mats, it's straight business.
"Through my 12 years as a wrestler, I have improved greatly," Chase said. "[My coaches] have all helped and influenced me to be the person and wrestler I am today."
And his coaches have really done a good job. Chase has had a career full of successes, including two years ago when he lead the varsity team to a Division One victory, snapping Timberlane's streak of 15 straight victories.
As he has made his way through high school, his role on the wrestling team has changed. He starting out as a hungry freshman looking to get his feet wet with high school level competition and earning the chance to become a leader and role model for younger wrestlers.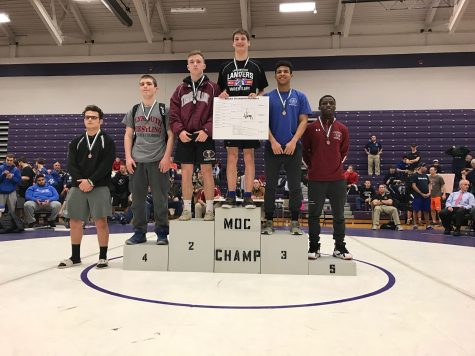 "As one of the captains of the wrestling team, I strive to help and teach through example," Chase said. "I make sure to practice with as many people on the team as possible because I believe it is very important for the underclassmen to have an experienced wrestler helping them."
One underclassmen in particular, sophomore Vincent Del Signore, has expressed his gratitude towards Chase for mentoring him these past few years.
"Drew has been such a great leader for the whole team, myself especially," Del Signore said. "He was my drill partner for half the year and he taught me so much and I'm so glad he's had such success in the postseason. He really deserves it."
And the younger generation isn't the only group Chase has influenced in his time wrestling for Londonderry, he has also rubbed off on long-time teammates, like junior Craig Santos.
"[Drew] is one of those kids that always pushed you to do your best and he cares about how everyone does in a tournament as individuals," Santos said. "He has a great work ethic in school and in the wrestling room which make him an awesome role model to the freshmen and underclassmen."
Chase feels that it is important to help the future generation of wrestlers become the best that they can be mainly due to the fact that he had a coach growing up that helped him get to where he is today.
"My greatest decision for wrestling was going to Smitty's wrestling barn in middle school and in the off-season every year since then," Chase said. "Matt Smith, the head coach there, was the single greatest influence on my wrestling."
Matt Smith is one of the best wrestlers to come out of New England, winning four straight New England titles at Timberlane and having a career record of 186-6, but some may argue that he is just as good of a coach as he was a wrestler. And if anything indicates his success as a mentor, take Chase for example, who has just taken first place at the Meet of Champions this past week.
After four strong years representing LHS on the mats, Chase isn't quite ready to call it quits anytime soon in regards to his wrestling. In fact, he already has his next chapter planned out as he has committed to wrestle for RIT (Rochester Institute of Technology) this fall. While Chase is going to miss sweating it out in late night meets for LHS, he is adamant about what the future will hold for him when he goes off to college and beyond.
"I am looking forward to continue my career and I hope to have similar success in college," Chase said. "I would like to thank all of the coaches I've had throughout the years for everything they've done for me."
Now, after the many years of hard work and dedication, Chase can finally say that he achieved and surpassed his goals as a part of the wrestling team here and has pinned his name up as one of the finest wrestlers to hit the mats for LHS.