Swim teams see both success and improvement
Girls Swim 
The girls swim team enjoyed a successful winter season, as they finished eighth out of 17 teams competing. The team got solid performances from senior Emily Buttafuoco, (fourth in the 100 yard backstroke and sixth in the 50 yard freestyle), senior Anna Gruchot, (fifth in the 100 yard freestyle and fifth in 50 yard freestyle), and also the 200 yard freestyle relay consisting of Buttafuoco, Gruchot, senior Anna Kemball-Cook, and freshman Jasmine Brown.
"The team has been awesome this year," Kemball-Cook said. "This is probably one of the best teams in the last couple of years."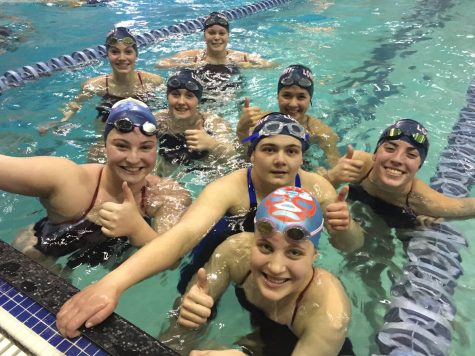 Kemball-Cook credits the upperclassmen for leading the way, which also included juniors Caroline Russell, Madison Martin, and Maeve McPhail. The team together worked hard as a group and despite the individuality of the sport, came together as one team.
"The teamwork has been great this year as everyone has been cheering on at the meets," Kemball-Cook said. "No swimmer is swimming a race by themselves. They have the whole team backing them up."
Boys Swim

The boys swim team consisted of a lot of swimmers with very few competitive swimming backgrounds, so they did not pop out as a top team in DI. The team finished 12 out of 14 teams at the DI states meet, but saw much improvement, according to senior Jack Stuart.
"It was a bit of a rebuilding year," Stuart said. "Swimming usually takes some time to pick up skill wise, and we had a lot of first and second year swimmers. They should hit their stride in the next  year or two."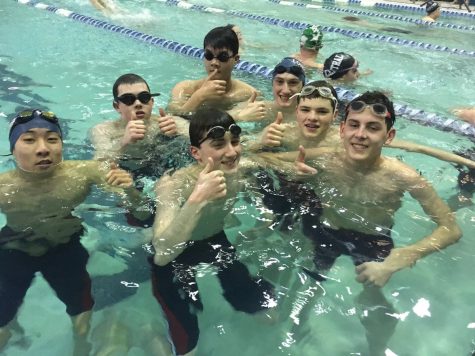 While seniors Stuart, Nick Byrne, and Mike Hession help lead the team in their final season competing, the team had a few rising stars. Junior Richard Chen was one of the top swimmers consistently throughout the year for the team, and sophomore Minsoo Kim and freshman Chris Byrne showed promise. Stuart credits junior Brian Parrott has improving the most from the team.
"This season was a lot of learning," Stuart said. "It was fun, but we were far from being competitive on a state level."