Super Bowl Monday? Why this should be a thing.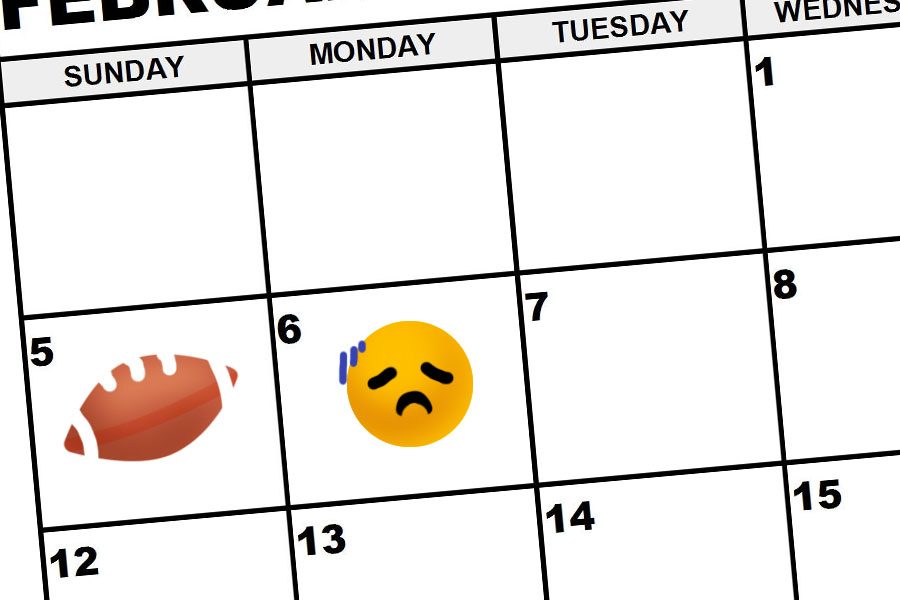 Nick Desrosiers, Reporter
February 3, 2017
Remember two years ago when the Patriots won the Super Bowl and the following day we didn't have school because of a massive snowstorm? That's how it should be every year.
With the weekend fast approaching, football fans from all over the country are getting hyped up for the big game Sunday evening. Only one thing holds Super Bowl Sunday back from being one of the most fun nights of the year- the early commute to school the following morning.
Last year, an approximated total of 112 million people watched Super Bowl 50, and according to CNN, that was the third largest audience of a single show in TV history.
And just imagine how many students and teachers had to miss the second half of the game because they had to wake up early to go to school the following day.
What makes the Super Bowl really super is that it has something for everyone to enjoy. Obviously for sports fans, this game includes the two best teams in the entire league clashing head to head for the last time this season. If you are a music fan, the halftime show for years has featured the biggest stars in the music industry. Headlining this year's halftime show is six-time Grammy winner Lady Gaga. Also, in between the stoppages of play are some of the funniest commercials you will see this year.
Here are a couple of solutions to make super bowl night super again.
1. Make it a national holiday
This proposal has been thrown around for awhile now, but now I think it is time to step up and dub Monday as a national post-Super Bowl holiday. People should be able to spend Super Bowl Sunday staying up late with their friends and family, not going to bed early to prepare for a rough Monday.
Even after the big game has ended, people can't stop talking about it the next day. Whether you are happy or sad about the result of the game, it is inevitable that it will still be looming in your mind as the day progresses, taking away from your focus at school.
In a recent study taken by the National Conference of State Legislatures, approximately 120 school districts from 21 different states were surveyed to see how having a Monday off of school would affect the performance of students for the remainder of the week. The study found that having the extra day off made students significantly more engaged in class discussions and had a much smaller absentee rate. Plus, students won't be as focused on the game when they return from their day off, and they will be ready to hit the books.
2. If we can't swing a national holiday, make it a local one
I am sure that President Trump has many things on his mind right now, so why not just call it a local holiday and see if the trend sticks. If a school cancellation cannot be possible for impending Monday, there are other ways we can work around the issues to still be able to catch another hour of sleep or two.
A two hour delay would be a good fix for the majority of people who decide to stay up to watch the duration of the game.
Even an early dismissal would be better than nothing so people can get home and take a nap after a dreadful Monday.
With no snow coming in the forecast, we are relying on school boards, superintendents, principals, and hey even President Trump to make Monday a national holiday for all.